Duke beats fumble-prone Georgia Tech 28-14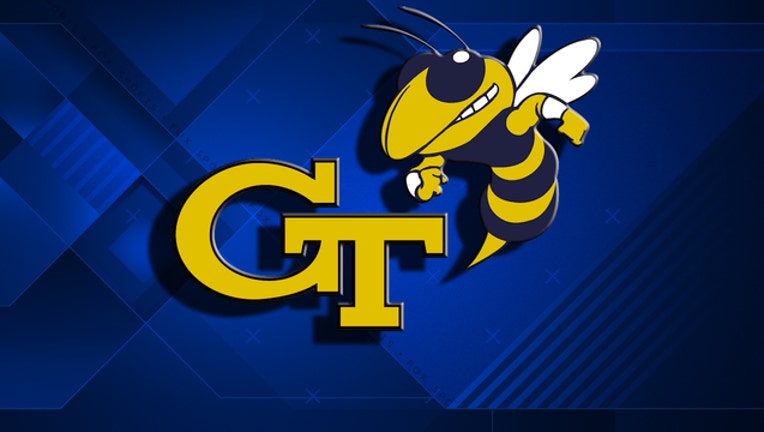 article
ATLANTA (AP) - Daniel Jones threw a 48-yard touchdown pass to T.J. Rahming to give Duke the lead and the Blue Devils turned three Georgia Tech fumbles into touchdowns in the final three minutes of the third quarter to beat the Yellow Jackets 28-14 on Saturday.
Jones threw for 206 yards and three touchdowns for Duke (5-1, 1-1 Atlantic Coast Conference).
The three touchdowns off Georgia Tech's lost fumbles gave Duke a 28-7 lead.
Georgia Tech (3-4, 1-3) couldn't maintain its offensive momentum after scoring more than 60 points in back-to-back wins over Bowling Green and Louisville.
The Yellow Jackets were held to 229 yards rushing, 144 below their nation-leading average.
Deon Jackson, starting for Brittain Brown, who was held out with an injury, ran for 98 yards, including a 12-yard touchdown run to cap Duke's opening drive.
Jones' scoring pass to Rahming followed the first of Georgia Tech's rapid-fire lost fumbles, this one by running back Jerry Howard. Officials ruled Howard down before the fumble, but the call was overturned in a video review. The fumble was forced by Axel Nyembwe and recovered by Chris Rumph II.
Only 3 seconds after Rahming's TD catch, Georgia Tech quarterback TaQuon Marshall's fumble was recovered by Duke's Twazanga Mugala. The turnover set up Jones' 1-yard scoring pass to Davis Koppenhaver.
On following kickoff, Juanyeh Thomas lost the ball when hit by Mataeo Durant. Brandon Hill recovered at the Georgia Tech 6. Jones' scoring pass to Jonathan Lloyd gave Duke a 28-7 lead.
Georgia Tech's only first-half touchdown, a 32-yard pass from Marshall to Malachi Carter, was set up by Lamont Simmons' interception. Jones was pressured and appeared to be trying to just throw the ball away. The turnover gave the Yellow Jackets the ball at the Duke 31.
On second down from the 32, Marshall threw into the end zone where Carter made the catch after he appeared to push off cornerback Josh Blackwell, who fell. An official threw a flag before announcing there was no offensive pass interference on the play.
Howard's 2-yard scoring run midway through the fourth quarter cut Duke's lead to 28-14.
Former Georgia Tech player and coach Bill Curry was an honorary captain on homecoming.
THE TAKEAWAY
Duke: The Blue Devils were impressive in their first game following their first loss of the season to Virginia Tech on Sept. 29. Duke, third in the ACC in scoring defense and fifth in total defense, contained Georgia Tech's spread option attack. Aside from his poor first-half pass that was intercepted, Jones avoided mistakes and capitalized when the Yellow Jackets suffered their sudden spree of turnovers.
Georgia Tech: The two-game offensive surge against Bowling Green and Louisville now looks like a blip on the Yellow Jackets' schedule. The offense was held to no more than 21 points in ACC losses to Pittsburgh and Clemson and again was underwhelming against Duke. The Yellow Jackets again will be playing to try to save their season when they play their next two games on the road against Virginia Tech and North Carolina.
SCUFFLE, EJECTION
Georgia Tech's Victor Alexander was ejected for throwing punches in an altercation with Duke's Brandon Feamster, who lost his helmet. Georgia Tech coaches pulled Alexander to the sideline, and each team was penalized for unsportsmanlike conduct.
UP NEXT
Duke hosts Virginia on Saturday.
Georgia Tech visits Virginia Tech on Thursday, Oct. 25.
___
More AP college football: https://apnews.com/tag/Collegefootball and https://twitter.com/AP_Top25