Dalton's late TD pass to Green lifts Bengals over Falcons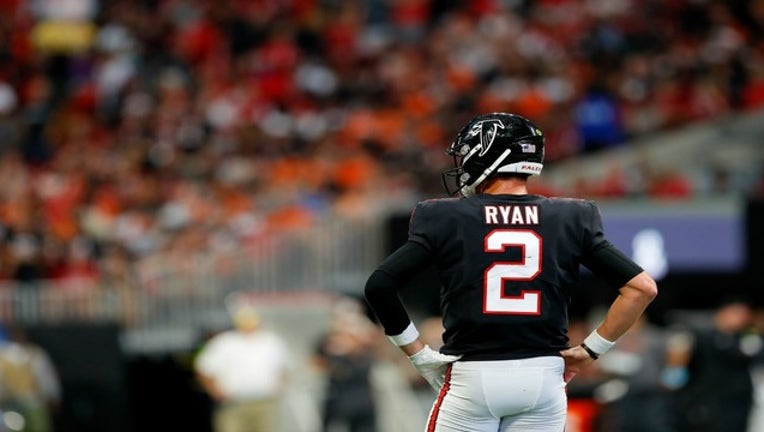 article
ATLANTA (AP) - Watching from the Cincinnati sideline, Bengals cornerback Dre Kirkpatrick couldn't stop smiling as he watched Bengals receivers Tyler Boyd and A.J. Green shred the Atlanta Falcons' secondary on the game-winning drive.
"They went crazy," Kirkpatrick said. "Watching them do what they do puts big smiles on everybody's faces. This is what it's about."
Andy Dalton threw a 13-yard touchdown pass to Green with 7 seconds remaining, lifting Cincinnati to a 37-36 win over the Falcons on Sunday in a game that extends the first-place Bengals' strong start.
Dalton completed four passes to Boyd, including two on fourth downs, as he moved the Bengals 75 yards on 16 plays in about four minutes.
Green, the former University of Georgia star making his first return to the state of Georgia, made a diving catch in the right side of the end zone to cap the drive. He had four catches for 78 yards.
Running back Joe Mixon, who missed his second straight game for Cincinnati while recovering from knee surgery, ran down the sideline to celebrate with Green in the end zone.
"Every time we were in the huddle we were encouraging each other and saying we've got to find a way," said tight end C.J. Uzomah. "We made it happen."
Giovani Bernard ran for 69 yards and two touchdowns for Cincinnati (3-1).
Kirkpatrick said the Bengals are "fighting for each other, standing up for each other, believing in each other. In previous years, we haven't had that."
Matt Ryan continued his resurgence by throwing three scoring passes, including two to rookie Calvin Ridley, for the Falcons.
As was the case last week, when he had his first career game with five touchdown passes in a 43-37 overtime loss to New Orleans, Ryan had too little support from a defense missing three injured starters, despite three sacks from Takk McKinley .
The Falcons (1-3) topped 30 points for the third straight week. Ryan, the 2016 NFL MVP, has thrown eight touchdown passes in his past two weeks and has 10 through four games after throwing only 20 in 2017.
Falcons coach Dan Quinn said his team lacks the instinct needed "to close the door" with a lead. "We're going to develop that instinct," he said. "We do not have it as we need it right now."
The Bengals, protecting at least a share of the AFC North lead, have enjoyed a strong start despite playing three of their first four games on the road. They play six of their next eight at home.
Atlanta's Matt Bryant, who kicked three field goals, including a 55-yard field goal in the second quarter, was good from 32 yards to give the Falcons a 36-31 lead with 4:15 remaining.
That was too much time for Dalton, who completed 29 of 41 passes for 336 yards and three touchdowns and one interception.
Bengals tight end Tyler Eifert had four catches for 38 yards, including a 15-yard scoring catch in the first quarter, before suffering a gruesome lower right leg injury early in the third quarter.
Eifert, the team's third-leading receiver entering the game, caught a 2-yard pass and was tackled by De'Vondre Campbell and Jack Crawford. Eifert brought his hands up to his helmet as he was on his back in obvious pain. His leg stabilized by the medical staff, Eifert received encouragement from teammates before he was carted off the field.
INJURY REPORT
Bengals halfback Mark Walton did not return and was being treated for a possible concussion after a helmet-to-helmet penalty hit by Brian Poole near the end of the third. Falcons defensive tackle Grady Jarrett had an ankle injury late in the fourth and did not return.
RISING STAR
Kirkpatrick talked during the week about winning bragging rights with fellow former Alabama star Julio Jones, who had nine catches for 173 yards. Kirkpatrick was impressed with Ridley, another former Alabama player who had four catches for 54 yards. Ridley had scoring catches of 11 and 30 yards, giving him five in his past two games and six for the season.
"That Ridley kid, the boy is about to take the NFL by storm," Kirkpatrick said. "That boy if not this year, if not next year, he's definitely going to be top 10 in the league."
PRESIDENTIAL VISIT
Former President Jimmy Carter was given a No. 39 Falcons jersey, as the 39th U.S. president. In a pregame ceremony, Carter was presented a birthday cake by team owner Arthur Blank one day before Carter's 94th birthday.
Carter also rang the pregame train horn and yelled "Rise Up" to Falcons fans.
MENDING
Each team was without its top running back. Devonta Freeman missed his third straight game for Atlanta with a sore right knee. Mixon was held out for the second straight week for the Bengals after having debris removed from his right knee.
LONG TIME
The Bengals lead the series 9-5 following their first win in Atlanta since a 16-10 victory on Nov. 15, 1987, at old Atlanta-Fulton County Stadium.
UP NEXT
Bengals: host Miami Dolphins next Sunday.
Falcons: Visit the Pittsburgh Steelers on Sunday in first road game since opening season at Philadelphia.
___
For more AP NFL coverage: https://apnews.com/tag/NFLfootball and www.twitter.com/AP_NFL