Braves beat Marlins 8-5 to finish season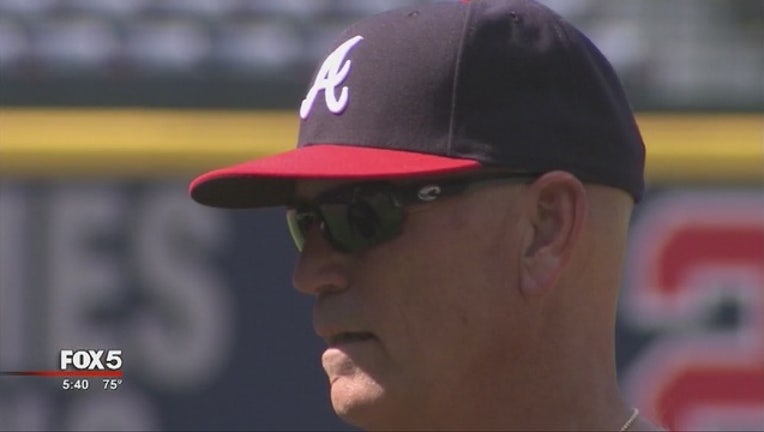 article
MIAMI (AP) - Giancarlo Stanton hoisted his bat to the crowd after his final swing of the season, then came out for a curtain call before disappearing into a sea of dugout embraces with teammates.
The Miami Marlins lost, and that was of minimal importance to those who stuck around to the end to cheer baseball's best slugger this season.
Stanton came up short in his quest for 60 home runs, and Adonis Garcia hit a pinch-hit three-run home run to lift the Atlanta Braves over the Marlins 8-5 in the season finale for both teams Sunday.
Stanton finished with ML-bests of 59 home runs and 132 RBIs. His final chance at No. 60 came in the ninth, but he went down swinging against closer Arodys Vizcaino - and when Vizcaino closed out what became his 14th save of the year, the Marlins were still congratulating Stanton for a season that will have him squarely in the NL MVP mix.
"I know I've got a legit chance," Stanton said. "I gave it my all."
It was the final game of Jeffrey Loria's 16-year tenure as Marlins owner, one where the team won the 2003 World Series and didn't make the playoffs again. He was in attendance, as was Derek Jeter - who will assume control of the franchise this week when the $1.2 billion sale to a group led by him and Bruce Sherman is closed.
Loria spent part of the game near the Marlins' dugout. Jeter watched from a suite, casually eating popcorn.
Kurt Suzuki also homered for the Braves, who took the lead for good with a four-run seventh highlighted by Garcia's homer. Dan Winkler (1-1) was credited with his first big-league victory after working a scoreless sixth, with Garcia's homer putting him in that winning position.
"He was big here," Braves manager Brian Snitker said of Garcia. "Helped us win this game."
Marcell Ozuna hit his 37th home run for Miami. Junichi Tazawa (3-5) gave up three runs and three hits in that seventh inning.
Miami's Ichiro Suzuki flied out in his last chance to tie John Vander Wal's MLB record for pinch hits in a season; Ichiro finished with 27, one shy of what Vander Wal did in 1995. And Marlins second baseman Dee Gordon didn't add to his stolen-base total, but didn't need to either - Cincinnati's Billy Hamilton finished with 59, one fewer than what Gordon had coming into the day.
The Marlins finished 77-85, down two wins from 2016. The Braves finished 72-90, four more wins than last year.
Snitker now finds himself in the same situation he was when the 2016 offseason started - waiting to see if he'll be back next season. The Braves have not publicly said anything about his option for 2018.
He's now 131-155 in parts of two seasons.
"I'm kind of a little bit where I was last year, mentally," said Snitker, who has been part of the Braves organization since 1977 and has had players lobbying for his return. "Whatever the organization deems the best for this organization, that's what they should do."
Marlins manager Don Mattingly unofficially took the day off, letting catcher A.J. Ellis call the shots. It's become a tradition of sorts for Mattingly, who has let veterans like Brad Ausmus, Nomar Garciaparra and Martin Prado manage past finales.
Ellis called it "a pretty cool opportunity," and said that he fined some teammates for arriving late.
"It was fast," Ellis said. "The amount of respect I have for Donnie and all the managers I've played for ... sitting there, you're juggling scenarios, you're juggling options. Give the Braves credit. Hats off to them for a big win to end their season."
SWEEP STUFF
The Braves have never been swept in a four-game set with the Marlins, and kept that streak alive. It also was the sixth consecutive win in a regular-season finale for Atlanta.
LINEUP CHANGES
The Marlins had Stanton bat leadoff, hoping to maximize his opportunities for No. 60. Gordon went to the No. 9 spot, and the pitchers' spot was No. 8 in the lineup.
LOT OF RUNS
The Braves allowed 821 runs this season. That's the most an Atlanta team has allowed since 1990 (also 821). The Braves have seen their runs-allowed total rise in each of the last four seasons, the first time that's happened to the franchise since 1919 through 1922.
UP NEXT
Braves: Atlanta opens next season at home against Philadelphia on March 29.
Marlins: Miami opens next season at home against the Chicago Cubs on March 29.
___
More AP baseball: https://apnews.com/tag/MLBbaseball