Bills safety Damar Hamlin back in Buffalo to resume recovery
ORCHARD PARK, N.Y. - Doctors who treated Damar Hamlin said the Bills safety was back in Buffalo on Monday, an uplifting sign of the remarkable progress he has made a week after going into cardiac arrest and having to be resuscitated on the field during a game in Cincinnati.
Hamlin was discharged from the University of Cincinnati Medical Center in the morning and flown to Buffalo, where Dr. William Knight said he was "doing well." He will continue his recovery at a Buffalo hospital.
Doctors said Hamlin has been walking since Friday, and eating regular food and undergoing therapy. They said he was on a normal or even accelerated trajectory in his recovery from cardiac arrest, which is considered a life-threatening event. Normal recovery from something like this can be measured from weeks to months, they said.
"We continue to be ecstatic about his recovery," Dr. Timothy Pritts said.
Hamlin's return comes a day after he cheered on the Bills from his hospital bed during their regular season-ending 35-23 win over the New England Patriots. The game proved to be a cathartic outpouring of support for the Bills and Hamlin.
The Bills wore No. 3 Hamlin patches on their jerseys and honored their teammate by raising three fingers in the closing minutes, while tight end Dawson Knox celebrated his touchdown by forming his hands into the shape of a heart.
RELATED: Damar Hamlin's jersey sales skyrocket and Fanatics says all proceeds will go to his charity
Hamlin responded on his Twitter account with a heart message directed toward Knox.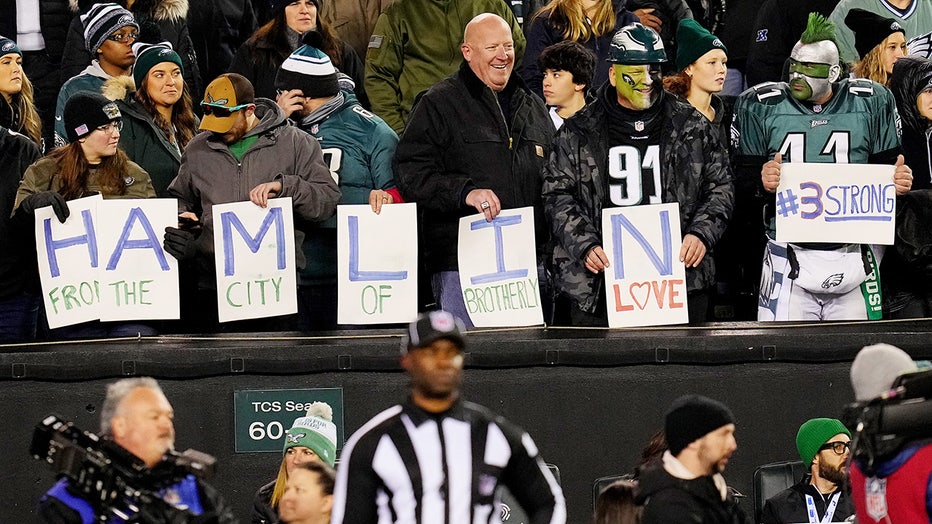 Philadelphia Eagles fans hold up signs in support of Damar Hamlin of the Buffalo Bills during a game against the New York Giants at Lincoln Financial Field on January 08, 2023 in Philadelphia, Pennsylvania. (Photo by Mitchell Leff/Getty Images)
Fans joined in, with many holding up red heart and No. 3 signs.
The 24-year-old Hamlin has made significant progress in his recovery since spending his first two days at the University of Cincinnati Medical Center under sedation and breathing through a ventilator.
He was awakened on Wednesday night and was eventually able to grip people's hands. By Friday, Hamlin was able to breathe on his own and even addressed the team by videoconference, in which he told the Bills, "Love you boys."
The latest update from doctors came on Saturday, when they described Hamlin's neurological function as "excellent," though he remained listed in critical condition.
Later that day, Hamlin tweeted: "Putting love into the world comes back 3xs as much… thankful for everyone who has reached out and prayed. This will make me stronger on the road to recovery, keep praying for me!"
RELATED: Report: Damar Hamlin to be paid in full after cardiac arrest
The NFL will showed support for Hamlin during all Week 18 games by including a pregame moment of support, painting Hamlin's No. 3 on the 30-yard line and pregame shirts with "Love for Damar 3."
Hamlin's heart stopped on Monday night after making what appeared to be a routine tackle in the first quarter against the Bengals. The game was initially suspended before officially being canceled later in the week.