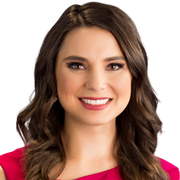 Natalie McCann joined FOX 5 Atlanta as a multimedia journalist in June 2016. Her journalism career began in Thomasville, Georgia, as a news and sports writer for a newspaper.
After nearly a year, Natalie landed her first position in television. She spent three years working at WLTZ in Columbus, Georgia. She started there as a multimedia journalist before becoming a morning anchor.
Natalie spent the 2014 and 2015 seasons covering the SEC with a focus on Auburn University, the University of Alabama and the University of Georgia. She traveled to Dallas to cover the 2015 College Football Playoff game between the Alabama Crimson Tide and the Michigan State Spartans.
Natalie graduated from Auburn University in 2012 with her bachelor's degree in broadcast journalism. Natalie is no stranger to Atlanta. She grew up in Alpharetta and graduated from Chattahoochee High School.
When she's not at work, Natalie is likely traveling the world. She has been to six countries. One of her favorite international trips was a mission trip to Honduras. Natalie also enjoys reading, working out, attending sporting events, and of course, eating ice cream. She adores her family, friends and her rescue dog, Wrigley. If you're wondering why a diehard Braves fan would name her pup after the Chicago Cubs' stadium, Natalie says her goal is to visit every Major League Baseball stadium in the country, and her favorite so far is Wrigley Field.