The 3 best apps for home buyers in 2023
How you buy and sell a house is changing in America, and it won't be the same ever again. As you might have guessed, the internet has completely eliminated the agent's role as gatekeeper of secret information. Instead, agents today are struggling to justify their commissions.  
According to the National Association of Realtors, more than 94% of home buyers look at listings online, and most of those views are on smartphones. Want to learn about the newest listing the minute it hits the market? Want to find a trusted real estate professional or a trustworthy contractor? Want to calculate the maximum mortgage payment for your budget? There's an app for that.
Here are the FOX 5 real estate expert John Adam's picks for the three best apps for home buyers:
1.  Zillow
Zillow is arguably the most popular real estate website on the internet. Its smartphone app is one of the best, with more than 60 million monthly users looking at a ton of property listings.
Pros:
Zillow's listing database is constantly updated, so you usually have an up-to-the-minute market snapshot. You can set up notifications to inform you when a new property that meets your specifications hits the market.
You can also check out 3D tours of properties and schedule showings right in the app. Zillow has one of the most customizable search tools of any real estate app, allowing users to filter listings by size, price, ZIP code, number of bedrooms, and a long list of other features. 
For more independent-minded sellers, it even offers free for-sale-by-owner listing services. However, since Zillow became a commission driven real estate brokerage, it has relegated FSBOs to a hard-to-find tab buried in the app.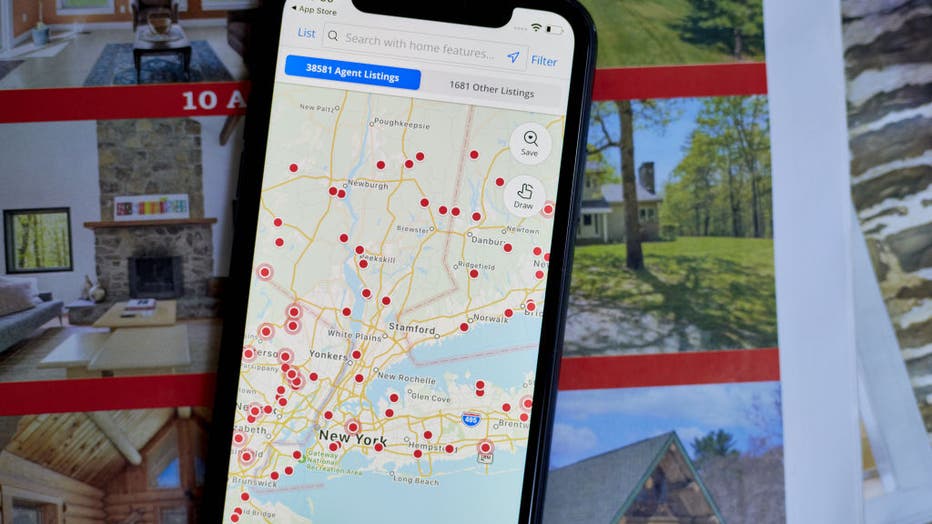 The Zillow app on a smartphone arranged in Germantown, New York, US, on Tuesday, July 25, 2023. Zillow Group Inc. is scheduled to release earnings figures on August 2. Photographer: Gabby Jones/Bloomberg via Getty Images
Cons:
One problem with the Zillow app is that realtors hate Zillow and look for ways to prevent Zillow from publishing their data. As a result, Zillow often has about 25% fewer listings than places like realtor.com.
Also, Zillow is actively trying to steer all visitors to its app directly to a Zillow real estate agent. That makes the listing agent very unhappy, which further fuels the death struggle between Zillow and agents.
Zillow has a feature called the Zestimate, which it calls a "starting point" in calculating a home's market value.  However, it has been widely criticized by realtors for inaccurate information in many cases.
2.  Realtor.com
Realtor.com is the official platform of the National Association of Realtors (NAR). 
Pros: 
The site is used by just over 40 million visitors per month.  The listings you see on the Realtor.com app are pulled directly from the multiple listing service (MLS), a private database created and maintained by real estate brokers to facilitate home buying and selling. Other leading real estate websites pull from the MLS, but because the NAR essentially owns and runs the service, it has an extra stamp of legitimacy.
The app has a customizable search tool, allowing users to look for listings based on factors such as crime rates, flood zones, school quality, and property tax assessments. It also has an innovative feature that allows you to take a photo of any "For Sale" sign you see and immediately retrieves the property's details. This is especially handy if you're walking or driving and suddenly spot the property of your dreams.
Understandably, the app does not offer homes for sale by owner, and is much more likely to get you in touch with the listing agent of the property you are viewing.
Cons:
You won't see FSBO listings on realtor.com.  At least, not for now.  
In Adam's personal opinion, the app and website seem clunky and old-fashioned compared to the slick look and feel of Zillow.
Finally, realtor.com is not trying to be the one-stop shop that Zillow is aiming at. If you are all-in with Zillow, they have almost everything you need to buy a house.
3. Redfin
Redfin, which is owned by Zillow, offers a comprehensive look at the evolving real estate market, with listings updated every five minutes. 
Pros:
They're also a brokerage, so if you're looking for an all-inclusive, one-stop-shop experience, you can look at listings through the Redfin app and then click right on through to a Redfin agent who will guide you through the entire home-buying process.
Redfin has two unique features going for it. The first is its "Hot Homes" category, which highlights properties likely to sell fast, so you can make a move before they disappear. The second is a commission rebate if you buy through a Redfin agent.
Cons:
Using Redfin can net you some solid savings, but make sure to read the reviews first and choose the company that's right for you.
Redfin doesn't have agents everywhere, so this might not be an option if you live outside a major market. If you're also selling with Redfin, the platform will charge a listing fee of 1.5% of the final sale price.
Take a look at all three of these websites and apps.  All three offer largely the same information, but each has pros and cons.  The good news is that we have multiple sources of information on almost every home for sale in the US.  In today's economy, that information is especially valuable to home buyers as they shop and compare to find the best deal.
Atlanta native John Adams has been a real estate broker and investor in residential real estate for the past four decades.