Wish granted: Six-year-old boy is garbage man for a day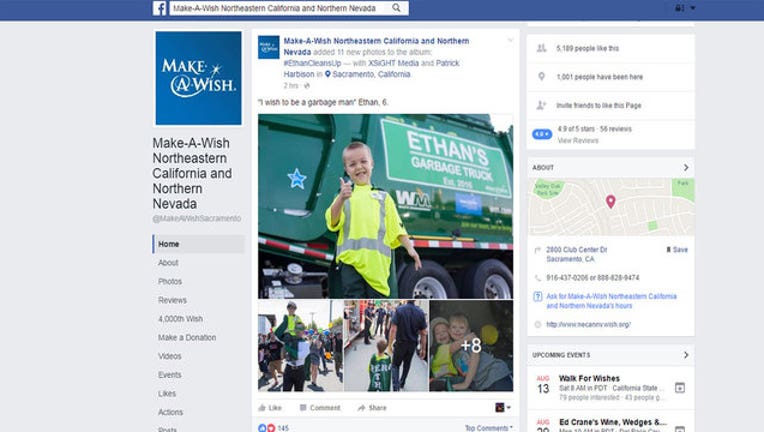 article
SACRAMENTO, Calif. (AP) - Ethan Dean has always dreamed of being a garbage man. The 6-year-old with cystic fibrosis lived that fantasy Tuesday: riding shotgun in a booster seat through Sacramento in a truck labeled "Ethan's Garbage Truck."

He donned a green cape that read "Hero Ethan" and a big smile as the truck stopped to pick up trash and recyclables. It wasn't a chore for Ethan, who said his favorite part of the day put on by the Make-A-Wish Foundation was "cleaning up garbage." Hundreds of people gathered to cheer him on.

After being surprised at his school, Ethan and the garbage truck made five stops.

Sam Thurman, the Waste Management employee who drove Ethan, said when he agreed to take part, he had no idea how big the day was going to be.

And as for Ethan?

"He can't wipe that grin off his face," Thurman said. "He looks like it's Christmas morning and he's unwrapping his first present."

Ethan was diagnosed with cystic fibrosis as an infant and began treatment at eight weeks old. The genetic disorder is characterized by a buildup of thick mucus and frequent lung infections, and the median life expectancy is about 40 years old.

When Make-A-Wish Foundation agreed to grant his wish in February, there was little doubt what he wanted it to be.

"We pretty much knew it was going to be about garbage trucks," said Ethan's dad, Ken Dean, laughing.

He's been watching them come down the street since he first learned how to crawl, Dean said. Ethan also has a garbage truck bedspread and pillow, garbage truck toys and has had a garbage truck birthday party.

Ethan's big day comes three years after Make-A-Wish transformed San Francisco into Gotham for a 5-year-old boy who had battled leukemia for years and dreamed of being Batkid. Miles Scott traveled from one crime scene to another, rescuing a damsel in distress and thwarting the plans of The Riddler and The Penguin, as crowds of people cheered him on.

Ethan's dream is being a less fantastic, more everyday superhero. When he visited Make-A-Wish and was asked about some of his dreams, almost all of his answers were garbage-truck related, said Jennifer Stolo, CEO of the local chapter of the Make-A-Wish Foundation.

Ethan's uncle, Tim Dean, said it means a lot to the family to have people who don't even know him come out to celebrate.

At least 500 people gathered at the Capitol for a press conference and VIP lunch at the end of Ethan's day.
Erika Sizemore doesn't know Ethan and said she learned about his special day on social media. It hit home for her, she said, because she has two boys, Kane and Benny, who also love garbage trucks.
"As soon as he got out of the truck I cried," she said, tearing up. "It could happen to any of our kids. He is an amazing little kid and I just think that any of could be in the same boats as his parents are."