Watch: Heroic contractors 'didn't even hesitate' to stop would-be bike thief
These contractors can do it all. Paint, replace your house siding, fix a leaking roof and even fight crime. 
Jorge Martinez and Gerardo Sanchez, two contractors who were working in Bakersfield, California on August 23, were captured on video chasing down a would-be thief. 
In the video, Martinez and Sanchez are going about their commissioned work when suddenly a man is seen walking up to the home of Stephanie Perez, the homeowner.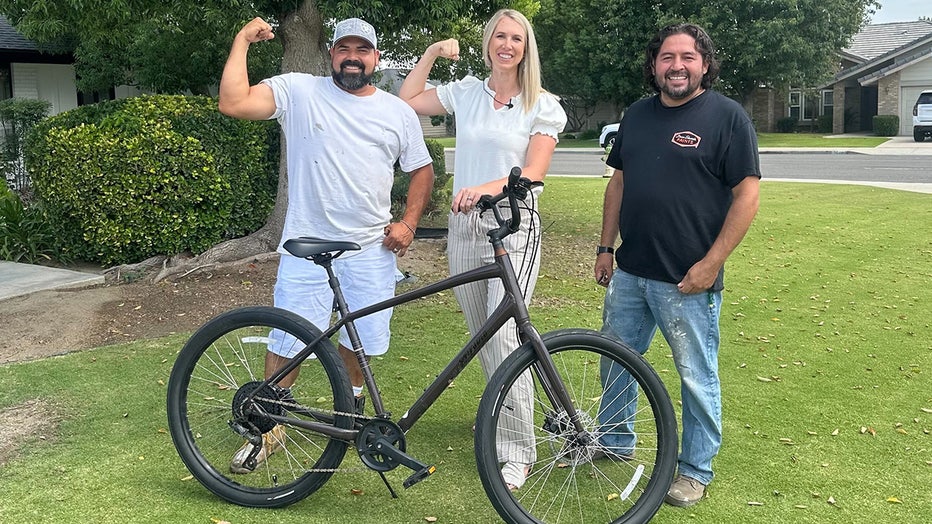 Gerardo Sanchez, Stephanie Perez, and Jorge Martinez pictured together with Perez's retrieved bike.
At first, the man appeared to be one of the contracted workers, but that proved false very quickly as the man walked past Martinez and Sanchez and up to Perez's front door. 
"Well, when I saw him, at first I thought it was a friend of the family, because the way they keep walking like nothing. And I even greeted him, saying, 'Good morning!' and he responded back," Martinez told FOX TV Stations.  "And then all of a sudden I heard Stephanie screaming, 'Hey, get back here!' Like, what the heck is happening?" 
The man then took a bike that was sitting in front of the door and rode off with it. 
"I had just gone down to take my kids to school. We live down the street, so I ride with them to school and many times, I'll just park it in front," Perez, the homeowner, told FOX. "If you come by my house any time of day, there's usually like 10 little kids' bikes parked out there. It's usually pretty safe during the day. We've had incidents, but it's usually at night. So this was very random to happen right when I was home." 
Perez is then seen in the video running out her front door and yelling, "Hey! Get back here!" at the bike thief as both Martinez and Sanchez spring into action. 
Martinez and Sanchez immediately dropped everything they were doing and got into their respective vehicles and drove after the bike thief. 
Sanchez said that he had actually dealt with thieves previously, including an incident when his daughter's truck was broken into right in front of his home.
"I'm a victim two or three times already," Sanchez said. "So, when you see something like that, you have to stop that." 
So Martinez and Sanchez drove down the street and found the culprit hiding near some dumpsters. 
"He had big eyes when he saw me," Sanchez said with a chuckle. 
The unknown man, realizing he had been caught, leapt a fence and disappeared, leaving behind Perez's bike. 
"I was trying to figure out how I was going to tell my husband that I got his bike stolen," Perez said, but luckily, she had a better tale to tell instead. 
Video shows the bike being safely returned to Perez moments later. 
"Jorge called me and he was like, 'We got your bike back!' And I said, 'What? No way!' I was shocked. I thought it was gone. I should have had more faith in these guys knowing the kind of workers they are," Perez said. 
Video of the entire incident shared by Sara Hoopes, a family friend of Perez's, on TikTok garnered tens of millions of views and thousands of comments, praising the pair for their act of kindness. 
"They didn't even hesitate. They just jumped right into action. And I'm so grateful for what they did because it just showed me how, a lot of times in this world, we don't notice those things. We don't notice people that need help. And I think that's why this is reaching so many people," Perez said. "So, we're loving hearing this good news and seeing these, just regular guys that just jumped into action and now are being called heroes. I'm just very grateful for these two. These two and I knew the kind of guys they were before this. It wasn't that big a shock to me because that's just who they are. They're the type, I leave the door open, unlocked, they can come in and out. Very trustworthy." 
As a show of thanks, Perez and Hoopes set up a GoFundMe to help support Martinez and Sanchez's businesses, and it has already reached its goal and then some. 
"I know that they want to have endless business, they want to have work.They never wanted money. They never wanted generosity. They just want work. And so that was our main goal. But then we started thinking, 'Well, these guys want work, they're going to need more tools. So, let's start a GoFundMe.' They can get more tools with that money. And it just blew up from there," Perez said.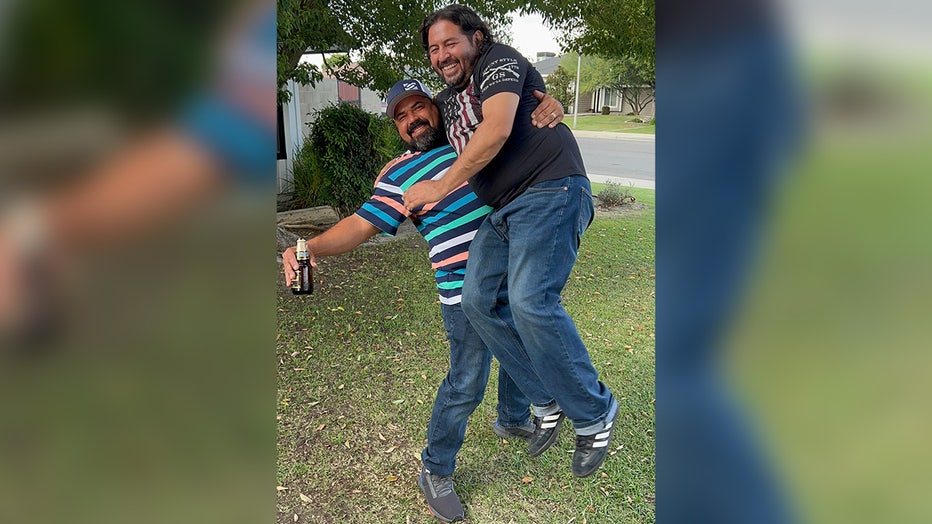 Gerardo Sanchez and Jorge Martinez, two California contractors credited with retrieving their client's bike after a random unknown man tried to steal it.  (Stephanie Perez)
Martinez and Sanchez didn't expect the outpouring of support and they certainly were not expecting the virality after the TikTok video was published. 
"It was surprisingly amazing. You know, all the people that send their love to us. All the appreciation. I'm really grateful for what they're doing, that they're supporting us. And it's amazing. For one act of kindness, you can see that there's a lot of kind people around the world," Martinez said. 
Both Martinez and Sanchez said they have been very busy since the incident and are also learning to use TikTok. 
"Thank you everybody for your help, to the nation, for sharing, thank you so much," Sanchez offered. 
This story was reported from Los Angeles.