Unpredictable 2023 airline travel means exploring travel insurance
ATLANTA - Holiday travel this year was a disaster for many people. Southwest Airlines had a complete meltdown. And now we are hearing whispers of labor strikes from three other large carriers. If you have not thought about travel insurance, you should in 2023.
It's not right for every flight, for every trip, or for every family, but travel insurance can create some financial security. 
If you're darting down to Florida for a quick weekend then it might not be big deal if things fall through. But if you are planning a large family trip to the West Coast for a wedding then maybe you do consider paying for travel insurance. 
Here are some things that travel insurance can cover. 
Canceled or delayed flights
Lost or stolen baggage
Trip extensions or strikes
That just highlights some of the bigger points. And trip insurance can cost as much as 10 percent of each ticket price.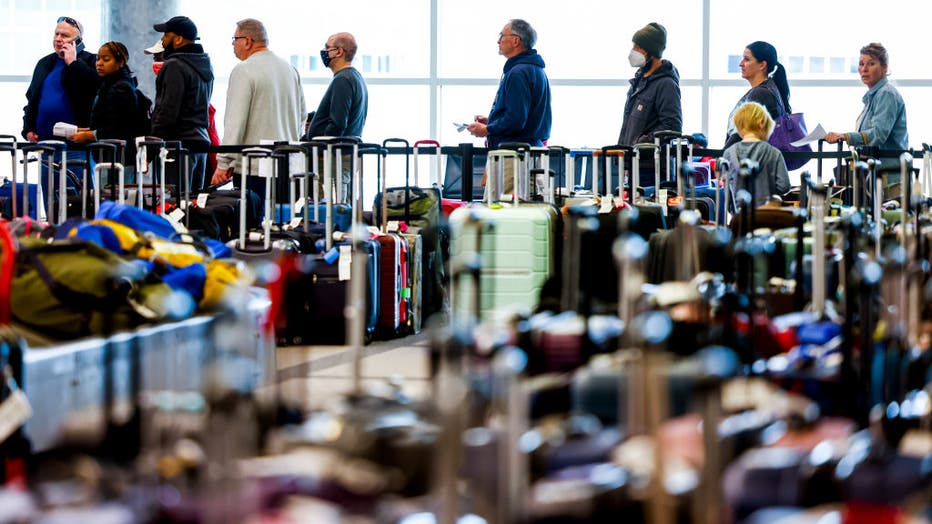 Travelers wait in line before they are allowed to search for their luggage in a baggage holding area for Southwest Airlines at Denver International Airport on December 28, 2022. (Photo by Michael Ciaglo/Getty Images)
So, you sort this out by looking at different travel insurance providers.  ConsumerAdvocate.org breaks down individual companies for you. 
But here are a few things to know as you jump in.
There are many fake insurance providers out there. Make sure the company is registered in the state where they are headquartered. Read the fine print to see who the underwriter is — the company that actually pays out. Find out if it's more cost effect to get insurance when you book the trip. It could be pricier if you wait. And, know how to get it touch with the insurance provider any time of the day or night. It won't do you any good if they close Friday at 5 pm for the weekend if you need help on a Sunday morning.