Texas soldier sends daughter custom teddy bear and her reaction is priceless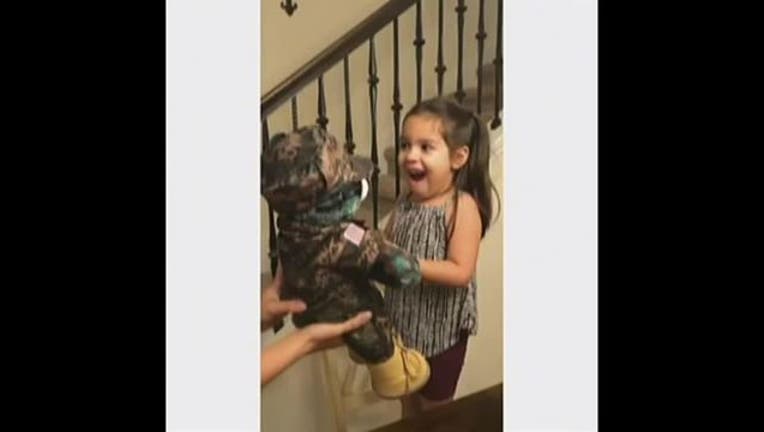 article
(FoxNews.com) - Aww-dorable.
A Texas girl's priceless reaction to a birthday gift sent by her deployed father went viral this week in a heartwarming video.
David Villegas of San Antonio, Texas, sent his daughter, Ellianna, a teddy bear dressed as a soldier for her birthday to remember him while he was away in Fort Jackson, SC, for training, KSAT reported.
The sister of Villegas' wife, Vanessa, captured the moment Elianna opened up her present, which she described, "looked like daddy," but the real surprise was the message.
The bear, with her father's voice, told Elianna: "Hey baby, daddy loves you and misses you so, so much and I can't wait for you to be in my arms again. I love you very much."
The little girl's eyes went wide before squealing in delight, "Oh my God that's daddy!"
Elianna gave her new soldier teddy bear a big hug.
The touching moment was posted on Twitter by Vanessa's sister and immediately went viral Wednesday. As of Saturday, the video was retweeted more than 49,000 times and liked by more than 100,000 Twitter users.
"Everyone has been basically saying 'Oh my gosh I'm crying' (and) another girl was even like 'I just put on my makeup and now it's all over my face,'" Vanessa told KSAT.
"There's also a lot of people on Twitter saying that they wish they had that from their dad or their mom and if they can hear their loved ones voice one more time, it would have made their entire world," Vanessa said.
She said David was ordered to travel to South Carolina for basic training in August, leaving the family of three a few weeks to spend together before he left.
"We only had three weeks to spend with him before he had to leave and, of course, we have no contact with him. Basically he's gone for nine weeks and a couple of days," Vanessa said. "And after that, he has to go again for longer and so he won't be back until April (2018)."
Vanessa said the deployment as hard on her daughter who has never been away from her father for this long.
"It really meant a lot to give that to her so she can play it every time she misses him and it helps her a lot," she said. "It's tough but in the end, I know it'll be worth it."
Vanessa and Elianna plan to travel to South Carolina and visit David in November when he graduates.
More on FoxNews.com.