Stocks, pound fall again due to UK vote uncertainty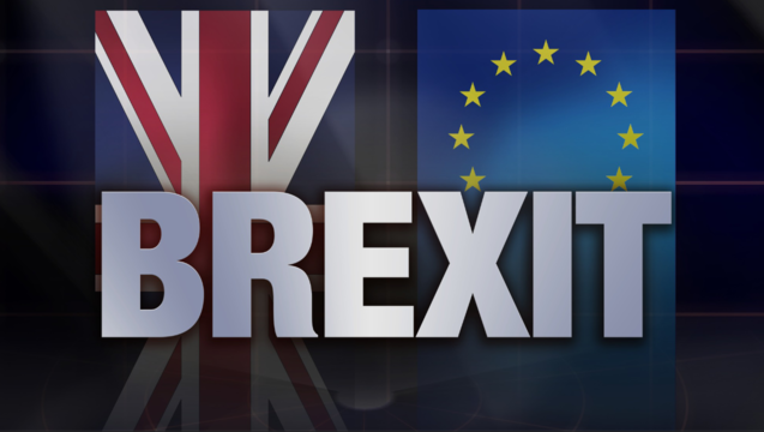 article
Investor jitters over the economic fallout of Britain's vote to leave the European Union sent U.S. stocks sharply lower Monday.
The latest slump followed another rough day for European markets and a further weakening of the euro and British pound, which last week plunged to its lowest level since 1985.
Ratings agency Standard & Poor's added to the market's anxiety Monday by stripping the UK of its top-shelf credit rating. The firm cited uncertainty over the UK's vote to leave the EU.
Materials companies led the slide on Wall Street. Losses also piled up for financial and technology stocks. Shares in energy companies fell as the price of U.S. crude oil declined.
"When you get major news like this that is unexpected, as the 'Brexit' vote was, it often takes about five trading days to kind of work through the system," said JJ Kinahan, chief strategist at TD Ameritrade.
The Dow Jones industrial average lost 260.51 points, or 1.5 percent, to 17,140.24. The average had been down more than 337 points earlier in the day.
The S&P 500 index slid 36.87 points, or 1.8 percent, to 2,000.54. The Nasdaq composite fell 113.54 points, or 2.4 percent, to 4,594.44.
The three major indexes are down for the year.
Britons voted last Thursday to leave the EU over concerns including immigration and regulation. That move created a wave of uncertainty for financial markets, triggering a sell-off on Friday that resulted in the biggest losses for the Dow and S&P 500 since August, while the Nasdaq notched its worst day since August 2011.
Despite the losses on Friday and Monday, the market is still well above the lows it reached in early February, when the S&P 500 closed as low as 1,829.
"This is a bit of a spillover from Friday," said Eric Wiegand, senior portfolio manager for U.S. Bank's Private Client Reserve. "While it hasn't been a very pleasant two-day period, we're largely erasing some of the rallies we had in the previous five-plus sessions."
Eight of the 10 sectors in the S&P 500 index posted losses Monday, with materials companies shedding the most, 3.4 percent.
Utilities stocks, traditionally seen as a more attractive investment at times of heightened market volatility, notched the biggest gain, 1.3 percent.
Western Digital declined the most among companies in the S&P 500 index. The maker of data storage products shed $5.66, or 11.8 percent, to $42.18. Rival Seagate Technology slid $2.29, or 9.9 percent, to $20.87.
Banks and other financial companies slumped as investors speculated that the global economic uncertainty caused by Britain's decision to leave the EU will prompt the Federal Reserve to hold off on raising its benchmark interest rate. Banks benefit from higher interest rates, which translate into more revenue from loans and credit cards.
"A lot of the expectations about what these financial stocks would be worth have changed," Kinahan said. "This sort of takes Fed rate raises off the table for a while, maybe through the end of 2016."
Charles Schwab fell $2.10, or 8 percent, to $24.05, while JPMorgan Chase shed $1.99, or 3.3 percent, to $57.61. State Street gave up $4.20, or 7.6 percent, to $50.79.
European stock markets added to their steep losses from Friday. Britain's FTSE 100 fell 2.5 percent, while Germany's DAX and France's CAC 40 each gave up 3 percent.
Earlier, Tokyo's Nikkei 225 rose 2.4 percent, making up some of the ground it lost on Friday, when it closed nearly 8 percent lower. Hong Kong's Hang Seng shed 0.2 percent. Seoul's Kospi rose 0.1 percent.
Bond prices rose. The yield on the 10-year Treasury note fell to 1.45 percent from 1.56 late Friday.
In currency markets, the British pound slid to $1.3176 from $1.3638 late Friday, despite the British Treasury's reassurances that the economy was strong enough to withstand the uncertainty. The euro weakened to $1.1005 from $1.1121, while the Japanese yen fell to 101.97 from 102.24.
Benchmark U.S. crude slid $1.31, or 2.7 percent, to $46.33 a barrel in New York. Brent crude, used to price international oils, fell $1.25, or 2.6 percent, to $47.16 a barrel in London.
Wholesale gasoline dropped 5 cents to $1.48 a gallon. Heating oil fell 3 cents to $1.43 a gallon. Natural gas rose 5 cents to $2.72 per 1,000 cubic feet.
Gold edged up $2.30 to $1,324.70 an ounce, silver slipped 5 cents to $17.79 an ounce and copper fell 1 cent to $2.13 a pound.
___
AP Business Writers Danica Kirka in London and Joe McDonald in Beijing contributed to this report.