Starbucks celebrates 20 years of the pumpkin spice latte: Story behind the famous drink
Few can resist the lure of a pumpkin spice latte (PSL) in autumn.
This fall, Starbucks is celebrating the 20-year anniversary of the creation of the beverage that changed the way the world sees pumpkin-flavored drinks.
Since its launch in October 2003, the PSL has become Starbucks' most popular seasonal beverage, with hundreds of millions of cups sold in the last two decades, according to the coffee chain.
FOX Business spoke with one of the original PSL creators, Peter Dukes, about how the last 20 years have turned into a pumpkin spice takeover.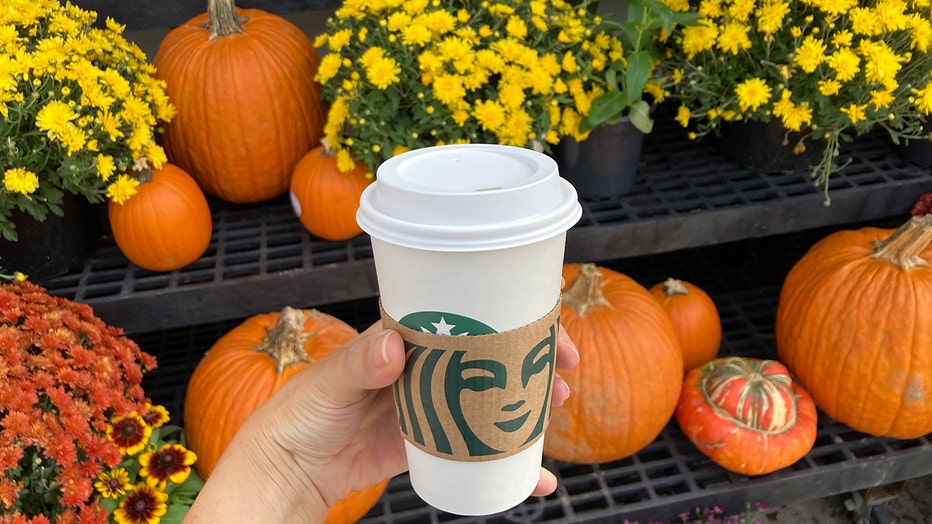 Pumpkin spice latte purchased at a Starbucks in Baltimore (Credit: Christina Tkacik/Baltimore Sun/Tribune News Service via Getty Images)
"This idea of pumpkin was something that just didn't exist," the global growth and concepts director said. 
Before the PSL hit the market, Dukes said most food stores carried a limited selection of pumpkin products.
Those products included pumpkin purée, which is used to make pumpkin pie and other baked goods.
"Walk down a grocery aisle now, and you can see the entire aisle on both sides filled with pumpkin spice products," he said. 
STARBUCKS CHANGES ICE FOR DRINKS, SPARKING DEBATE
Before the pumpkin spice craze, Starbucks focused on leveling up its menu with unique items after seeing successful peppermint mocha sales during the 2002 holiday season.
Pitching to a consumer group, the coffee chain presented several new beverage ideas — including a pumpkin latte, which scored low for likelihood to sell but high for uniqueness.
Dukes and about six other Starbucks colleagues then brainstormed ways to elevate the pumpkin beverage, experimenting with a slice of pumpkin pie and a shot of espresso.
DUNKIN' SPIKED PRODUCTS TO LAUNCH IN 12 STATES: 'GROWING APPETITE FOR ADULT BEVERAGES'
"Literally, we took some espresso, just poured it on the pumpkin pie and then tasted it," he said. 
"Just to get a sense of what the flavors are like when you mix pumpkin pie and espresso." 
Based on taste-testing sessions at their Seattle, Washington, headquarters, the team knew that curating a pumpkin "sauce" would best mimic the flavor profile of a heavier-bodied pumpkin pie.
RELATED: 2023 Pumpkin spice drinks, treats: Where, when to get your fall fix early
The sauce – which, since 2015, includes real pumpkin – would complete the recipe for what Starbucks dubbed the "pumpkin spice latte."
The seasonal drink launched on Oct. 10, 2003, in 100 Starbucks stores between Washington, D.C., and Vancouver, B.C.
There was "immediate excitement" from customers and store workers, Dukes reported.
STARBUCKS PROFITS BEAT ESTIMATES, SHARES DIVE ON OUTLOOK
"We knew by the second day that we had a winner by picking up the phone and talking to the store managers [and] hearing the excitement in their voices," he said.
Each season moving forward, the PSL's popularity grew, escalating with the emergence of social media in 2008.
In 2014, Starbucks released the official @therealPSL Twitter account, which today has more than 82,000 followers on X, formerly known as Twitter.
Customers including celebrities and content creators began posting on Instagram, Twitter, Vine and other platforms to share their PSL love.
The rage for the fall flavor has made "pumpkin spice" a household name. 
It was even added to the dictionary by Merriam-Webster in September 2022. It defines it as "a mixture of usually cinnamon, nutmeg, ginger, cloves and often allspice that is commonly used in pumpkin pie."
"If you asked anybody in that room if pumpkin spice was going to become an entire industry … nobody would have guessed that," Dukes said, referring to the Starbucks latte creation. 
"It's been kind of cool to see it take off."
What has stuck with PSL fans is the drink's representation of fall, Dukes suggested.
"I love the fall time period," he said. 
"It's a fleeting time period where you get the fall leaves turning colors, the weather turning, football is back, kids are back in school … [The PSL] packages all of that in a cup."
The drink continues to be a fan-favorite due to the combination of a love for fall and the unique taste profile, Dukes said.
Starbucks' competitor Dunkin' announced its fall drink lineup last week, including its Pumpkin Spice Signature Latte, Nutty Pumpkin Coffee and Pumpkin Swirl.
Also, General Mills announced that it's "bringing all the fall vibes" with new products and "the return of bestsellers like Pumpkin Spice Cheerios and Pillsbury Pumpkin Spice Grands."