Stacey Abrams' trying to mobilize Georgia's sporadic voters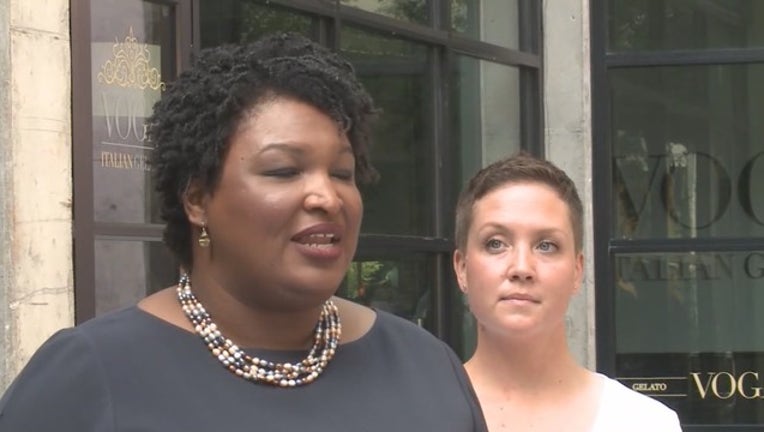 article
FOREST PARK, Ga. (AP) - Matrice Peavy is thrilled to see a young staffer for Georgia's Democratic gubernatorial nominee on her front stoop, and the 46-year-old mom assures the canvasser that she wants to help Stacey Abrams win.
"She's for all the people ... and she loves her family," Peavy says, summarizing what she's heard on television ads from the Atlanta lawyer and former legislative leader vying to become the first black female governor in American history.
Yet, Peavy tells Leila Hart, Abrams' 21-year-old door-knocker, "I don't get out much," and she confesses she doesn't know her assigned polling location.
Abrams has hinged her hopes of success on hundreds of thousands of Georgians like Peavy - "low-propensity voters" in campaign parlance. She doesn't think she can defeat Republican Brian Kemp by simply relying on habitual voters, even the college-educated, affluent whites who lean Republican yet would consider her because of Kemp's unapologetic embrace of President Donald Trump. Instead, her challenge in the final weeks of the campaign is to coax infrequent voters off the sidelines.
"We see a clear path to victory" that runs through "voters whose voices have been largely ignored because they haven't been engaged before," she told The Associated Press this week.
It stands out in comparison to Kemp, who is running an aggressive, well-funded campaign, but one targeting the more obvious GOP base in a state Trump won by 5 percentage points and that hasn't elected a Democrat to the governor's office since 1998.
The math behind Abrams' argument seems simple enough.
Democrat Jason Carter lost the Georgia governor's race in 2014 by about 200,000 votes out of 2.55 million cast, so Abrams has to find enough to make up the difference.
There are about 6 million registered voters in the state. Hillary Clinton drew about 760,000 more votes in 2016 than Carter got in 2014 so eating into that dropoff is Abrams' first target. Then there an additional million-plus voters Abrams' camp has identified as being Democrats or left-leaning independents but who don't vote consistently.
That's a far bigger universe of potential voters than the roughly 90,000 people Abrams' campaign has identified as "persuadable," meaning they're frequent voters who lean Republican but could be up for grabs by the right Democrat.
From the outset, Abrams has targeted her message, the mechanics of her campaign and much of her nearly $17 million fundraising haul on the larger group of irregular voters.
The approach doesn't exclude newly registered voters, but doesn't necessarily depend on them. That positions her to withstand a voter registration controversy facing the state. Kemp, who is currently secretary of state and oversees elections, is under fire for having 53,000 new voter registration applications on hold in his office, most of them from black would-be voters who could benefit Abrams.
Abrams readily acknowledges her approach is ambitious and largely untested in a business that likes predictability. "There was a great deal of disquiet about this notion of investing so heavily and so much in an unptapped market," Abrams said.
A signature tactical move that illustrates the larger strategy: a glossy, tri-fold mail piece sent recently to low-propensity voters that includes an already labeled, postage-paid application for a mail-in ballot. It went to 1.6 million households.
As a comparison, Dylan Sumner, Abrams' Florida-based mail consultant, said his firm sent just one mailing to more than 1 million voters in any statewide race four years ago. Recalling his work on President Barack Obama's two national campaigns, Sumner said just one mail piece exceeded 1.5 million. Abrams' campaign hasn't put a dollar figure on the piece, but it paid Sumner's firm nearly $750,000 this summer.
That builds on a larger voter outreach effort, some of it conventional, but all of it on a scale Georgia Democrats haven't employed since the GOP's ascendance here nearly two decades ago. That includes paid and volunteer canvassers, more than a dozen field offices, daily phone banks and an aggressive digital operation with both advertising and fundraising arms. The latter has helped Abrams nearly keep pace with Kemp in the hunt for money, even as he hammers her for raising millions of dollars from beyond Georgia.
Abrams built the model over a period of years, with most of her top staff and consultants having worked for her or affiliated groups when she was Georgia's House minority leader.
Her aides concede a necessary "inefficiency" to the approach.
Sumner said application mail pieces in states with a longer history of mail voting than Georgia often have a success rate in the high single digits.
Hart, Abrams' door-knocker, saw only limited success on a recent morning spent canvassing in Forest Park, a Democratic-leaning suburb south of Atlanta. She was looking to hand-deliver another mail piece: a post card a would-be voter fills out and hands back, with the campaign then mailing it back to remind the household to vote. But Hart found many voters weren't home, a few who said they have no intention of voting and even one who accused Hart of being rude after she explained why she thought Abrams' platform might benefit the woman.
But then came Peavy, who praised Hart for "everything you're doing." Peavy filled out the postcard to herself. She wrote down web addresses for early voting instructions. Hart looked up Peavy's polling precinct for Election Day voting. And then Hart entered details of the exchange in a voter file application on her cell phone, thus updating Peavy's file in Abrams' database.
Abrams' pollster Fred Yang said the Democrat would be in a good position if about a fifth of the electorate ends up being new voters. Yang, who worked for Virginia Gov. Ralph Northam's victorious 2017 campaign, said about 30 percent of the electorate in Virginia had not voted in the 2013 governor's race there, and that group broke decidedly for Northam.
Through Thursday, 45,265 Georgians had returned mail-in ballots, almost 115 percent more than at the same point four years ago. That's a tiny slice of even a normal midterm electorate, but the breakdowns suggest Abrams could be on the track she wants. Of the early voters, 41 percent are black, while 44 percent are white. With Latinos and Asian-Americans, nonwhites have outvoted whites so far. Blacks usually comprise about 28 percent of the Georgia electorate.
More noteworthy, 45 percent of the early voters did not cast ballots in 2014. Of those, more than half are black and another quarter record their race as something other than white.
The dynamics may have made at least one reluctant believer beyond Abrams' circle of partisans: Kemp himself.
"The Democrats think that we're not going to be motivated in this election, and we are," he told supporters at a stop on his recent statewide bus tour. "They are thinking they're going to turn out at a presidential level .... If that happens," he warned, "we're going to have a real race here."
___
Follow Barrow on Twitter at https://twitter.com/BillBarrowAP.