Several dogs dead after flash floods devastate doggy day care in DC
WASHINGTON - Fire crews had to rescue staff and pets at a doggy day care in D.C. Monday after severe pop-up storms caused flash flooding in the area. 
According to D.C. Fire and EMS Chief John Donnelly, several canines being cared for at District Dogs died in the flood. Chief Donnelly couldn't confirm the exact number of animals that suffered fatalities at the company's Rhode Island Avenue Northeast location.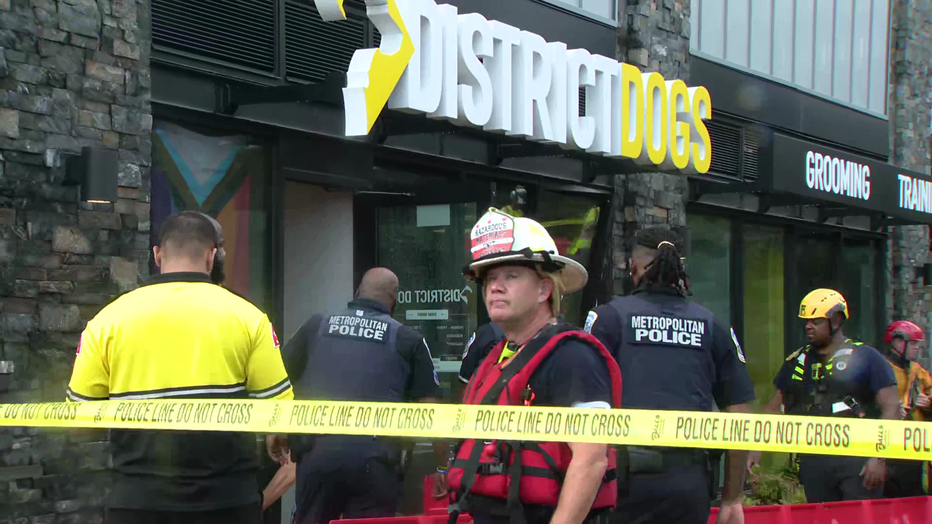 The chief said the water rose as high as six feet at one point, and at least 20 drivers had to be rescued from their vehicles under a bridge nearby. Crews could be seen using inflatable boats to reach the stranded commuters. 
Rhode Island Avenue is currently blocked in both directions. 
Jacob Hensley, the founder of District Dogs, released a statement via Twitter Monday night. 
"The District Dogs family is heartbroken over the events that occurred at our Rhode Island Avenue location this evening," Hensley tweeted. "We appreciate the quick and heroic actions of our employees and first responders to rescue animals. We are focused on doing everything we can to support impacted employees and customers during this difficult time. We have no further details at this time, while we continue to work with D.C. officials reviewing that incident." 
This is a developing story. Check back with FOX 5 for updates.