Rapper Tory Lanez sentenced in Megan Thee Stallion shooting
LOS ANGELES - Rapper Tory Lanez, who was convicted of shooting hip-hop star Megan Thee Stallion in the feet in the Hollywood Hills just over three years ago, was sentenced Tuesday to 10 years in prison.
Judge David Herriford of Los Angeles Superior Court handed down the sentence after prosecutors had asked for a sentence of 13 years in state prison, while defense attorneys pushed for probation for their client.
Lanez was convicted last Dec. 23 of one felony count each of assault with a semiautomatic firearm, having a loaded unregistered firearm in a vehicle and discharging a firearm with gross negligence.
Jurors deliberated about seven hours before finding him guilty of the three felony counts.
During the trial, Megan Thee Stallion testified that Lanez told her to "dance, b---ch," and shot her in the feet during a July 12, 2020, argument following a get-together at Kylie Jenner's home. She said she had no doubt that Lanez fired the shots, and that he later offered her $1 million not to say anything.
SUGGESTED:
Under cross-examination, the Grammy Award-winning singer -- whose real name is Megan Pete -- said she initially had no intention of talking about what had happened and "didn't want to be a snitch," but felt she had to "defend my name" when she saw that people were "making things up" and suggesting that she hadn't been shot.
In an essay published on Elle magazine's website, Megan Thee Stallion wrote, "As I reflect on the past three years, I view myself as a survivor, because I have truly survived the unimaginable."
"Not only did I survive being shot by someone I trusted and considered a close friend, but I overcame the public humiliation of having my name and reputation dragged through the mud by that individual for the entire world to see," she wrote.
Lanez' new attorneys, Baez and Ed Welbourn, countered that their client "will be able to resume his charitable activities and provide much- needed support for underserved communities in Los Angeles and beyond," and called for him to be placed on probation and to be allowed to enter a residential treatment program, according to a sentencing memorandum obtained by journalist Meghann Cuniff of the website legalaffairsandtrials.com.
Lanez "suffered from a mental condition, alcohol-use disorder, at the time of the offense," according to the defense's sentencing memorandum, in which his attorneys wrote that "the evidence of guilt is questionable at best and by no means overwhelming."
Meanwhile, more than a half-dozen witnesses, including Lanez's father, Sonstar, and the mother of his 6-year-old son, were called to testify about his devastation over the death of his own mother when he was 11 and his subsequent charitable efforts throughout the country even before he became well-known.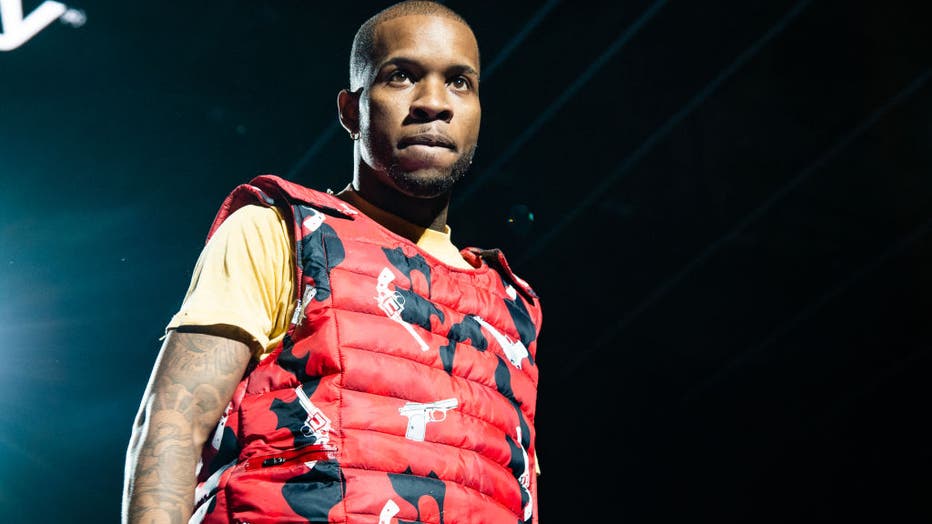 LONDON, ENGLAND - NOVEMBER 28: Tory Lanez performs on stage during Spotify Presents: Who We Be Live at Alexandra Palace on November 28, 2018 in London, England. (Photo by Joseph Okpako/WireImage)
"I don't think anybody ever gets over that," Sonstar Peterson said of his youngest son's reaction to his mother's untimely death. But he noted that music became an outlet for his son.
He told the judge that he wanted to "personally apologize" for his own outburst in court after his son's conviction, saying it was an "overwhelming time."
Lanez was called "the most supportive father" who knows how to put his son first, his son's mother said. She urged the judge to "please be as lenient as possible," calling the rapper the rock of the family.
The judge said he had received more than 70 letters on Lanez's behalf, including one from musician Iggy Azalea, whom he said had requested a sentence that was "transformational, not life-destroying," along with one from Lanez' young son.
During a contentious hearing in May, the judge rejected the defense's bid for a new trial. One of the rapper's new attorneys, Jose Baez, called Lanez's defense during the trial a "jumbled, bungled mess," and said Lanez's trial attorney, George Mgdesyan, did not have enough time to prepare for trial and ultimately "failed" his client.
In an audio recording that accompanied the Instagram post, Lanez alleged that he "was completely robbed and deprived of a fair trial" and that he watched prosecutors "unlawfully misuse their authority to hide and suppress any and all exculpatory evidence that exonerates me and furthers my innocence."
Lanez has remained behind bars since he was ordered to be taken into custody shortly after the jury's verdict was read.
City News Service contributed to this report.