Police officers, Indiana Pacers give homeless man size 17 shoes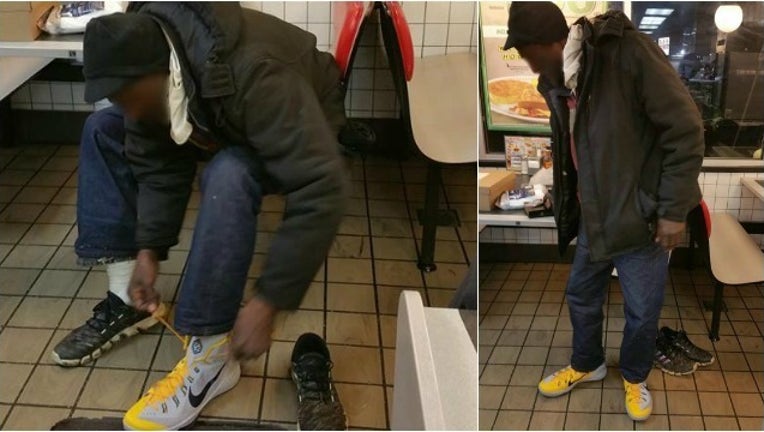 article
An Indiana police department went above and beyond the call of duty to help out a tall homeless man in need of some new kicks. 
"We were informed of this wonderful act of compassion shown by one of our Reserve Officers, who is so humble that he doesn't wish to be recognized. The story needs to be told nevertheless," the Lawrence Police Department said on Facebook on April 7. 
According to Lawrence police, a reserve officer has gotten to know a homeless man who is often spotted in one area. The officer frequently checks on the stranger.
"He is very nice, doesn't cause problems, doesn't bother people and rarely does he ask anyone for anything," Lawrence police said. 
The homeless man, also referred to as a "gentleman" by police, is always easy to spot because he's about 7-feet-tall.
"On one of those occasions the officer observed that the gentleman's shoes were torn up and were barely hanging together. The officer asked him his shoe size, which was size 17."
The reserve officer worked to find the homeless man some shoes and decided to reach out to the Indiana Pacers, according to the Facebook post. 
"The Pacers graciously donated a pair of size 17 shoes that were made for a former player," Lawrence police said. 
The officer was also able to get some other donated items for the homeless man including socks and other essential items.
"The officer didn't do this for any kind of recognition, but because it was the right thing to do. A size 17 Thank You to the Indiana Pacers organization for their generous donation."
The very next day, on April 8, the Lawrence Police Department shared two photos of the homeless man receiving the shoes. The Facebook post said the LPD late shift officers, along with the Pacers, have "basically adopted" the homeless man to help him during a challenging time in his life. 
"The acts of kindness extended to this gentleman are exemplary. Well done to the Reserve & Late Shift officers who have been working with this gentleman. They still do not wish to be named publicly, which speaks so highly of their character!" Lawrence police said.