Police looking for suspects in robbery on Howell Mill Road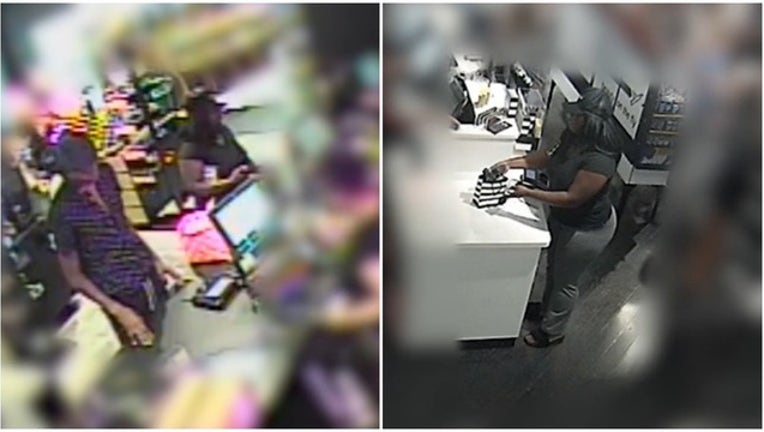 ATLANTA - Police are trying to identify two suspects in a robbery that occurred outside a Starbucks on Howell Mill Road, according to authorities.
%INLINE%
A female suspect snatched a woman's purse, and escaped with a male suspect in a white vehicle, according to police. The incident occurred on July 17 around 2:50 p.m.
The victim was sitting on the outdoor patio at Starbucks when the female approached her asking questions about restaurants in the area, according to officials.
The female snatched the victim's Michael Kors purse, ran to the parking lot, and jumped in the passenger seat of the white vehicle.
Police say the victim chased the suspect but got caught between the vehicle and pavement in the parking lot as the vehicle drove off.
As the vehicle picked up speed, the victim was dragged along the pavement. The victim sustained abrasions and lacerations to her legs, side, feet and a substantial wound to her left elbow, according to police.
Among the item's stolen from the victim were her older Metro PCS ZTE phone, keys to an Enterprise Nissan Altima rental car, her Social Security card, Georgia driver's license, and credit/debit cards.
The victim was transported Grady Hospital for treatment. 
After checking with her financial intuitions, the victim stated that the suspects went directly to Lenox Mall, and began to fraudulently use her credit cards, according to police.
The suspects went to Macy's, Sephora, Victoria Secret, and American Cookie Company, according to authorities.
The suspects were captured on video surveillance making some of the fraudulent charges moments after the robbery at Lennox Mall. 
Police ask that if you have any information in regards to this case to please call them.