Police: Crawling 'Grinch' burglarizes Rome businesses, cars
ROME, Ga. - He's a crawling crook who slithered his way around a Rome business he broke into early Wednesday morning much like the Grinch.
Rome Police are trying to determine if he's the same guy who broke into numerous vehicles in a neighborhood near the electrical service shop. Frank Purdy, owner of Frank Purdy Electric showed FOX 5 News video surveillance video from inside his business.
"There he is right there, he came through the ceiling," said Purdy as he pointed to the video.
It showed the man who broke in through a ceiling panel, using his cell phone flashlight to find the lights. Then he slithered around inside of Frank Purdy Electric to avoid setting off the motion detector and alarm. It happened anyway when he got into the office and apparently stood up, empty-handed.
"You think if you see a company of some sort you'd find money on-premises we don't leave money on-premises. Did he get anything? Not that I'm aware of," said Purdy.
He said after the hoody wearing hoodlum rifled through the cabinets he whacked the keypad in an unsuccessful effort to disable the alarm. He got out the same way he got in, through the roof, getting away before police arrived.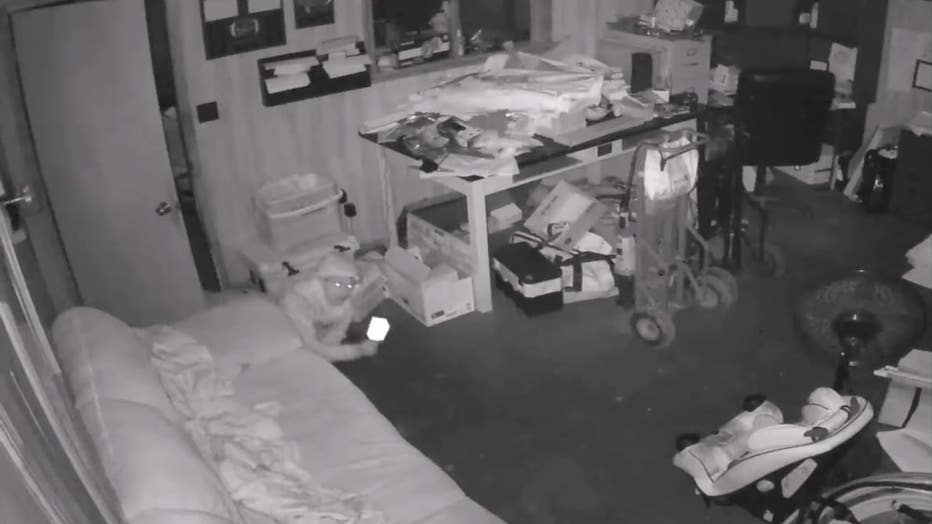 Investigator Tony Yarbrough, with the Rome Police Department, told FOX 5 News he is trying to determine if the crook caught on surveillance at Frank Purdy Electric is the same guy who broke into vehicles in the nearby Summerville Park neighborhood early Tuesday morning.
"We were thinking they might be connected, we don't know, we haven't gotten any kind of video surveillance from the car break-ins yet. We had approximately eleven car break-ins in that car neighborhood," said Investigator Yarbrough.
Amy Etheridge, who lives in the Summerville Park neighborhood, said her vehicle has been broken into four times in the last year and a half including a week and a half ago.
"The center console and then the glove compartment, everything was thrown around in the front seat of the car," said Etheridge.
Now She, Frank Purdy and many others want the crawling crook caught before he strikes again. "I hope we find him and I hope he gets prosecuted because I'm not worried so much about me but I'd hate it to be somebody else," said Purdy.
Rome Police tell FOX 5 News they typically see an uptick in break-ins during the holiday season.
Anyone with any knowledge of this crawling crook is asked to call the police.