Damage from rare mountain tornado found near Colorado's Pike Peak at 9,500 feet
National Weather Service meteorologists have confirmed a tornado downed dozens of trees near Colorado's Pikes Peak on Thursday, and the world is seeing the destruction thanks to a hiker who was near the summit.
Brad Carroll took photos of what he described as a large debris field along the infamous Pikes Peak Highway.
Pikes Peak tornado from July 20, 2023. (Brad Carroll)
The roadway was built during the early 1900s and runs 19 miles from Cascade, Colorado, to the mountain's summit at 14,115 feet.
An initial NWS survey determined the tornado was an EF-1 with estimated winds over 100 mph. Most of its destruction was at an elevation of 9,500 feet in what is known as Green Mountain Falls.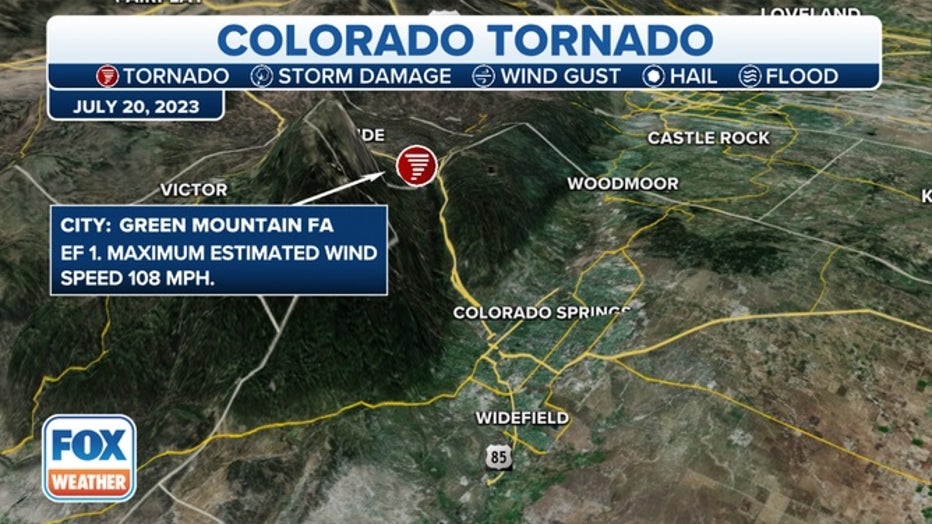 A tornado impacted Green Mountain Falls on Thursday in Colorado (FOX Weather)
ELK'S DING-DONG DITCH CAPTURED ON CAMERA
High-elevation tornadoes uncommon
NWS meteorologists said tornadoes on mountains are uncommon because the moisture and needed winds to form a vortex don't usually come together because of the high terrain.
"It is just simply too difficult to get that Gulf moisture all the way up into the mountains," the NWS said. "Do mountains throw a big wrench in formation? Yes, they do. But we aren't sure if there is enough research to really say one way or another if they help or hurt formation chances if atmospheric conditions were equal."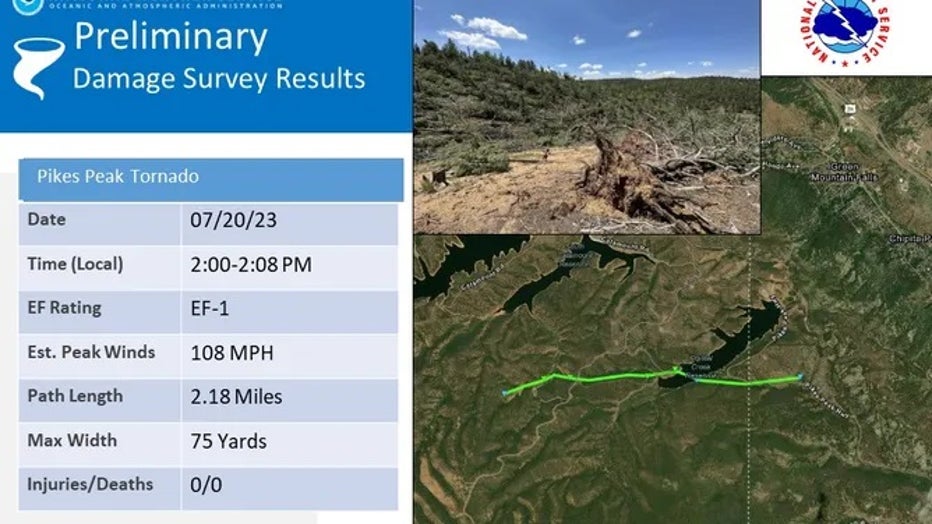 Tornado survey results from NWS Pueblo about tornado damage discovered near Colorado's Pike's Peak on July 20, 2023. (National Weather Service, Pueblo / NOAA)
Additionally, the population and the potential for witness reports tend to be sparse at higher elevations, so some tornadoes could go unreported.
EF-3 TORNADO DAMAGE TO PFIZER PLANT COULD EXACERBATE DRUG SHORTAGES, HEALTH EXPERTS WARN
The highest-elevation tornado ever reported in the U.S. happened in California's Sequoia National Park in 2004. The twister had a reported elevation of 12,156 feet.
The highest-elevation tornado in Colorado was back in 2012 and jumped around Mount Evans at an elevation of 11,900 feet.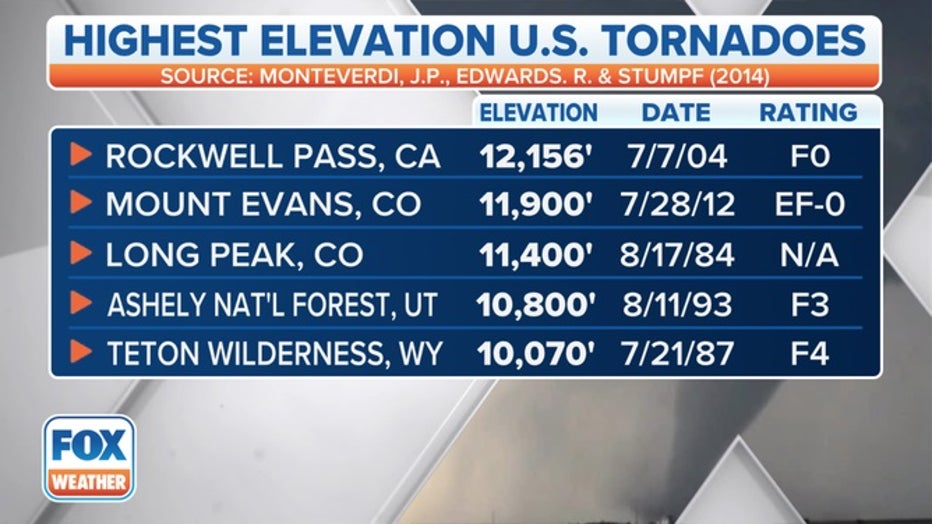 Highest elevation US tornadoes
There were no reported injuries during Thursday's event.