Officials: No apparent survivors in Texas balloon crash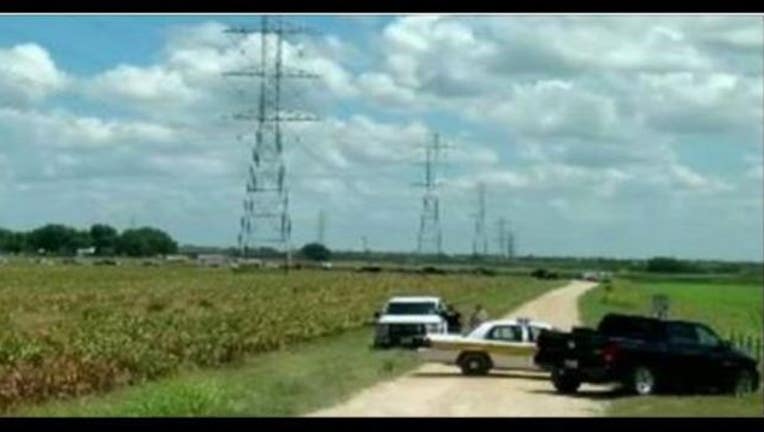 article
LOCKHART, Texas (AP) — A hot air balloon carrying at least 16 people caught on fire and crashed in Central Texas on Saturday, and there did not appear to be any survivors, authorities said.
Authorities would not confirm the exact number of deaths, but Lynn Lunsford with the Federal Aviation Administration said the balloon was carrying at least 16 people and the Caldwell County Sheriff's Office said in a statement that it didn't look like anyone survived.
If 16 people were killed, it would be the one of the worst such disasters, possibly the worst in U.S. history. The deadliest such disaster happened in February 2013, when a balloon flying over Luxor, Egypt, caught fire and plunged 1,000 feet to the ground, crashing into a sugar cane field and killing at least 19 foreign tourists
Saturday's crash happened at about 7:40 a.m. in a pasture near Lockhart, which is about 30 miles south of Austin. The land near the crash site is mostly farmland, with corn crops and grazing cattle. Cutting through that farmland is a row of massive high-capacity electrical transmission lines about 4 to 5 stories tall. The site of the crash appears to be right below the overhead lines, though authorities haven't provided further details about what happened. Aerial photos showed an area of charred pasture underneath power lines.
Margaret Wylie lives about a quarter-mile from the crash site and told The Associated Press that she was letting her dog out Saturday morning when she heard a "pop, pop, pop."
"I looked around and it was like a fireball going up," she said, noting that the fireball was under large power lines and almost high enough to reach the bottom of them.
Wylie, who called 911, said the weather seemed clear and that she frequently sees hot air balloons in the area.
Erik Grosof with the National Transportation Safety Board said at a news conference that the agency has deemed it a major accident and a full-bore investigation will begin Sunday when more federal officials arrive. "This will be a difficult site for us to work through," Grosof said.
The balloon was operated by Heart of Texas Hot Air Balloon Rides, according to two officials familiar with the investigation. The officials spoke on condition that they not be named because they weren't authorized to speak publicly.
Heart of Texas' website said it offers rides in the San Antonio, Houston and Austin areas. The company's Facebook page features photos of a hot air balloon with a smiley face with sunglasses on it up in the air, people waving from a large basket on the ground and group selfies taken while up in the air.
The operation does not appear to be registered with the state of Texas.
Authorities have not released the names of those who were on board and have not said who was flying the balloon.
Skip Nichols identifies himself on his Facebook page as the chief pilot of Heart of Texas and pictures posted by him are on the business' Facebook page. Nichols, 49, is also the registered owner of Missouri-based Air Balloon Sports LLC. No one answered the door at a home in Kyle, Texas, believed to be his. Calls to Heart of Texas operations manager Sarah Nichols, 72, rang unanswered, and a woman in Missouri believed to be his sister did not return calls seeking comment.
Warning about potential high-fatality accidents, safety investigators recommended two years ago that the Federal Aviation Administration impose greater oversight on commercial hot air balloon operators, government documents show. The FAA rejected those recommendations.
In a letter to FAA Administrator Michael Huerta in April 2014, the National Transportation Safety Board urged the FAA to require tour companies to get agency permission to operate, and to make balloon operators subject to FAA safety inspections. The FAA's Huerta responded that regulations were unnecessary because the risks were too low.
After Huerta's reply, the NTSB classified the FAA's response to the two balloon safety recommendations as "open-unacceptable," which means the safety board was not satisfied with the FAA's response.
Speaking to the AP just before leaving for Texas to lead the crash investigation, NTSB board member Robert Sumwalt said he was studying the board's recommendations from previous hot air balloon accidents. "I think the fact that it is open-unacceptable pretty much speaks for itself," he said.
He also noted that the team was still trying to gather basic information about the accident.
FAA spokesman Lynn Lunsford said it's difficult to say whether the Texas crash will cause the agency to reconsider NTSB's recommendations "until we've had a chance to gather and examine the evidence in this particular case."
___
Associated Press writers Jamie Stengle in Dallas, Emily Schmall in Fort Worth and Joan Lowy in Washington contributed to this report.
___
This story has been corrected to show that the accident happened about 7:40 a.m., not 8:40 a.m., and that the witness' last name is Wylie, not Wiley.
___
Follow Joan Lowy at twitter.com/AP_Joan_Lowy. Her work can be found at http://bigstory.ap.org/content/joan-lowy