Officials investigating fire at vacant home in Gwinnett County
GWINNETT COUNTY, Ga. -  Firefighters in Gwinnett County are investigating after a vacant home, that was for sale, caught on fire early Tuesday morning.
FOX 5 News obtained video of the fire as it happened around 1:45 a.m. the 1500 block of Watercrest Circle. Flames and heavy smoke could be seen coming from the front left corner of the house when crews arrived. Flames were also shooting through the roof.
"Heavy damage. Fire was shooting through the roof when firefighters arrived on scene," said Gwinnett County Fire PIO Capt. Tommy Rutledge.
"I see red lighting; I was like my house is on fire!" said neighbor Kevin Chacom.
Neighbor Kevin Chacom captured it on video when he realized the flames were coming from next door.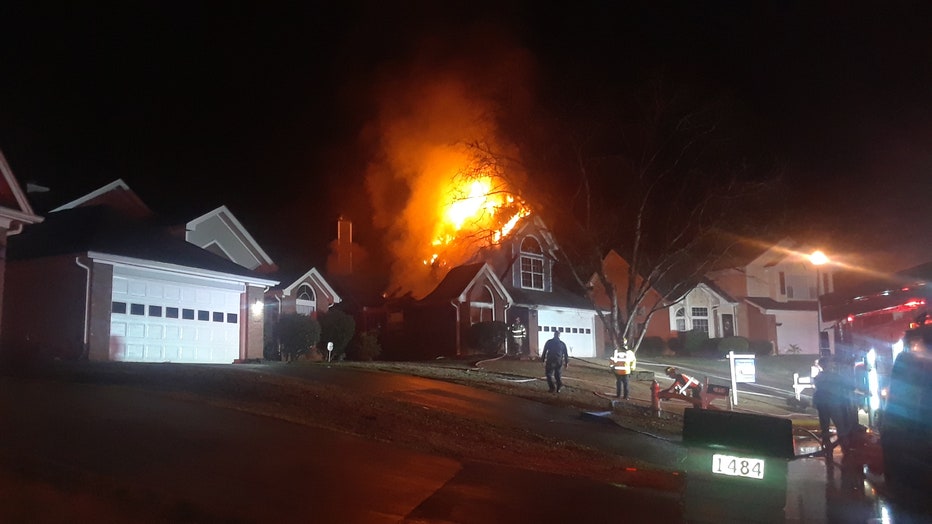 FOX 5 News spoke to the homeowner who said the last time anyone was at the house was on Monday when it was being shown to potential home buyers.
"I'm in shock," said homeowner Louis Detweiler.
The cause of the fire is still under investigation. Investigators believe it may have started in the kitchen but they are still working to determine how.
"You're buying a house, you want to make sure everything works, maybe the stove was on or they plugged something in," said Chacom.
"It's probably an electrical fire. It's accidental, not arson," said Detweiler.