Boy falls from coaster at Florida amusement park, rushed to hospital with 'traumatic injuries': officials
KISSIMMEE, Fla. - A six-year-old boy was rushed to the hospital on Thursday with serious injuries after possibly falling out of a roller coaster at a Florida amusement park.
The Osceola County Fire Rescue Department responded to Fun Spot's amusement park in Kissimmee, Florida around 3 p.m. on Thursday after receiving reports that a child had fallen from The Galaxy Spin roller coaster, a spokesperson told FOX 35 in a statement on Friday. A six-year-old boy was found "with traumatic injuries" about 20 feet beneath the ride's track.
He was transported to Orlando Health Arnold Palmer Hospital for Children in Orlando, officials said. An update on the child's condition was not immediately known.
"The department is aware of the incident and we're currently investigating. The ride is closed pending the outcome of the investigation," the Florida Department of Agriculture and Consumer Services said in a statement to FOX 35. That agency is responsible for inspecting most attractions and rides in Florida.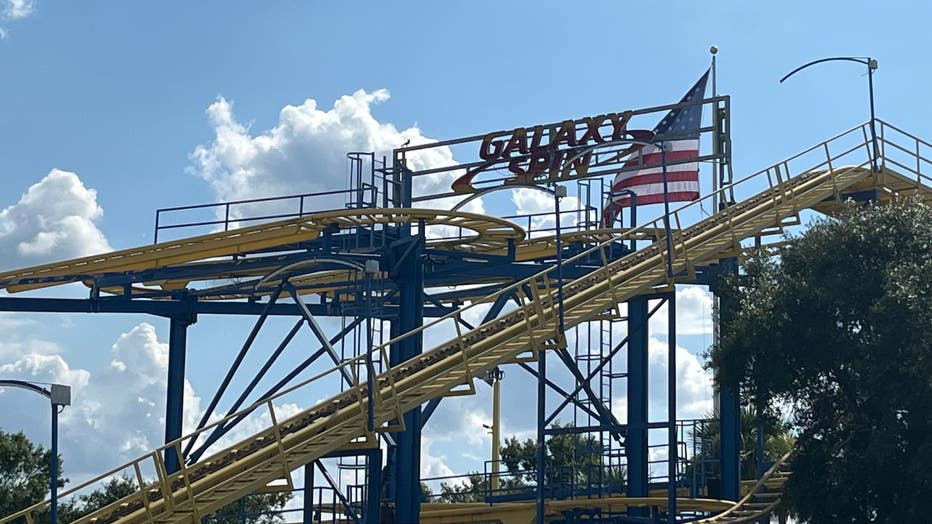 In a statement late Friday, Fun Spot America confirmed that an "an unfortunate incident happened on the Galaxy Spin Roller Coaster that resulted in a child being injured," and said "our thoughts and prayers are with the child and their family, and we pray for a speedy recovery."
Fun Spot's statement did not elaborate on how the child was injured or ended up on the ground. FOX 35 has reached out to Fun Spot's spokesperson for clarification. 
"The safety of our guests is our number one priority. We are working with the Florida Department of Agriculture and the manufacturer to investigate the incident. The FDACS has inspected the ride and found it to be in normal operating condition with no mechanical issues. They also found the ride was operated following all safety procedures and guidelines outlined by the manufacture and industry standards," Fun Spot's statement read.
The Galaxy Spin is a wild mouse-style coaster that takes riders around sharp corners and tight turns with a couple drops along the way. Each cart seats up to four people.
Fun Spot said the ride is closed pending the investigation and would not reopen "until we are 100% sure this will not happen again." There are two Fun Spot amusement parks in Florida – Orlando and Kissimmee – and a third in Atlanta, Georgia.