Not guilty plea in federal court for church shooting suspect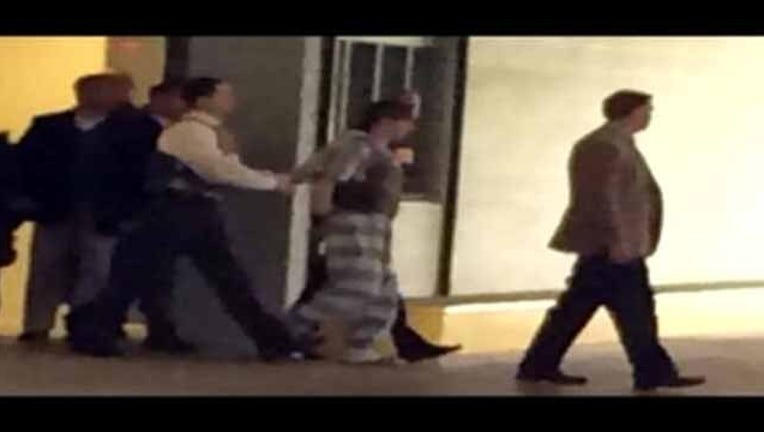 article
By MEG KINNARD and BRUCE SMITH
Associated Press
CHARLESTON, S.C. (AP) - The white man accused of gunning down nine parishioners at a black church in Charleston wants to plead guilty to 33 federal charges, but his lawyer said in court Friday that he couldn't advise his client to do so until prosecutors say whether they'll seek the death penalty.
During a brief arraignment in federal court, defense attorney David Bruck said that he couldn't counsel his client, Dylann Roof, to enter a guilty plea without knowing the government's intentions.
U.S. Magistrate Judge Bristow Marchant then entered a not guilty plea for Roof, 21, who faces federal charges including hate crimes, weapons charges and obstructing the practice of religion. Appearing in court in a gray striped prison jumpsuit, his hands in shackles, Roof answered yes several times in response to the judge's questions but otherwise didn't speak.
"Mr. Roof has told us that he wishes to plead guilty," Bruck said. "Until we know whether the government will be seeking the death penalty, we are not able to advise Mr. Roof."
The federal prosecution, particularly on hate crimes, has been expected since the June 17 shootings at Emanuel African Methodist Church. Early on, officials with the U.S. Department of Justice said they felt the case met the qualifications for a hate crime, and Roof was indicted by a federal grand jury about a month after the killings.
Roof appeared in photos waving Confederate flags and burning and desecrating U.S. flags. Federal authorities have confirmed his use of a personal manuscript in which he decried integration and used racial slurs to refer to blacks.
Because South Carolina has no state hate-crimes law, federal charges were needed to adequately address a motive that prosecutors believe was unquestionably rooted in racial hate, U.S. Attorney General Loretta Lynch said during a news conference announcing Roof's federal indictment.
Eighteen of the 33 charges against Roof could potentially carry the death penalty, while conviction on each of the others could mean a life prison sentence. Each charge also carries the possibility of hundreds of thousands of dollars in fines.
Also during Friday's hearing, Marchant accepted Roof's application as an indigent defendant - meaning the state will pay for his attorneys - and formalized the appointment of Bruck and another defense lawyer, Michael O'Connell. Marchant set Aug. 20 as a deadline for attorneys to file pre-trial motions. No future hearings are scheduled in Roof's case.
Marchant also heard briefly from victims' family members, who at Roof's bond hearing in state court expressed statements of mercy and forgiveness despite his alleged crimes. On Friday, several relatives made similar comments in federal court.
"We don't hold no ill will," Leroy Singleton, brother of Myra Thompson, said tearfully. "We're going to let the system work it out."
Gracyn Doctor, daughter of another victim, DePayne Middleton Doctor, said she misses her mother greatly but wouldn't let Roof get the better of her.
"Even though he has taken the most precious thing in my life, he will not take my joy," Doctor told the judge.
An attorney for the church said that the AME community nationally and worldwide would be watching the case closely as it moves forward.
"The world is watching," Eduardo Curry told reporters outside the courthouse after the hearing. "What we want justice to be is mighty and fair."
Roof also faces numerous state charges, including nine counts of murder and another potential death penalty prosecution. The Justice Department has not said if its case will come first, and the state also has not announced its decision on the death penalty.
App users click here for more images
___
Kinnard can be reached at http://twitter.com/MegKinnardAP
Copyright 2015 The Associated Press. All rights reserved. This material may not be published, broadcast, rewritten or redistributed.