New FOX 5 Poll: Ossoff leads Handel in 6th District Race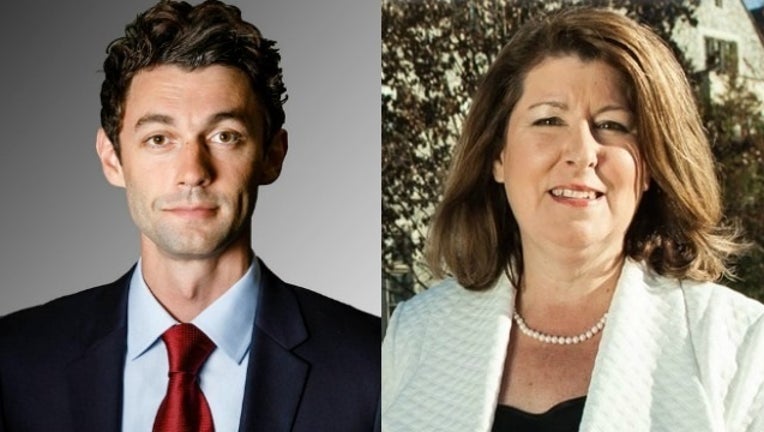 ATLANTA - A new poll conducted for FOX 5 shows Democrat Jon Ossoff leading Republican Karen Handel in a crowded field for Georgia's 6th District Congressional seat.
The FOX 5/Opinion Savvy poll shows Ossoff, a 30-year-old documentary filmmaker who once worked as a congressional aide, leading the race at 40 percent, following former Georgia Secretary of State Handel at 20 percent.
They're followed by three other Republicans, former Johns Creek City Councilman Bob Gray and State Senator Judson Hill of Marietta at 10 percent each and former State Senator Dan Moody of Johns Creek at 8 percent.
The rest of the candidates totaled 6 percent. Six percent of the respondents are undecided.
Each of the 18 candidates hopes to succeed Republican Tom Price, who stepped down when he was confirmed as Secretary of Health and Human Services in the Trump administration.
All of the candidates, no matter what their party affiliation is, will be on the ballot for the April 18th election. The top 2 vote getters will face off in a June 20th runoff.
If Ossoff qualifies for a runoff, he will face a neck-and-neck race against each of the 4 top Republicans cited in the poll.
In an Ossoff/Handel runoff, Handel has 41 percent, Ossoff 42 percent, and 17 percent are undecided.
In an Ossoff/Gray runoff, Gray has 42 percent, Ossoff 44 percent, and 14 percent are undecided.
In an Ossoff/Hill runoff, Hill has 45 percent, Ossoff 44 percent, and 11 percent are undecided.
In an Ossoff/Moody runoff, Moody has 43 percent , Ossoff 46 percent, and 11 percent undecided.
The poll conducted by Opinion Savvy surveyed 462 registered voters in the 6th District, and has a margin of error of 4.5 percent.
The poll also asked voters in what historically has been a Republican district about the job President Trump is doing.
The poll shows an approval rating of 53% for the President, disapproval at 46%, and only 1 percent unsure.
Republicans in Georgia and nationally are increasingly on edge about the strength of Democrat Ossoff's campaign in the traditionally GOP suburbs north of Atlanta.
Now he's flush with campaign cash as liberals from around the country embrace him as a face for their opposition to President Trump and the Republican-run Congress.
MORE: http://opinionsavvy.com/2017/03/24/poll-ossoff-leads-in-ga6-handel-tops-republicans/
The Associated Press contributed to this report.