Mental health breaks should be a priority during the work day, say experts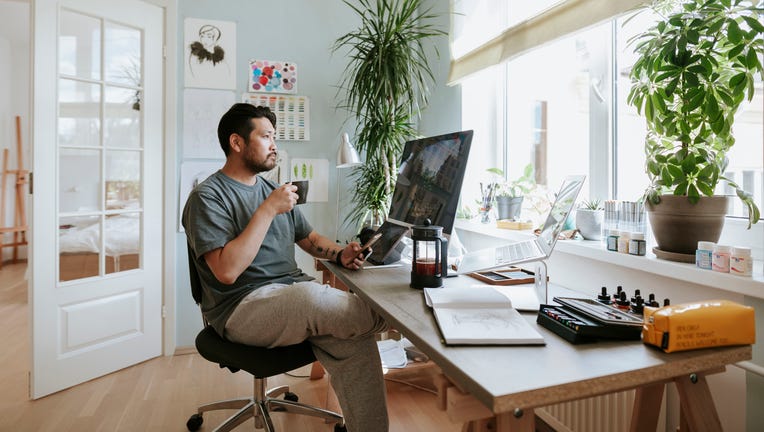 article
You may not realize the importance of taking short mental health breaks during your work day. 
These breaks can improve mood, increase productivity, boost creativity — and even facilitate better job satisfaction. 
Two experts shared with FOX Business why mental health breaks should be a priority during the work day — and how everyone can benefit from making this a regular habit. 
CAREER CHALLENGE: HOW TO MATCH YOUR PERSONALITY TRAITS TO THE RIGHT JOB FOR YOU
In a world in which work is now considered to be the No. 1 stressor in people's lives, taking small breaks throughout the working day — no matter whether people are remote, hybrid or in the office or workplace — can do wonders for your mental health, said Dr. Chris Mosunic.
He is a clinical psychologist based in the San Francisco Bay Area of California and a chief clinical officer with Calm, a mental health brand with the No. 1 app for sleep, meditation and relaxation.
"It can help with reducing stress and up-leveling productivity, which is ultimately better for everyone," he said. 
Even though employees know the many benefits of taking a break, only 1 in 3 actually say they often or always do take breaks during the work day, said Dr. Mosunic. 
"And by the way, eating or using the bathroom doesn't count!" he said.
A recent Calm Business study found that the top three reasons people didn't take breaks at work were the following: being too busy to take a break (56%); feeling guilty for stepping away during work hours (24%); and a concern about appearing unproductive to other workers (17%), said Mosunic.
MENTAL HEALTH AND THE WORKPLACE: WHAT EMPLOYERS MUST REALIZE
Employers play a role in encouraging breaks, he noted. 
"I want to acknowledge there is a shared responsibility from employers to be doing their part by actively encouraging employees to take mindful breaks and promote a positive working environment," he told FOX Business.
Overall, taking breaks benefits both the employee and employer, as this reduces employee stress in the workplace, increases happiness and, in turn, increases productivity, Dr. Mosunic said.
How many breaks are ideal?
The number of breaks is subjective and is based on the day or even the type of work that a person does, said Mosunic. 
"While longer breaks each day are unrealistic for many, companies and employees can take small steps that make a big impact, optimizing their 9-to-5," he said.
CHATTY COWORKERS CAN HURT YOUR CAREER: HERE'S HOW TO FIX THE ISSUE
For example, micro-breaks — short, five-minute breaks from the job — can lead to increased energy and a greater likelihood of achieving work goals. 
"Try to aim for at least 2-3 breaks throughout the day, and know that five minutes or a little less can positively impact your nervous system. If you're able to take more time, even better," he said.
What are examples of a mental health break? 
Mental health breaks are a reset for your mind, body and emotional state — and doing so reduces stress, said Mosunic, which can make us feel less irritable and boost our mood so that we feel happier and more focused when we return to our work tasks. 
Try deep breathing. If you don't have time for a 10-minute meditation, simply close your eyes and take five deep breaths, he recommended. 
THANK-YOU NOTES AFTER A JOB INTERVIEW: BEST WAYS TO STAND OUT FROM THE PACK 
"The benefits to your health and productivity when you give your brain a short break are important," he said.
Take a walk. Weather permitting, venture outside your workplace and walk around the block or the parking lot to get some fresh air, feel the sunshine and move your body. 
Skip the screen. Jeannette Lorandini, LCSW, founder and director of Suffolk DBT in New York, said a mental health break should not involve a screen. 
"A true mental health break offers reprieve from information processing and decision-making — it allows the body and mind to relax and re-center so that you can return to work," she told FOX Business.
TRAVELING FOR BUSINESS? 5 WAYS FOR WORKING BETTER FROM THE HOTEL ROOM
"Anything we do on a screen forces our body to intake more information and work." 
Although social media scrolling or watching YouTube can feel like a break, Lorandini said those are actually quite demanding on the brain because of the volume of information to process in a short period of time.
Pray. Praying is yet another example of mindfulness. 
"Mindfulness is a state of awareness in which one is fully present in the moment, maintaining an intentional awareness to observe thoughts and emotions," said Lorandini. 
It's a way to become more aware of surroundings and to engage fully with the world, which is a self-soothing act and mental health break, she pointed out.
What happens if you don't take breaks?
A schedule that is overpacked and stressful all day long, day after day, can take its toll, experts said. 
"When we're in back-to-back meetings, the body will experience heightened stress levels and a decrease in attentiveness," said Dr. Mosunic. 
"It's a myth that being overscheduled and very busy at work is more productive," he said.
He noted that in actuality, "the opposite is true. Nonstop work and a hustle culture are detrimental to our well-being," said Mosunic.