Man who recently lost toddler grandson gives boy $20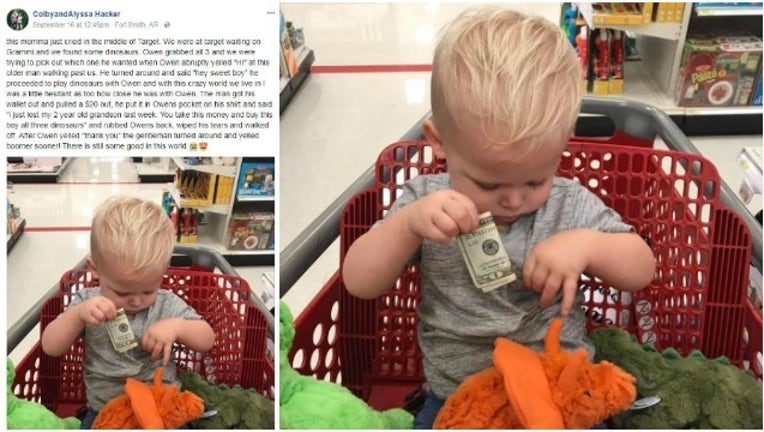 article
An Oklahoma mother shared a touching post on Facebook about an act of kindness that took place at an Arkansas Target. 
App users: View full article here
Alyssa Hacker said she was waiting on someone inside the Fort Smith Target when her young son grabbed three dinosaur toys. 
"We were trying to pick out which one he wanted when Owen abruptly yelled 'Hi' at this older man walking past us," Hacker said. "He turned around and said, 'hey sweet boy.'" 
As the child proceeded to play with the dinosaurs, the man pulled out his wallet and then put a $20 bill in the boy's pocket.
"I just lost my 2-year-old grandson last week," the man told Hacker. "You take this money and buy this boy all three dinosaurs." 
The man wiped tears from his eyes and he walked away.
"After, Owen yelled 'thank you' and the gentleman turned around and yelled 'boomer sooner,'" Hacker said. "There is still some good in this world."
Hacker said the act of kindness caused her to cry in the middle of the store. Her Facebook post has been shared more than 97,000 times and has more than 238,000 likes.