King George High School student surprises classmate with unexpected Christmas gift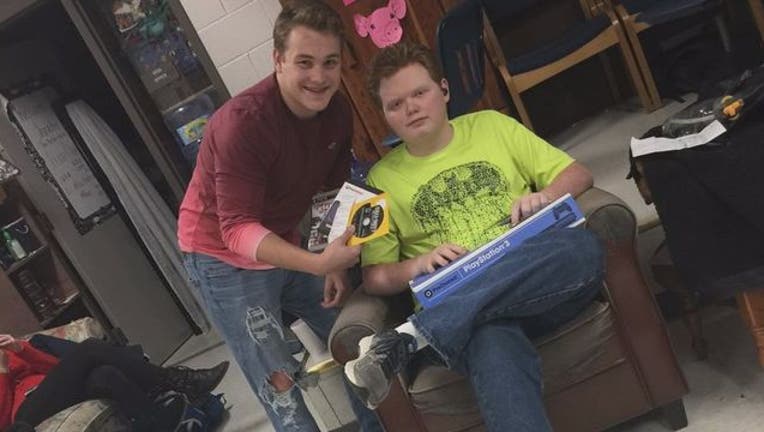 article
KING GEORGE, Va. (FOX 5 DC) - In an emotional video captured by peers, a teen from King George High School surprised a classmate with an unexpected Christmas gift. 
Every year for the holidays, Darrian Hodsden finds a way to spread Christmas cheer for the less fortunate. This year he wanted to show Thomas, a fellow classmate who is going through a rough patch, that he's there for him.
Hodsden found out that Thomas always dreamed of having a PlayStation 3 but didn't think he'd be getting one for Christmas. That's when Hodsden took action, he not only bought the gaming system but also purchased two games. 
In a Facebook post by the teen, Hodsden wrote, "This guy has been through a lot! I wanted him to know that someone was there for him. He mentioned to me about a ps3 and he didn't have a system and he wanted one. So I took some action! Merry Christmas everyone"
A tear jerking video shows Thomas covering his eyes after opening Hodsden's gift-- his reaction is so pure. 
"Darrian's heart is so good, he's taken the rough childhood he's had and made himself into a successful young man despite it all." Patty Hodsen, Darrian's step-mother, told FOX 5, "He understand what it's like to be without and what it's like to fall on hard times, and instead of it making him bitter or troublesome, he's allowed it to mold him into a beautiful human being."
And that's how to spread holiday cheer!