Judge sentences former Alabama House speaker ethics case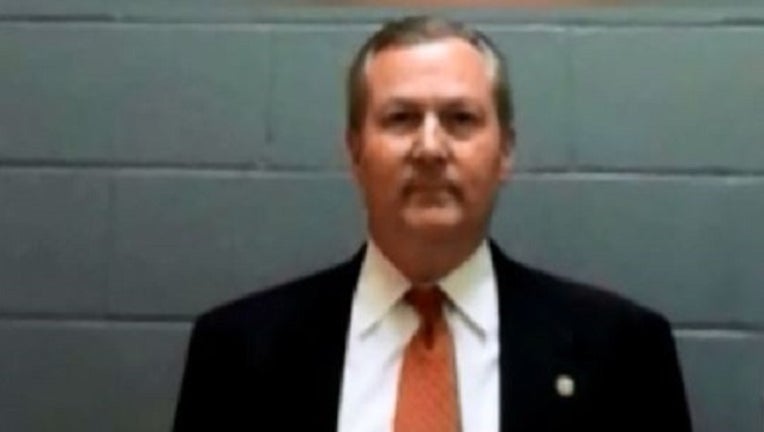 article
OPELIKA, Ala. (AP) — Former Alabama House Speaker Mike Hubbard was sentenced Friday to four years in prison and another eight on probation for breaking the state ethics law — a prison term handed down as his defense lawyer continued to argue Hubbard's innocence.
Lee County Circuit Judge Jacob Walker announced the sentence after a hearing in which prosecutors called Hubbard a remorseless figure motivated by greed while defense witnesses urged mercy for the man they described as a public servant.
A jury on June 10 convicted Hubbard on 12 counts of violating the state ethics law, including that he improperly solicited lobbyists and company executives for work and $150,000 in his investments in his debt-riddled printing business and used the power of his office to help his business clients.
Prosecutors argued that Hubbard, 54, betrayed the trust of voters who elected him to the Legislature and fellow lawmakers who chose him to lead the House of Representatives.
"The motive was simply greed. He wanted the money. The evidence showed that everything he did was to get the money," prosecutor Matt Hart said. Hart also said that Hubbard had shown "absolutely no acceptance or responsibility" while continuing to attack the integrity of the prosecution.
Hubbard did not have a visible reaction as the verdict was read. He left the courtroom with a grim expression but was allowed to go free on bond as he appeals his conviction.
Hubbard did not make a statement at his sentencing hearing. Defense lawyer Bill Baxley said that was because the defense would soon be filing post-trial motions challenging the conviction. Alabama Attorney General Luther Strange, who had recused himself from the case, called the sentence a "turning point" in the state and praised the prosecution team.
"No longer can elected officials expect to disregard our laws and not pay a penalty," Strange said in a statement.
Baxley, a former state attorney general, said he believed Hubbard "hasn't done anything wrong."
"I've seen very few people convicted by a jury that I felt were innocent ... can count on one hand," Baxley said. "This is a case where I believe with all my being — after everything we've been through — that Mike Hubbard is absolutely innocent of every charge."
Baxley outside the courtroom called the case a "witch hunt" and vowed to "appeal the case all the way." The effort to fight the conviction began Friday afternoon when Baxley filed a motion requesting an investigation into possible juror misconduct. The motion came after a juror or alternate juror — it was unclear which — submitted an affidavit saying that some jurors made biased comments to each other during the trial, such as calling Hubbard greedy. The person's name was redacted.
The conviction came amid a season of scandal that has engulfed Republicans at the helm of the Alabama's legislative, judicial and executive branches of government. Chief Justice Roy Moore faces possible ouster from office over accusations that he violated judicial ethics during the fight over same-sex marriage. And Gov. Robert Bentley has faced an impeachment probe after a sex-tinged scandal involving a former top aide.
Hubbard for years was one of the state's most influential politicians and a GOP star seemingly on an upward trajectory. In 2010, he led state Republicans to the first legislative majority since Reconstruction and soon after was elected as House speaker.
He was automatically removed from office after being convicted of a felony.
The sentence was close to the five years of incarceration that prosecutors had sought.
Walker rejected prosecutors' request for Hubbard to pay $1.6 million in fines and restitution. Walker said he would not impose restitution. He ordered $210,000 in fines.
Baxley argued that the ethics counts against Hubbard were victimless crimes and did not cost taxpayers money.
"The people of the state of Alabama are the victims. They were supposed to get his public service and he denied them of that," Hart retorted.
The sentence was handed down after character witnesses — including a U.S. congressman, Hubbard's pastor and a local mayor— pleaded with Walker to extend mercy, describing Hubbard as hard-working, generous and a person of integrity.
U.S. Rep. Mike Rogers sprang to the defense of his friend. Rogers said he did not recognize the "caricature" that prosecutors presented of Hubbard because he did not know a finer person.
"He is a man of honor and integrity," Rogers said. The congressman added that it would not serve justice or overcrowded state prisons to put Hubbard behind bars. "I know him better than anyone. He has been severely punished."