Invasive fish found in Gwinnett County
GWINNETT COUNTY, Ga. - A new breed of fish has been found in Georgia and it is not welcome. The invasive northern snakehead, which can breathe out of water, turned up at a private pond in Gwinnett County. Wildlife experts with Georgia's Department of Natural Resources are concerned that if left unchecked snakeheads could decimate area species.
Randy Bradley is a regular at Twin Bridges Lake, a family fishing spot in Gwinnett County where he helps out and where lunkers are not uncommon.
The discovery of the northern snakehead, with its blotchy appearance, which can grow to three feet long, is of concern to Georgia's DNR and fisherman like Bradley.
"The big concern is they'll wipe out populations through eating them. Largemouth, Smallmouth, Perch, Bluegill, just all varieties indigenous to the southeast," said Bradley.
The concern, Bradley said, is about northern snakeheads devouring fries and fingerlings, the baby fish, seen splashing in the edges of the lake.
It's unclear how the invasive species got into Georgia but the fish can breathe air and survive in low oxygenated systems.
DNR said invasive species like the northern snakehead, native to China and so far found in 14 other states, are often introduced through unauthorized release.
"Somebody brought it here and somebody put it here," said Bradley.
DNR said in early October an angler reported catching a northern snakehead in a pond on private property in Gwinnett County where Twin Bridges Lake is located.
Bradley told FOX 5 News he's not concerned about northern snakeheads migrating into Twin Bridges Lake because it is independently spring fed, unlike other lakes and ponds with creeks flowing into them.
"Then those fish can migrate up anywhere they want to go," said Bradley
If anglers catch a northern snakehead, Georgia's DNR advises them to kill it, take pictures of it, make note of where the fish was caught it and send them the information.
Here's how DNR said anglers can help:
Learn how to identify northern snakeheads.

Dispose of aquarium mammals and plants in the garbage, not in bodies of water.

Dispose of all bait in trash cans, at disposal stations, or above the waterline on dry land.

Dump water from boat compartments, bait buckets amd live wells on dry land.
"Any species that shouldn't be here is going to impact your system. So, therefore, kill it, your indigenous species will thrive because of it," said Bradley.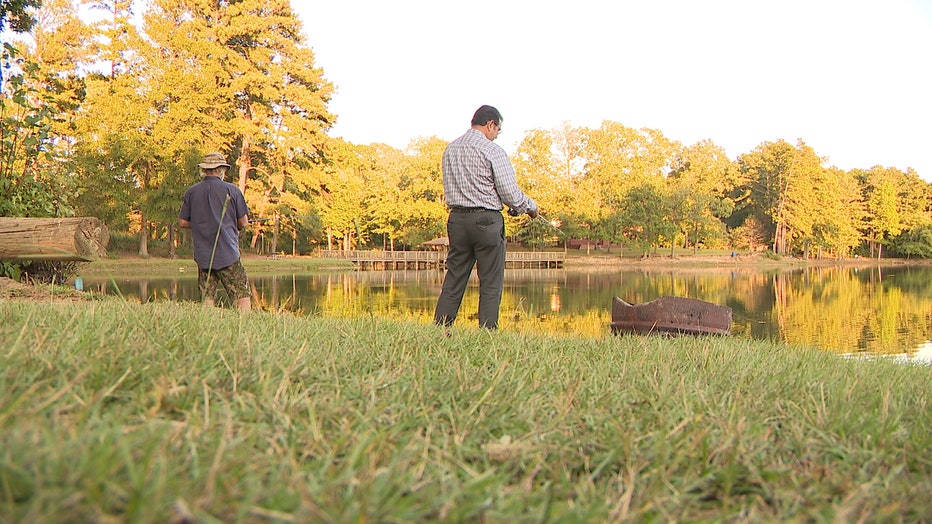 For more information about the northern snakehead or other aquatic nuisance species, visit https://georgiawildlife.com/aquatic-nuisance-species.