Inmate slugs Dylann Roof in jail shower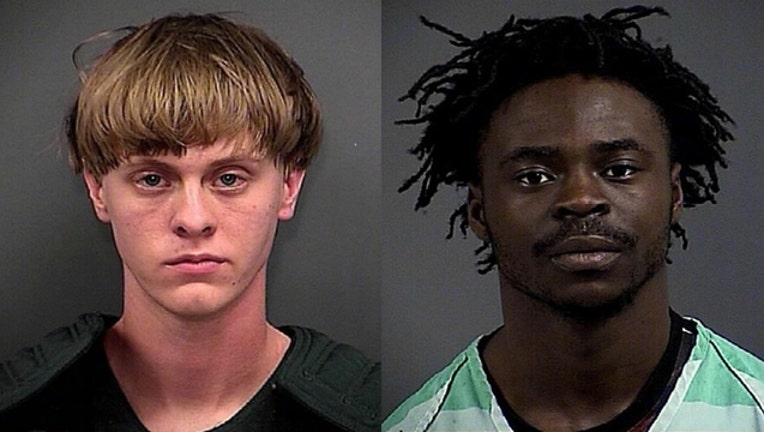 article
CHARLESTON, S.C. (AP) - Dylann Roof, the white man charged in the massacre of nine black parishioners at a Charleston church, was slugged Thursday by a black inmate at the South Carolina jail where he is being held, Charleston County Sheriff Al Cannon said.
Dwayne Stafford ran down the stairs from his cell after Roof went to the shower around 7:45 a.m. and hit him, bruising Roof's face and back, according to a police report.
The 22-year-old Roof was examined by jail medical personnel and returned to his cell at the Charleston County Detention Center, Sheriff's Maj. Eric Watson told The Associated Press.
Although authorities initially said Stafford would be charged with assault, Cannon told reporters that Roof and his attorneys don't want to press charges. The 26-year-old Stafford is awaiting trial on first-degree assault and strong-armed robbery charges.
Roof has been housed at the jail since being brought back from North Carolina a day after the June 17, 2015, slayings of nine parishioners during a Bible study at Emanuel AME Church. He faces the death penalty in upcoming trials in federal and state courts.
Officials are investigating how Stafford managed to get through a steel cell door with a narrow vertical window and down the stairs to reach Roof.
The two detention officers assigned to the unit are being interviewed and officials are also looking into the possibility the electronic door mechanism malfunctioned.
The area of the jail is for federal and high-security prisoners. It has two tiers of cells and the shower Roof was using was in the center on the ground floor. Cell doors can only be opened by officers sitting at a control console.
At the time, one of the two officers in the unit was taking toilet paper to another inmate while a second officer was taking a break, perhaps to go to the bathroom or to get something, the sheriff said.
"It seems to me pretty obvious at this point that at the very least we have complacency," Cannon said. "We do things day-in and day-out and they become routine."
It was the jail's first incident with Roof, Cannon said, adding that he wasn't sure how long the internal investigation would take.
The sheriff said he could not say if race was a motive for the attack.
"I can't speculate," he said. "There is nothing that I am aware of beyond the obvious speculation that we would all have, given the nature of the situation. But nothing specific."
The federal government has charged Roof with hate crimes and other offenses in the shootings. Prosecutors allege Roof talked of starting a race war and posed with the Confederate battle flag before the killings. His federal trial is set for November.
He also faces the death penalty in state court where he is charged with nine counts of murder in a trial set to begin next year.