In Ohio, Trump-less GOP politicking going strong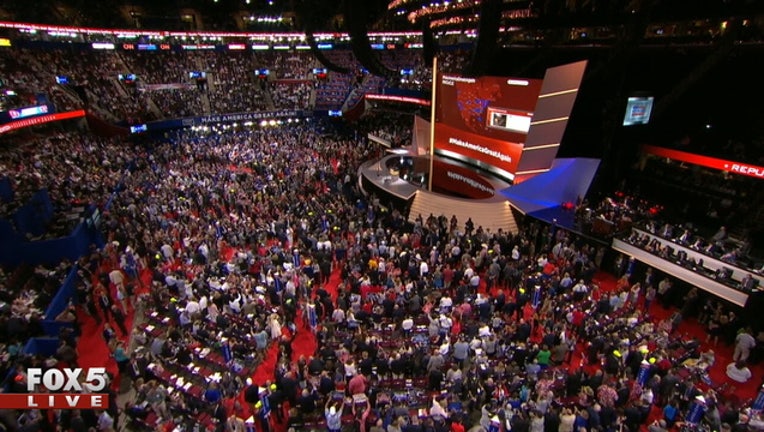 article
INDEPENDENCE, Ohio (AP) — Nine miles from the red-white-and-blue-festooned arena where thousands of Republicans are extolling their new presidential nominee, other Republicans are uttering not a word about Donald Trump as they knock on doors and talk to voters.
Americans for Prosperity activists have been helping Sen. Rob Portman for more than a year, telling Ohioans that his Democratic rival, former Gov. Ted Strickland, has a terrible record on the economy. AFP and its allies are using a sophisticated database to find and persuade voters and have already spent more than $8 million on ads against Strickland.
The politicking in Ohio this week vividly shows the multiple personalities of today's Republican Party. Not all of it is occurring inside the Quicken Loans Arena where Trump will close out the convention Thursday night with his acceptance speech.
And while there's celebration over Trump, there's also plenty of Trump-less party building as the GOP and its allies fight to hold onto their Senate majority.
Portman, one of the more vulnerable incumbents, and Ohio Gov. John Kasich were among those who took an everywhere-but-Trumpfest approach. Political and policy groups, including ones tied to GOP strategist Karl Rove, are holding events for donors in town for the convention, while minimizing their own presence at the convention itself. That's a major change from four years ago when Mitt Romney accepted the nomination in Tampa while groups there clamored for his attention.
On Monday afternoon, while convention delegates bustled around downtown, Ron Ferguson and other AFP activists sprinted through suburban Cleveland, adding to the more than 60,000 doors they've knocked on so far. Ferguson passed an anti-Strickland door-hanger to Independence resident Greg Stayanchi, who stood barefoot and behind a screen door.
Stayanchi seemed to have memorized the group's talking points and bemoaned past tax increases, state spending and depleted rainy day funds. "Oh, we've had plenty of Strickland in this state," he said. "I won't be voting for him."
But when a reporter asked about the Republican National Convention that was in full swing a few miles north, Stayanchi heaved a sigh and fell silent. "I'm not a huge Trump fan," he finally offered. "Hillary's too crooked for me. It's the lesser of two evils."
That attitude is shared by Charles Koch, a billionaire Kansas industrialist who helps fund Americans for Prosperity and numerous other groups. The entire Koch network is withholding its resources from Trump, another change from 2012 when they tried to oust President Barack Obama with big ad campaigns blasting his health care policies.
Kasich, it seemed, was everywhere but the arena. He spoke to the U.S. Hispanic Chamber of Commerce. He addressed the NAACP. He met with the British ambassador to the U.S.
A fundraising appeal he sent Tuesday on behalf of House Speaker Paul Ryan seemed to exist in a Trump-less alternate universe.
"I see our country heading down two paths," it began. The only alternative to a Democratic White House with Hillary Clinton, it continued, "is the path that my friend Speaker Paul Ryan envisions."
All week, Kasich's and Trump's aides have sniped at each other on television and through social media. Kasich won Ohio, but little else, during the primary race against Trump and has declined to endorse him. His approach matches well with the constituents he represents.
A focus group of Cleveland-area swing voters convened Sunday by Republican pollster Frank Luntz repudiated Trump as "intolerant" and "a wild card." Just two panelists said they could see themselves voting for him, while seven chose Clinton. The other 18 panelists pined for Romney and lamented Kasich's loss in the primary.
Portman, too, adopted an "I'm here, but not here" schedule, spending part of Tuesday kayaking on the Cuyahoga River with wounded veterans. He vigorously defended Kasich, saying "John is not an embarrassment" as Trump's campaign chairman had charged. But Portman shares a November ballot with Trump and told reporters that he'd support the nominee. He's just not doing so at the national party convention in his home state.
Even some inside the arena for the Trump show seemed dejected.
"The party has less unanimity than it usually does," said Oklahoma City Mayor Mick Cornett, who is attending his fourth convention. "I'm trying to remain open-minded, but like a lot of Republican mayors, I'm not sold."
___
Follow Julie Bykowicz on Twitter at: http://twitter.com/Bykowicz