IKEA recalls 29 million dressers after 6 child deaths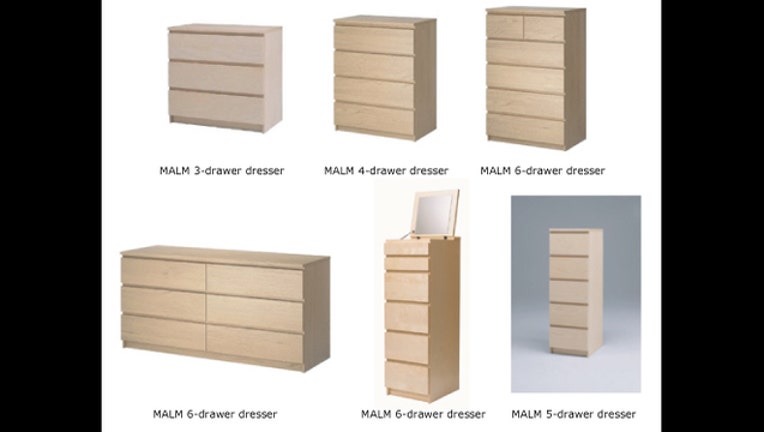 article
MINNEAPOLIS (KMSP) - IKEA is recalling 29 million dressers and several other models of chest and dressers "following an additional child fatality" linked to the MALM dresser. In February 2016, IKEA and the U.S. Consumer Product Safety Commission learned a 22-month-old boy from Apple Valley, Minnesota died when a MALM dresser tipped over a pinned him against his bed.
The Apple Valley death followed two other child deaths linked to MALM chests in February and June of 2014. In all three cases, none of the chests or dressers had been anchored to the wall. In addition to the deaths, IKEA received reports of 41 tip-over incidents involving the MALM chests and dressers, resulting in 17 injuries to children between the ages of 19 months and 10 years.
Between 1989 and 2007, three other children died from tip-over incidents involving the GUTE, RAKKE and KURS dresser models.
WHAT IS RECALLED? All IKEA chests and dressers. The recalled children's chests and dressers are taller than 23.5 inches and adult chests and dressers are taller than 29.5 inches. The 29 million units of recalled chests and dressers include: MALM 3-drawer, 4-drawer, 5-drawer and three 6-drawer models and other children's and adult chests and dressers.
The recalled chests and dressers are unstable if they are not properly anchored to the wall, posing a serious tip-over and entrapment hazard that can result in death or injuries to children. IKEA is offering refunds or repair options.
REFUND INFORMATION: Consumers are entitled to a full refund for chests and dressers manufactured between January 2002 and June 2016. Consumers with chests and dressers manufactured prior to January 2002 will be eligible for a partial store credit.  The recalled MALM chests and dressers were sold from 2002 through June 2016 for between $70 and $200.
REPAIR INFORMATION: Consumers can order a free wall-anchoring repair kit. Consumers can install the kit themselves or IKEA will provide a one-time, free in-home installation service, upon request. Consumers can reorder the kits throughout the life of their chest and dresser.
IKEA CONTACT INFORMATION: Call IKEA at 866-856-4532 or go to www.IKEA-USA.com/recallchestsanddressers or www.IKEA-USA.com and click on Product Recall for more information on how to receive a refund or free wall-anchoring repair kit.
According to CPSC data, a child dies every two weeks and a child is injured every 24 minutes in the U.S. from furniture or TVs tipping over.
"After a 22-month-old from Apple Valley, Minnesota was killed by a falling MALM dresser, we called on the Consumer Product Safety Commission and IKEA to take action to prevent further injuries and deaths," said U.S. Sen. Amy Klobuchar (D-Minn.). "While today's announcement won't bring back the children who tragically lost their lives to tip-overs, it will hopefully prevent future tragedies by taking this dresser off the market and leading to greater public awareness. No family should live in fear that their child could be severely injured or even killed by a preventable tip-over of household furniture."