Horrifying new details of Harmony Montgomery's murder revealed in unsealed affidavit
Harmony Montgomery's father repeatedly punched the 5-year-old in the face, killing her, then moved her copse around for months to hide his crime, investigators allege in a newly unsealed police affidavit obtained by Fox News Digital.
Adam Montgomery, 33, of New Hampshire, allegedly hit his daughter in the face and head at least three times over the course of a few minutes on the morning of Dec. 7, 2019, because she kept having accidents in their car.
"I think I really hurt her this time. I think I did something," Adam Montgomery allegedly blurted to his estranged wife, Kayla Montgomery, 32.
Harmony, who was seated in the back of the car, started making a moaning noise for about five minutes then stopped, according to police.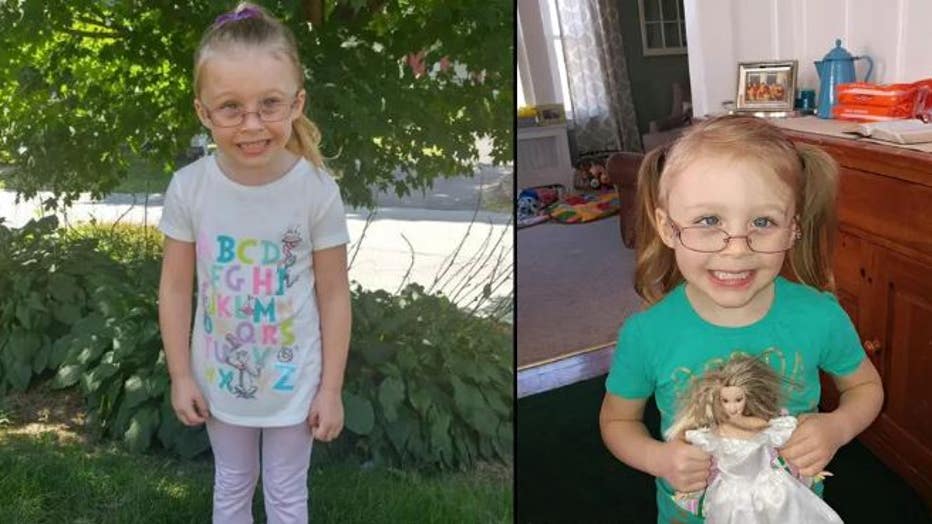 Harmony Montgomery, 7, is believed to have been last seen in 2019 at a home in Manchester, New Hampshire. (Photos: Manchester Police Department)
HARMONY MONTGOMERY MURDER: POLICE SEARCH FOR REMAINS OF MISSING NH GIRL IN MASSACHUSETTS
The couple was living in a borrowed car at the time, with Harmony and their two boys, in Manchester, New Hampshire.
They did not seek medical attention for Harmony, according to the affidavit, and hours later the couple realized she was dead.
HARMONY MONTGOMERY MURDER: MISSING NH GIRL'S STEPMOTHER TOLD DETECTIVES FATHER KILLED 5-YEAR-OLD
The 48-page document filed under seal in October 2022 relies heavily on interviews with Kayla Montgomery, who agreed to cooperate with New Hampshire prosecutors after reaching a plea deal in a separate perjury case.
Adam Montgomery was charged with second-degree murder, abuse of a corpse, witness tampering and falsifying evidence – although Harmony's body was never found.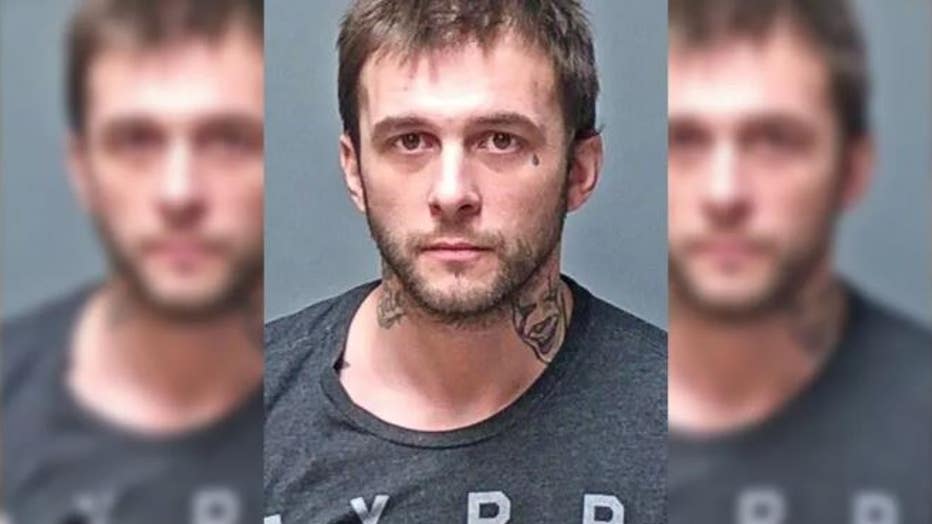 Adam Montgomery in an undated booking photo. (Photo: Manchester Police)
The affidavit alleges that after the couple's car broke down, Adam Montgomery stuffed her body into a duffel bag.
HARMONY MONTGOMERY'S CAREER CRIMINAL FATHER CONVICTED ON FIREARMS CHARGES
For the next three months, the drug-addled father repeatedly moved her remains, including to a ceiling vent, a cooler and a restaurant freezer, the affidavit alleges.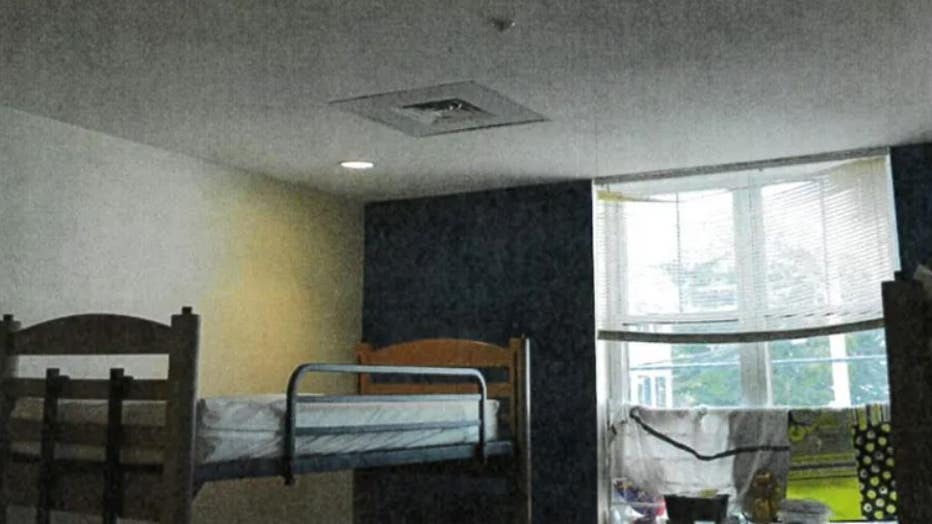 Harmony Montgomery's decomposing corpse was stored in the vent of this homeless shelter bedroom in New Hampshire, according to a police affidavit. (Manchester Police Department)
In late December 2019, the family moved into a homeless shelter and allegedly brought Harmony's body with them.
Adam Montgomery stuffed his daughter's body into the ceiling above their bedroom, but liquid seeped from Harmony's corpse and other residents complained about a foul odor, the affidavit says.
Investigators returned to the room in June 2022, opened the ceiling and located a large stained region that tested positive for Harmony's DNA.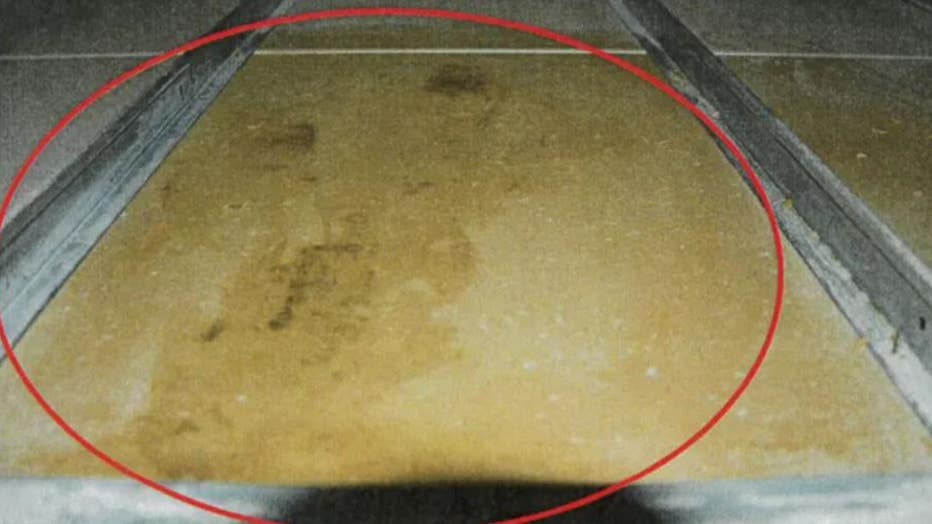 Harmony Montgomery's decomposing corpse was hidden in the ceiling of a homeless shelter, which left behind a stain, according to police. (Hillsborough Superior Court )
While still living at the shelter, Adam Montgomery allegedly stuffed Harmony's body into a maternity tote bag, which his wife took to his job at the Portland Pie Company.
NEW HAMPSHIRE DAD FOUND DEAD NEAR RIVER AFTER KILLING TODDLER DAUGHTER AND HER MOTHER
Kayla Montgomery placed the tote in between their sons in their double stroller and walked it to the eatery, where her husband stored it in the walk-in freezer, the affidavit alleges.
The couple soon moved into an apartment and brought the tote bag with them, allegedly placing it in the freezer.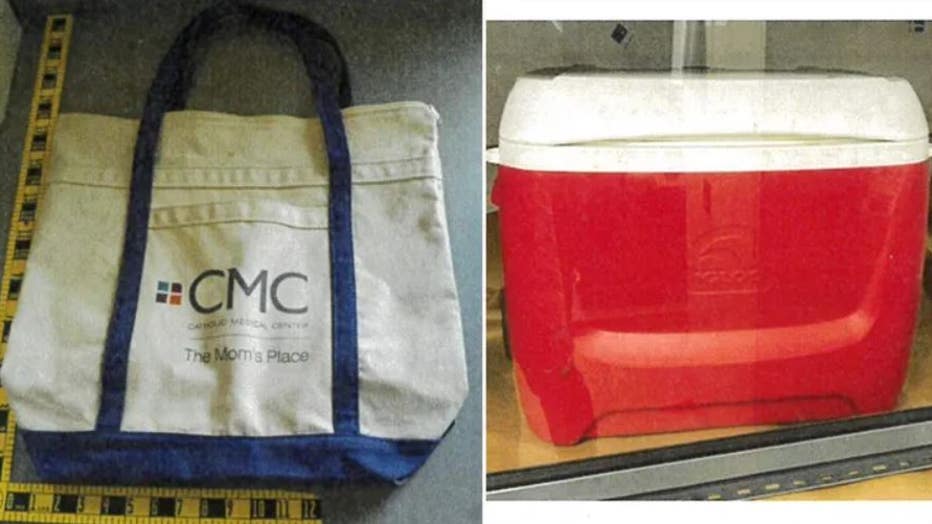 A maternity tote bag and red cooler in which Harmony Montgomery's remains were stored after her murder, according to an affidavit. (Hillsborough Superior Court )
They later dumped Harmony's frozen body under a shower to thaw it out and added lime to the tote bag to help with the decomposition process, Kayla Montgomery told detectives.
"Kayla said Harmony wasn't bones; she had skin, teeth and hair and Kayla could still tell it was her," the court documents say.
When Adam Montgomery tried to fit Harmony back in the bag, he struggled.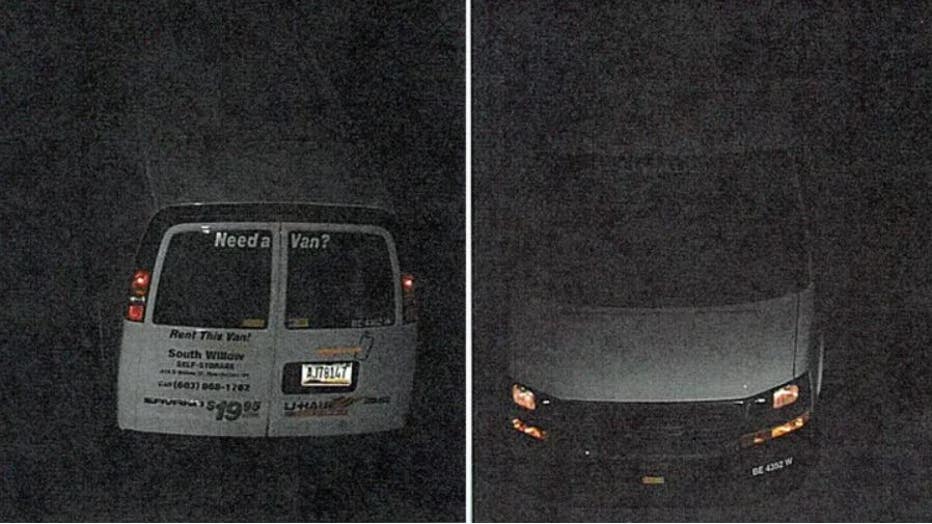 The U-Haul police say Adam Montgomery used to dispose of Harmony's remains in March 2020. Her body was never found. (New Hampshire Superior Court)
"Kayla described Adam eventually pushing and pushing on Harmony's body, and then she heard a bang," according to the affidavit.
In March 2020, Adam Montgomery's friend rented a U-Haul for him, which he used to dump Harmony's body in the middle of the night, according to his wife.
He returned that same morning and told her, "It's done." Toll data shows the truck crossed the Tobin Bridge in Boston several times.
Earlier this month, Adam Montgomery was found guilty of felony weapons charges in a separate case and is facing at least two decades in prison when he's sentenced.
He has pleaded not guilty to the charges stemming from his daughter's murder. Harmony was reported missing by her mother nearly two years after police believe the girl was killed.
Michael Ruiz contributed to this report.