'That's a shark!': Hawaiian surfer shares unsettling encounter with 20-foot great white
OAHU, Hawaii - An experienced foil surfer was met with an unexpected view of a massive 20-foot great white shark off the coast of Oahu, Hawaii, and he managed to capture the "unsettling" encounter on his GoPro camera.
Nick Kapule told Fox News Digital that he is training for the Kaiwi Channel race, a 32-mile foil surfing race competition, when he stumbled across a massive shadow that he initially thought was a large whale.
"I was foiling down the coast and I saw this huge shadow, about 20 feet long," Kapule said. "And being a curious person, I rode my board towards it, and I'm like, "Oh, this is a huge whale."
The curious surfer quickly realized that it was not a whale. Upon closer inspection, he saw a razor sharp tail fin emerge from the water.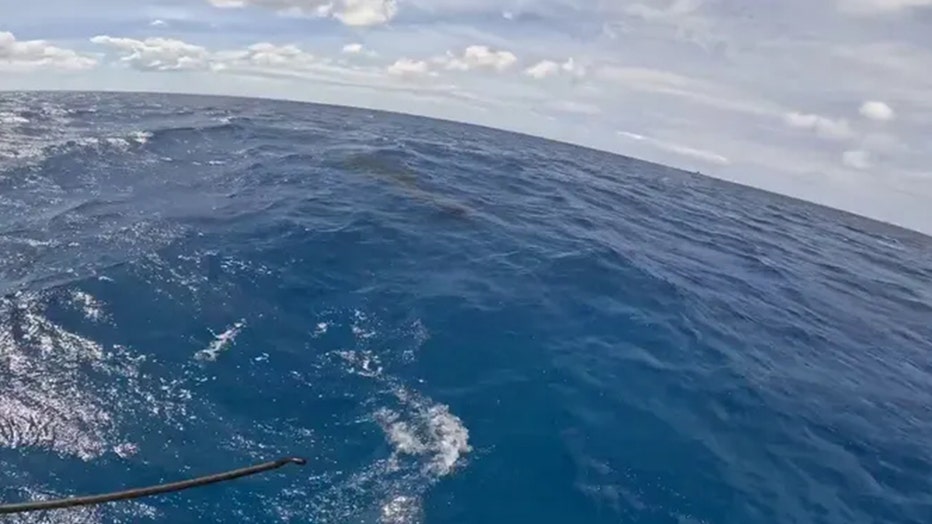 The shadow of the 20-foot long great white shark off the coast of Oahu, Hawaii. (Credit: Nick Kapule/Fox News Digital)
"As I get closer and closer, I see this huge tail fin come out of the water, it was 4 to 5 feet [of] tail and super sharp," Kapule recalled. "I got chills, and I was like, wait, that's not a whale, that's a shark!"
Kapule said that he was freaking out and hoping that he would not fall off the precarious foil surfboard. A foil surfboard, Kapule explained, is essentially a hoverboard on water and is a lot easier to fall off than a surfboard.
FOOTAGE CAPTURES GROUP OF SHARKS SWIMMING JUST BELOW SURFERS AT CA BEACH
"Holy crap. And I was freaking out," Kapule said. "Please, just don't fall, Don't fall."
Kapule said that he remained composed and attempted to get some distance from the 20-foot creature.
"I didn't want to splash," he said. "I didn't want to make too much commotion."
Five minutes later, Kapule breathed a sign of relief, thankful that he managed to escape the shark without getting injured.
"It all happened so fast that, but I felt safe at the moment and I popped right past it."
AMERICAN SURFER MIKALA JONES, 44, DIES IN FREAK ACCIDENT WHILE SURFING IN INDONESIA
Thinking back, the surfer shared that the encounter was "scary."
The native Hawaiian shared that shark encounters are common, but not usually this size. After posting the GoPro video on his Instagram account, Kapule said that others chimed in saying that they had come across the same shark- but weren't able to document it.
"I didn't really know there was that that that there were that many shark sightings until I posted the video online and all of a sudden everyone's coming up to me saying, "Oh, I've seen something like that last week."
RELATED: Tiger shark attacks kayaker off Hawaii coast: 'Mistook me for the seal'
While Kapule initially thought the shark was a tiger shark, lifeguards later told him it was a great white shark that frequents the area.
Lifeguards advised Kapule and other surfers to poke the shark in the nose if the shark approaches.
"Poke the shark in the nose or grab the nose when you can," Kapule said. "They're typically not too aggressive after the first initial swim up, if they attack, there's not much you can do."
The lifeguards also reminded swimmers that the ocean is the shark's home — not ours.
"They also reminded me that, the ocean is their home and not ours, and we need to respect that," Kapule said.