Governor Deal appoints Robyn Crittenden as interim Secretary of State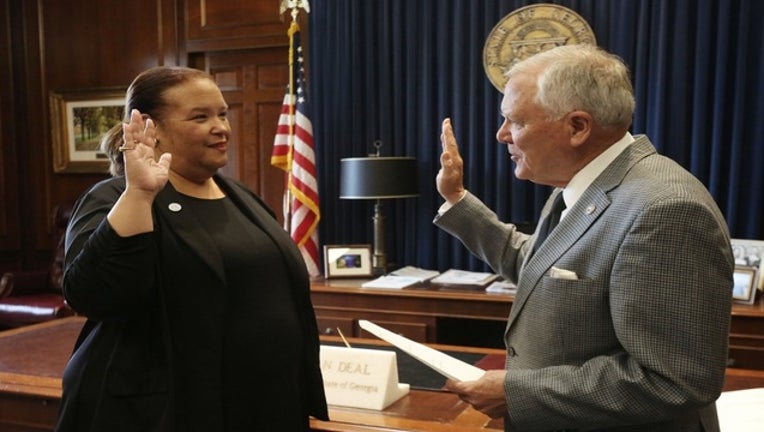 article
ATLANTA - Governor Nathan Deal has selected an interim Secretary of State following Brian Kemp's resignation Thursday. 
Department of Human Services Commissioner, Robyn Crittenden took the oath of office at the state capitol. 
RELATED: Brian Kemp resigning as Secretary of State
Kemp announced his resignation was effective as of 11:59 a.m. on Thursday at a joint news conference with Governor Nathan Deal where the two discussed the transition process to the Governor's office.
The announcement comes after a tight race between Kemp and Abrams where Kemp faced numerous inquiries into his practices while overseeing an election where his name was at the top of the ticket. 
Democratic opponent Stacey Abrams has not conceded the race, and her campaign believes there are enough uncounted ballots to force Kemp into a runoff.
MORE: Stacey Abrams' legal team: 'All votes haven't been counted'
Kemp defended the integrity of the election at Thursday's press conference, and on Wednesday declared victory in the race to be Georgia's 83rd Governor. 
Crittenden has held her position with the Department of Human Services since July 2015. She previously served in the executive leadership of the Georgia Student Finance Commission. She will now serve as Secretary of State for the remainder of Kemp's term. 
Crittenden graduated from Yale University and went on to earn her law degree from the University of Michigan School of Law.
Unofficial returns Wednesday showed, Republican state Rep. Brad Raffensperger and former Democratic Congressman John Barrow will face off again December 4 in a runoff for Georgia Secretary of State. Neither candidate reached the 50 percent vote threshold Tuesday.