Georgians remember President George H.W. Bush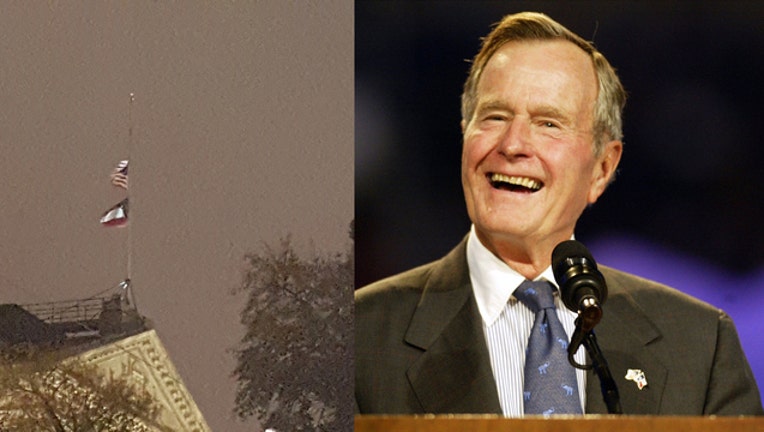 article
ATLANTA (FOX 5 Atlanta) - Tributes to former President George H.W. Bush have been pouring in from Georgia politicians and artists after his death Friday night. 
At Georgia's Gold Dome and all Georgia state buildings, flags flew at half mast in remembrance of the 41st president.
In a statement, former President Jimmy Carter said he and his wife Rosalynn were "deeply saddened" by Bush's death.
"His administration was marked by grace, civility, and social conscience," Carter said. "Through his Points of Light initiative and other projects, he espoused a uniquely American volunteer spirit, fostering bipartisan support for citizen service and inspiring millions to embrace community volunteerism as a cherished responsibility."
RELATED: Former President George H.W. Bush to lie in state in Capitol Rotunda next week
Atlanta Mayor Keisha Lance Bottoms called Bush "a great American whose record of service and love of country are surpassed only by his devotion to family."
"As home to Points of Light, the City of Atlanta recognizes President Bush's many contributions outside the sphere of politics and we join our country in mourning his passing," she said.
"President George H.W. Bush was a man of integrity and humility and a devoted public servant throughout his life," Georgia Rep. Drew Ferguson said in a statement. "He once said that 'the American Dream means giving it your all, trying your hardest, accomplishing something. And then I'd add to that, giving something back. No definition of a successful life can do anything but include serving others.'"
MORE: President Trump to name December 5 a National Day of Mourning for George H.W. Bush
Gov. Nathan Deal ordered all flags to be at half-staff for the next 30 days, saying in part, "President George H.W. Bush was an honorable man and a proud American whose character and generous spirit helped to change our nation indelibly and for the better."
The 41st president died less than a year after the passing of his wife of 73 years, former first lady Barbara Bush.
Atlanta Journal-Constitution editorial cartoonist Mike Luckovich paid tribute to Georgia and Barbara's relationship, with a tribute of his own.
Bush is to be honored with a state funeral at National Cathedral in the nation's capital on Wednesday, followed by burial Thursday on the grounds of his presidential library in Texas. His body will lie in state in the Capitol Rotunda for a public viewing from Monday until Wednesday morning.
President Donald Trump, who ordered federal offices closed for a national day of mourning on Wednesday, is to attend with first lady Melania Trump and other high-ranking officials.
The Associated Press contributed to this report.