Best and worst times for Fourth of July travel in Georgia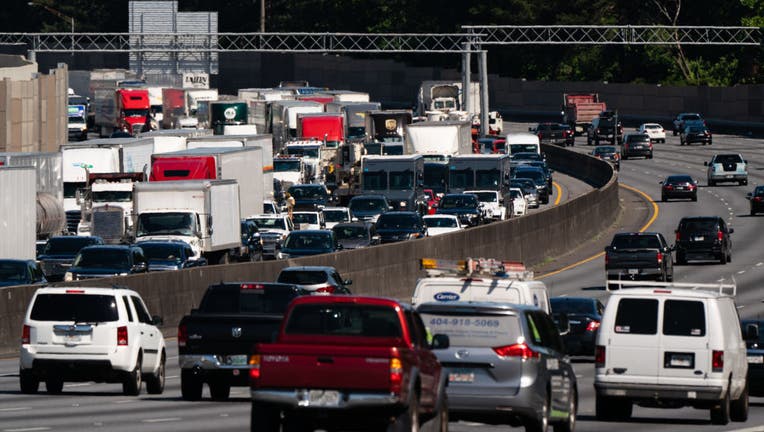 article
ATLANTA - With Fourth of July vacations just around the corner, the Georgia Department of Transportation is making a few changes to make things easier for people getting ready to hit the open road.
GDOT says they will suspend lane closures on Georgia interstates and state routes starting Friday at noon through 5 a.m. on Wednesday, July 5.
While construction won't be causing any major delays, officials are still earning motorists to keep an eye out for crews near highways.
Georgians itching to travel should also be ready for heavy traffic around metro Atlanta.
According to GDOT, the interstates around metro Atlanta are expected to have heavy and worse-than-normal traffic starting as early as noon on Friday. Commuters should expect to add an extra 30 to 45 minutes to their travel time. Saturday should also be a busy day, with congestion popping up Downtown in the afternoon.
Compared to those two days, traffic is expected to be lighter than usual from Sunday to the Fourth of July holiday, with Wednesday seeing things returning to normal.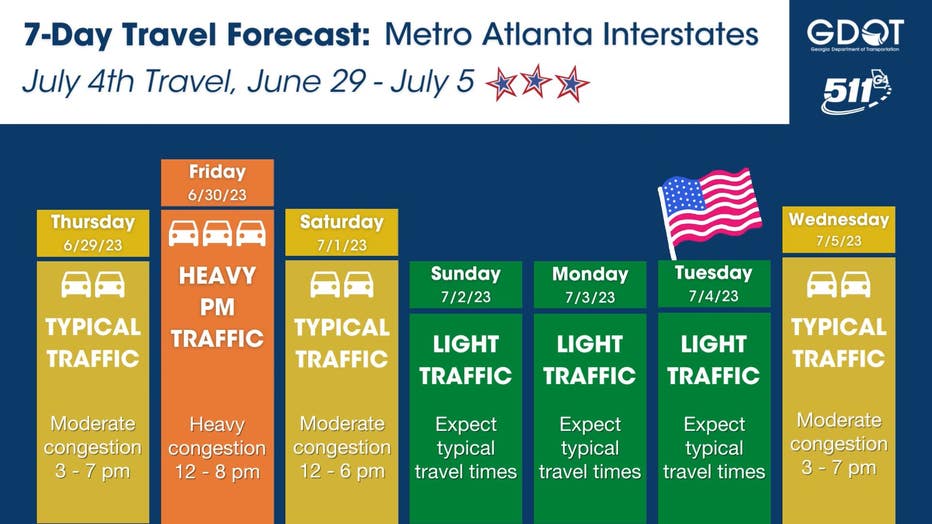 (Georgia Department of Transportation)
The same goes for Atlanta's streets, where officials expect most of the traffic to be on Thursday and Friday.
Outside of metro Atlanta, the high-traffic spots are expected to be the following:
I-20 eastbound when entering metro Atlanta and westbound when exiting the city towards Alabama.
I-75 both southbound and northbound coming out of Atlanta in Stockbridge, which will cause congestion on I-675.
I-24 eastbound congestion near Chattanooga.
I-59 northbound congestion when entering Tennessee and southbound congestion when entering Georgia.
I-475 both northbound and southbound directions in Macon.
I-16 westbound congestion when exiting Savannah and eastbound congestion when entering Savannah.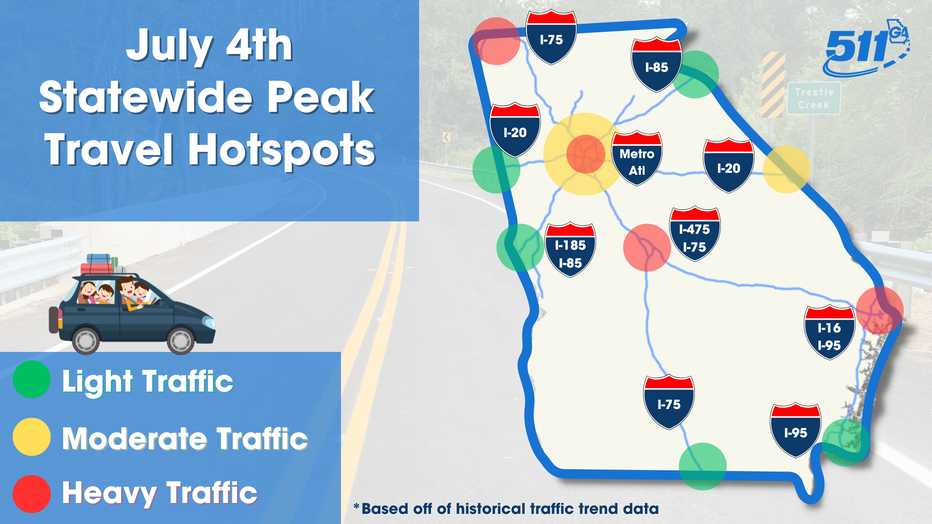 (Georgia Department of Transportation)
For up-to-date information about travel conditions on Georgia's interstates and state routes, call 511 or visit the Georgia DOT's 511 website.