Ga. toddler battling cancer gets surprise daddy-daughter dance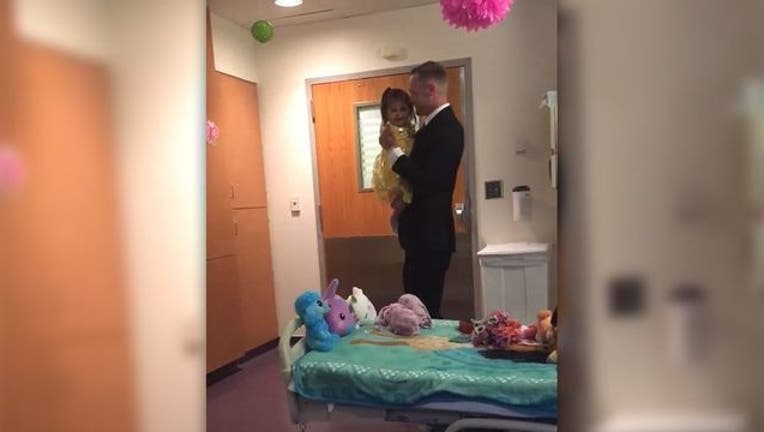 ATLANTA - A brave little girl battling cancer in Atlanta had a touching moment with her dad after completing her first round of chemotherapy. 
On August 2, Phoenix Thompson was diagnosed with Acute Myeloid Leukemia (AML), which is fast-growing blood cancer. Two days later, she started a very aggressive chemotherapy. The little girl will undergo four rounds of chemo that need to be completed within a five-month span.
Last Thursday, Phoenix finished her first round of chemo at Children's Healthcare of Atlanta's Aflac Cancer Center. Her dad, Brett Thompson, came to visit her and brought a surprise. 
"I mean honestly, I don't think I could have picked a better man for my kids," said Christina Thompson. 
Mr. Thompson arrived wearing a suit and tie and surprised his 2-year-old fighter with a beautiful dress. Then, they shared a dance together to Tim McGraw's "My Little Girl." 
A GoFundMe account has been set up to help support Phoenix's family, including her parents, four siblings, and her biological mother. 
If you would like to donate, click here.
A benefit is being held in Winder, Georgia for 2-year-old Phoenix at the Barrow County Veterans Resource Center on Sept. 9, 2018. You can also follow Phoenix's fight on her Facebook page.