Fulton County grand jury expected to hear Trump case next week
ATLANTA - It now appears that a Fulton County grand jury will hear the case against former President Donald Trump and others on Monday and Tuesday.
Journalist George Chidi, who occasionally appears on FOX 5 Atlanta, has confirmed that he has been notified that he will be expected to testify on Tuesday. 
He posted on social media that he had received a call from Fulton District Attorney Fani Willis to come to court on Tuesday. 
Additionally, former Lt. Gov. Geoff Duncan also posted on social media that he has been requested to testify on Tuesday after telling CNN that he had been called.
On Dec. 14, 2020, George Chidi showed up at the Capitol curious to see whether any protesters might try to interrupt the certification of electors for Joe Biden.
The Democrat had won Georgia's 16 electoral votes by a slim margin over President Donald Trump.
But instead of covering protests, Chidi landed a huge scoop.
JOURNALIST WHO DISCOVERED GA ALTERNATE ELECTOR SCHEME CALLED TO TESTIFY 
There are actually two grand juries. One meets Monday and Tuesday and the other meets Thursday and Friday.
FULTON COUNTY GRAND JURY TO HEAR 2020 ELECTION CASE AGAINST TRUMP, ALLIES
If Chidi and Duncan are expected to testify Tuesday, Fulton County District Attorney Fani Willis will begin her presentation of the case on Monday and the public should know whether Trump and others will be indicted by Tuesday evening.
Willis launched an investigation into the former president after he called Georgia Secretary of State Brad Raffensperger and pressured him to "find" the votes necessary for Trump to win the state. Trump has repeatedly denied that he did anything wrong and insists that his phone call to Raffensperger was a "perfect phone call."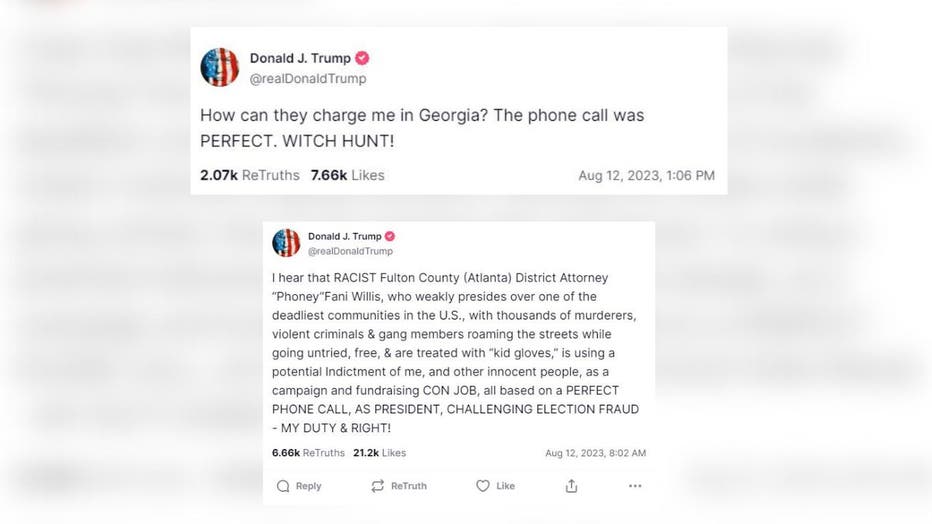 A special grand jury found sufficient evidence to recommend indictments against Trump and others earlier this year. However, only a regular grand jury has the power to indict in Georgia.
DA Willis is expected to bring state racketeering or RICO charges against Trump and the other defendants. 
GEORGIA ELECTION PROBE TIMELINE: FROM NOVEMBER 2020 TO NOW
Former Democratic state. Sen. Jen Jordan and former state Rep. Bee Nguyen have also been subpoenaed. It's unknown if they have been notified to also appear next week. FOX 5 Atlanta is reaching out to Willis, Duncan, Jordan and Nguyen.