Florida couple drops lawsuit against Titan sub owner after 'catastrophic implosion'
ORLANDO, Fla. - The Florida couple who sued OceanGate Expedition CEO Richard Stockton Rush has decided to drop the lawsuit, they said in a statement to FOX 35 News. 
Marc and Sharon Hagle filed the lawsuit back in February after Rush reportedly refused to refund the couple over $210,000 they claimed to have spent on an expedition that was supposed to happen in June 2018, court records show. 
Now, the Winter Park couple released a statement Monday about the legal matter at hand days after five people aboard the Titan submersible reportedly died after a "catastrophic implosion" near the site of the Titanic shipwreck. 
Rush was one of those passengers. 
"Like most around the world, we have watched the coverage of the OceanGate Titan capsule with great concern and enormous amount of sadness and compassion for the families of those who lost their lives," Sharon and Marc Hagle said in a statement. "We honor their zest for life, as well as their commitment to the exploration of our oceans. 
"As has been reported, we have been involved in a legal dispute with Stockton Rush, CEO/Founder of OceanGate. In light of these tragic events, we have informed our attorneys to withdraw all legal actions against Stockton."
The Hagles added that "honor, respect and dignity" are more important to humanity than money and send well wishes to the families of those who died aboard the 22-foot vessel last week.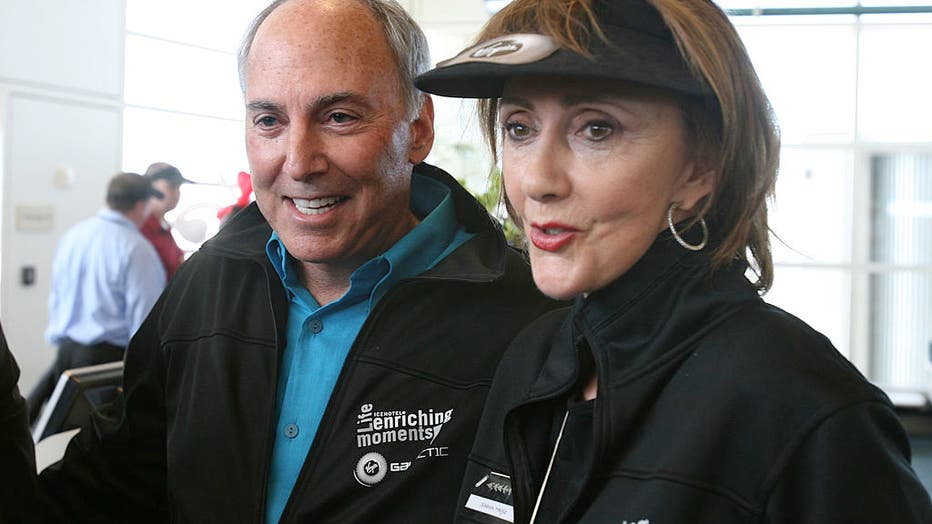 Marc, left, and Sharon Hagle, of Winter Park, Florida, came to the opening of Virgin America, October 13, 2010, celebrating its new service at Orlando International Airport to Los Angeles and San Francisco. (Photo by George Skene/Orlando Sentinel/Tri
The couple's legal battle with OceanGate dates back to 2016. They entered into a contract that November to participate on a submersible dive expedition on the "Cyclops 2" vessel. They paid a $20,000 deposit and were scheduled to make two additional payments, but by September 2016, the Hagles suspected the dive would be delayed and requested a refund. 
READ MORE ABOUT THE LAWSUIT: Missing Titanic sub owner sued by Florida couple who traveled to space 
OceanGate reportedly assured them they could get a refund if the trip was delayed. 
In January 2018, the couple received new contracts requiring them to pay the full amount for the expedition, totaling nearly $200,000. The name of the expedition also changed from "Cyclops 2" to "Titan." The couple said subsequent expeditions were repeatedly canceled, and then they requested a refund in June 2019, OceanGate informed them that they could only receive it if they participated in a July 2021 expedition. Additionally, the company had promised to hold their money in a separate escrow account, which they reportedly failed to do.
RMS Titanic wreckage (Atlantic/Magellan)
MORE TITANIC SUB NEWS: 
FOX 35 News previously reported on the Hagles as they prepared to participate in the fourth crewed flight of Blue Origin's New Shepard rocket in 2021.