Firm plans housing, shopping development on man-made river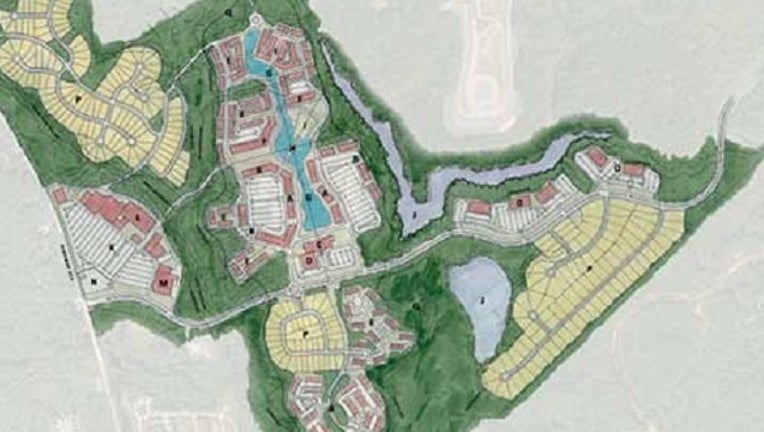 article
BRASELTON, Ga. (AP) — A company aims to create a housing and shopping development in north Georgia built around a man-made river — an ambitious project the developer compares to San Antonio's River Walk and Oklahoma City's Bricktown area.
Peachtree City, Georgia-based ARW Group LLC plans the 508-acre development with homes, restaurants and offices on land not far from the Road Atlanta race course in Braselton, Georgia.
Plans for the $700 million Atlanta River Walk also call for a 200-room hotel, 20,000-square-foot convention center, a grocery store and an outdoor amphitheater, The Times reported.
A "Tree of Life" — a fountain lit with LED lights would be a focal point, ARW Group says in a website on the project.
"We will create a one-of-a-kind destination by constructing a man-made feature similar to a river and surrounding it with world-class mixed-use development," said Jorge Duran, principal of ARW Group.
The area is about 45 miles northeast of downtown Atlanta.
A substantial part of the project would be residential development, including mid-rise apartments and active living communities for seniors, the company said in a news release.
"The Atlanta River Walk will be a first-class attraction and a unique live-work-play mixed-use development," Duran said. "It will increase the prominence of Atlanta as an international destination city and add a new year-round attraction for local, out-of-state and international visitors."
For years, Duran has been the opportunity for a waterfront development in metro Atlanta similar to the San Antonio River Walk and Oklahoma City Bricktown, the press release states.
He had looked at the Chattahoochee River and other area waterways, "but environmental regulations prohibit the kind of development he wanted to do, which is dense, mixed-use projects that would showcase the water," the new release states.
Since the proposed development involves a rezoning request, it eventually will be considered by the Hall County Planning Commission and Hall County Board of Commissioners.
But first, the state review process will occur. It could take about a month to complete, said Adam Hazell, the Georgia Mountains Regional Commission's planning director.