Dad holds sick toddler son in powerful photo captured by wife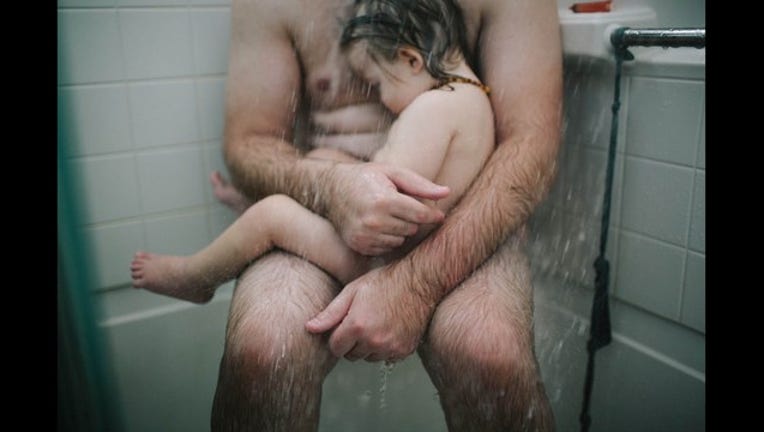 article
A powerful photo of a dad holding his sick son in the shower has gone viral.
Heather Whitten shared the photo, which was taken in November 2014, of her husband Thomas holding their son Fox.
According to the Mirror, the couple lives in Southern Arizona with their children, twins Fox and Persephone, Lillian, and Leena.
Heather wrote in her original Facebook post that Fox was later hospitalized that night for salmonella poisoning. They have never figured out how he was exposed to the virus.
However, prior to his hospitalization, Heather says that Thomas spent hours in the shower with the little boy "trying to keep his fever down and letting the vomit and diarrhea rinse off of them both as it came."
Heather wrote, "It was a powerful moment for us as parents. Our intuition was starting to fire off that this was much more serious than just a virus but we've had much more experience with over reacting than not so we were trying to hold off.
"As I sat in the shower with the two of them I was just overwhelmed with the scene in front of me. This man. This husband and partner and father. He was so patient and so loving and so strong with our tiny son in his lap. His whispers of reassurance to Fox, that he would be ok and that Thomas would take care of him were so steady and so honest."
Heather also wrote that Fox clung more to her than his twin Persephone, and always chose her over Thomas for comfort.
"But, in this moment, he needed and wanted Thomas," she wrote.
"I stepped out and grabbed my camera and came back to snap a few images of it."
According to the Mirror, the post received more than 31,000 shares and more than 129,000 reactions on Facebook.
The picture has reportedly been removed by Facebook more than once for apparently violating its photograph rules.