Cuban baseball player defects after team's loss to USA in World Baseball Classic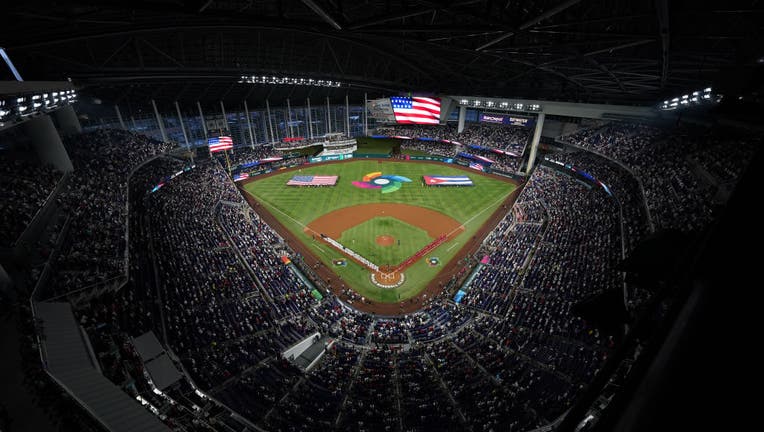 article
MIAMI - Ivan Prieto Gonzalez, Team Cuba's bullpen catcher for the World Baseball Classic, defected in Miami on Monday, a day after his team lost to Team USA in the semifinals at loanDepot Park. 
Prieto did not show up for the team's flight to Havana, Cuba, at Miami International Airport, according to the Miami Herald's Jorge Ebro. 
Prieto was chosen by the Cuban Baseball Federation to be the team's bullpen catcher when the team was picked to head to Taiwan for initial pool play. 
CLICK HERE FOR MORE SPORTS COVERAGE ON FOXNEWS.COM
The 26-year-old, who plays first base and catcher, had been playing with Alazanes de Granma as well as Sabuesos de Holguin in Cuba's National Series League. He was with Holguin for five seasons before moving to Granma for the 2020-21 campaign. 
Prieto also found himself playing for Agricultores in the Cuban Elite League in 2022. 
The Cuban national team returned to Havana following a 14-2 rout by Team USA, and they were greeted with "an official reception by the authorities," according to the Miami Herald. It was a victorious view in their eyes for the efforts that were displayed in the WBC. 
ANTI-COMMUNIST PROTESTS TAKE CENTER STAGE DURING WORLD BASEBALL CLASSIC BETWEEN US AND CUBA
"Congratulations admirable #TeamAsere," Cuban President Miguel Diaz Canel wrote on Twitter. "You've won three times: when you teamed up, when you ranked first, and when you played to the last out against a great team and hate of the worst kind. They made history. #Cuba looks at them proudly."
However, the decision by Prieto to defect from Cuba is one that many baseball players have done before him. MLB is riddled with players who found a way to get over to the United States in order to live out their dreams as a professional baseball player, as Cuba still does not allow it to happen. 
Following the Cuban Revolution, when Fidel Castro rose to power, U.S. and Cuba relations were strained and Castro ended professional baseball in the country. 
While leagues have since returned, many players who want a shot at playing in MLB make their way to the United States due to the high salaries. But Cuba has viewed defectors as disloyal to the country, which leads them to practically disown their ties to each other. That, however, led to more defectors over the years. 
A famous instance was Orlando "El Duque" Hernandez, who rose to fame with the New York Yankees during their dynasty run in the late 1990s-early 2000s. He was banned from the Cuban national team following the defection of his half-brother, Livan Hernandez. 
JAPANESE HIGH SCHOOL BASEBALL PLAYERS DISCOURAGED FROM USING WORLD BASEBALL CLASSIC STAR'S CELEBRATION
El Duque was devastated that the country he was loyal to banned him, which led to his own defection to the United States to continue playing the game. 
Today, players like Jose Abreu, Aroldis Chapman, Yordan Alvarez, Randy Arozarena and more, are among MLB stars who defected from the Communist country. Arozarena also begged Team Mexico to allow him citizenship to play for them instead of his home country, as he initially defected there before beginning his journey in the U.S. 
This year, the Cuban Baseball Federation made the announcement that MLB players who wished to play for the team could if they were invited. Players like Yoan Moncada, Luis Robert Jr. and Yoenis Cespedes were on the roster. 
Sunday was the first time Team Cuba has played baseball in Miami, and that was met with a lot of protesters at loanDepot Park. One ran onto the field with a flag that read "Libertad Para Los Presos Cubanos Del 11 de Julio." 
According to the AP, the message meant "Freedom for Cuban Prisoners of July 11." The message called for the freedom of protesters who were arrested in 2021 to protest the shortages of goods, power blackouts and economic hardships.
CLICK HERE TO GET THE FOX NEWS APP
"It feels bad, but I don't judge," Team Cuba manager Armando Johnson said, via AP, when asked how it felt that Cubans didn't associate with his team. "Like I said, everyone has his or her way of thinking. We are on the field and we come here just to play baseball and the sport. That's what we wanted to do here."
Fox News' Ryan Gaydos and The Associated Press contributed to this report. Read more of this story from FOX News.