Chubb scores 3 TDs as No. 7 Georgia beats Southern 48-6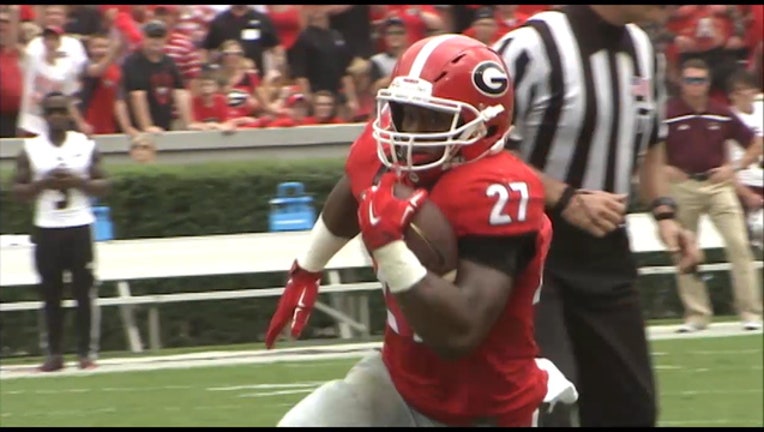 article
ATHENS, Ga. (AP) - Nick Chubb knew he had to extend his streak of 100-yard rushing games when he saw how much it meant to his offensive linemen.
The big guys can relax. Chubb's streak is alive.
Chubb ran for 131 yards and two touchdowns and also caught a TD pass as No. 7 Georgia beat Southern 48-6 on Saturday to gain momentum for next week's visit from Alabama.
Chubb had scoring runs of 9 and 49 yards in the third quarter. The 49-yarder gave him 12 straight games with at least 100 yards rushing — one shy of Herschel Walker's school record. Chubb scored on a 24-yard pass from Greyson Lambert in the first quarter.
The linemen gave Chubb a pep talk when he had only 31 yards rushing at halftime.
"With them being more excited about it than I was, I knew we had to get it," Chubb said.
Georgia left tackle John Theus said he thinks the streak "is huge."
"Right after he scored the (49-yard) TD, I told him congrats," Theus said. "... He definitely makes us look good."
Southern defensive tackle Gabe Echols said the Jaguars could hit Chubb high "because he will bounce off you. ... We knew coming in he was going to be a load."
Walker's streak of 13 straight 100-yard games started in 1980 and carried into the 1981 season.
Georgia (4-0) led 17-0 in the first quarter and then played in the second quarter as if looking ahead to the No. 12 Alabama.
Lenard Tillery's 16-yard scoring run for Southern (2-2) quieted the Georgia fans on a soggy day. The Bulldogs' only points in the second quarter came on a field goal.
"In the second quarter ... we just kind of stumbled a little bit," said Georgia coach Mark Richt.
Southern said in a statement wide receiver Devon Gales suffered a spinal injury in a collision late in the third quarter. Gales was placed on a backboard and stretcher and carted off.
The school said Gales will remain at Athens Regional hospital until further notice.
Georgia led only 20-6 at halftime before scoring four third-quarter touchdowns.
"I thought in the first half our guys played as good as they could have played," said Southern coach Dawson Odums.
"It came down to winning one on one. In the first half we were able to get two on one. In the third quarter it was one on one, and they won the one on ones."
Lambert completed 9 of 10 passes for 146 yards with two touchdowns — his second straight week with only one incompletion. Brice Ramsey played most of the second half and completed 11 of 14 passes for 125 yards.
Lambert set a NCAA record for accuracy in at least 20 pass attempts by completing 24 of 25 (96 percent) for 330 yards and three touchdowns in last week's 52-20 win over South Carolina.
Georgia put the game away in the third quarter. In addition to Chubb's two scoring runs, Sony Michel scored on a 58-yard run and Greyson Lambert had a 23-yard touchdown pass to Malcolm Mitchell.
Michel ran for 75 yards, including a 7-yard scoring run in the first quarter.
Tillery led the Jaguars with 75 yards rushing. Austin Howard completed 8 of 19 passes for 69 yards.
Lambert, who set a Georgia record by completing his last 20 passes against South Carolina, stretched the streak to 22 consecutive completions before he missed on a pass to Reggie Davis to end the Bulldogs' first drive. Marshall Morgan's 47-yard field goal gave Georgia a 3-0 lead.
With the win, Richt is tied with Wally Butts with 140 wins, second in school history behind Vince Dooley's 201.
A highlight of the day was the halftime show by Southern's famous band called the "Human Jukebox." The band earned an ovation from Georgia fans following the high-energy show. Southern's $650,000 guarantee for playing the game included a commitment the band would play at halftime.
___
AP college football website: collegefootball.ap.org