Christine King Farris, Martin Luther King Jr.'s sister and civil rights activist, dies at 95
ATLANTA - Dr. Christine King Farris, the esteemed educator, civil rights activist, and author, has died. She was 95 years old.
The King Center announced that Farris died peacefully in Atlanta Thursday morning with her family by her side.
Farris was born Willie Christine King on Sept. 11, 1927, in Atlanta, the first child of Rev. Martin Luther King Sr. and Alberta Christine Williams King.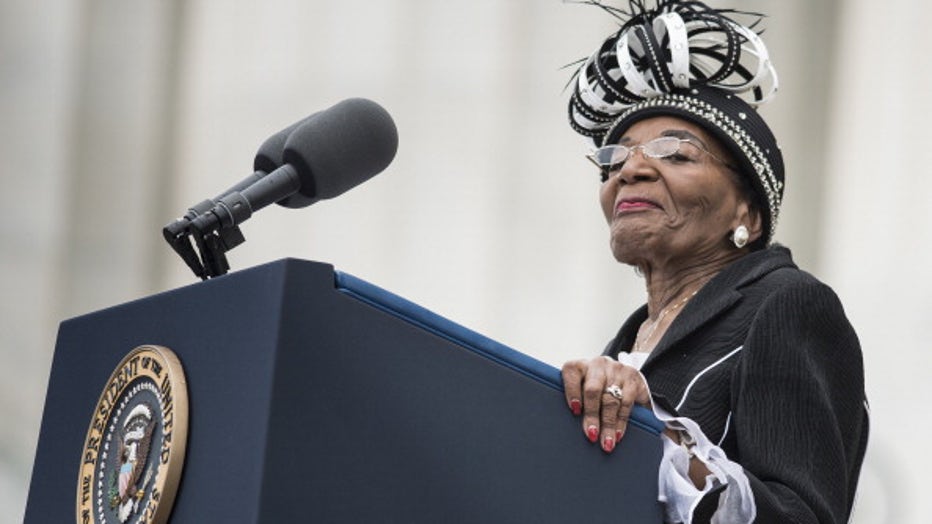 Christine King Farris, sister of slain civil rights leader Martin Luther King Jr., speaks at the Lincoln Memorial on the National Mall August 28, 2013 in Washington, DC. during the 50th anniversary of the US civil rights era March on Washington where
Her formative years were shaped in large part on Auburn Avenue, in the house where her younger brother, Dr. Martin Luther King Jr., was born, and her spiritual home, the Historic Ebenezer Baptist Church, where her grandfather, father, and brothers served as pastors. She was the longest-serving member at the church, where she served as a trustee, soloist, and leader. 
At 16 years old, Farris followed in the footsteps of her mother, grandmother, and great aunt by enrolling in Spelman College, where she earned a bachelor's degree in economics in 1948.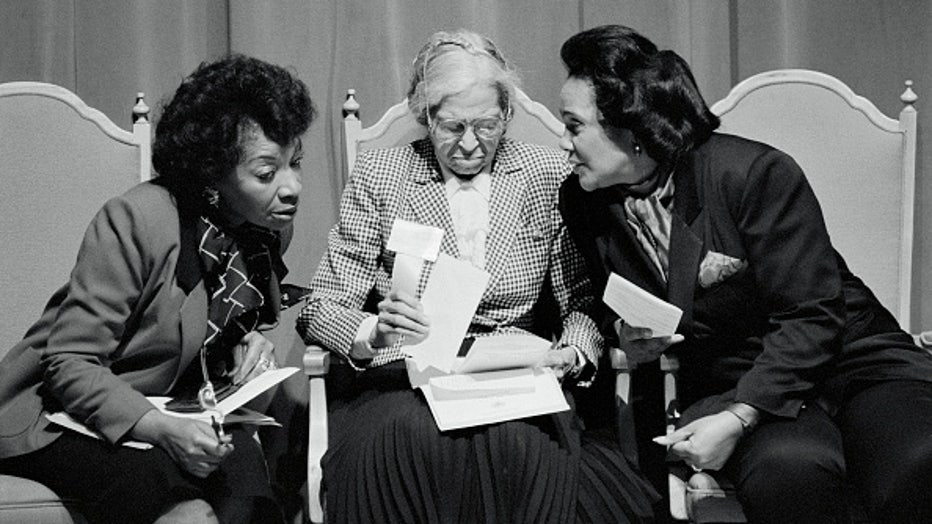 (Original Caption) Coretta Scott King (R), widow of slain civil rights leader Dr. Matin Luther King Jr., confers with Dr. king's sister, Christine King Farris (L) while Rosa Parks, the Black woman who sparked the Civil Rights movement, goes over her
Unable to attend the University of Georgia, which didn't accept Black students at the time, Farris attended New York's Columbia University, where she obtained two master's degrees in education.
Farris returned to Georgia, eventually securing her first teaching position at Atlanta's W.H. Crogman Elementary School. 
Nearly a decade later, Farris returned to her beloved Spelman, accepting a faculty position.  
As the college's longest-serving faculty member, Farris served as associate professor of education and director of the Learning Resources Center until her retirement in 2014.
In 2003, Farris published a children's book about Dr. King's childhood and the siblings' upbringing in the 1920s titled "My Brother Martin: A Sister Remembers Growing Up with the Rev. Dr. Martin Luther King Jr." She followed that with an autobiography in 2009 titled "Though It All: Reflection on My Life, My Family, and My Faith." 
Just as she watched over her younger brothers when they were children, decades later, Farris helped ensure King's legacy lived on following his assassination in 1968.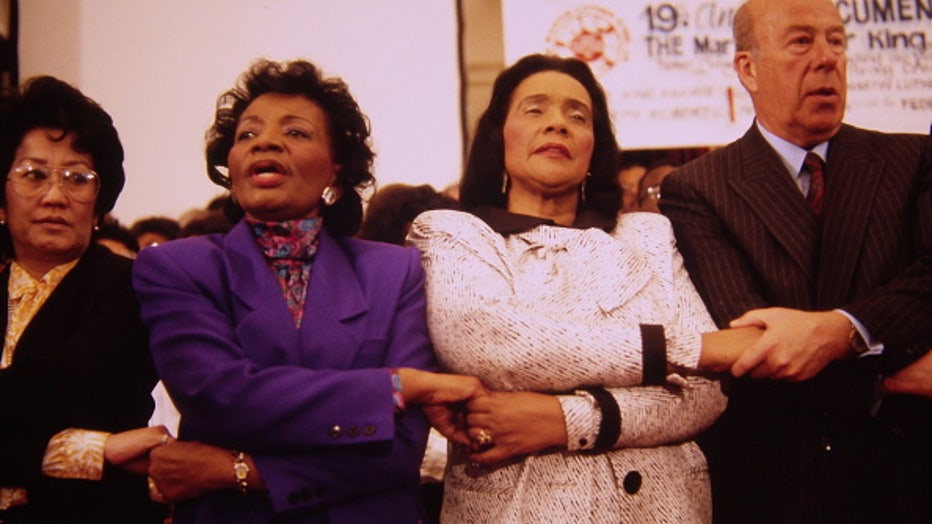 Images From The Second Annual MKL Day Celebration Held At Ebenezer Baptist Church In Atlanta GA January 01 1987 (Photo By Norm Staples/Getty Images)
A great civil rights activist in her own right, Farris joined Coretta Scott King, King's widow, in establishing the King Center for Nonviolent Social Change in northwest Atlanta in June 1968. As a board member, Farris held many roles in the organization and led a group of educators in developing a curriculum around King's teachings of nonviolence.
They teamed up again to get Congress to approve a national holiday in honor of King's birth and presided over the annual MLK Ecumenical service at Ebenezer Baptist Church.
Farris was part of the Georgia delegation that traveled to Washington, D.C. in 2011 for the MLK dedication ceremony when King's monument was erected on the National Mall. 
Christine King Farris is seen laying a wreath on the grave of Dr. Martin Luther King during the 2021 King Holiday Observance Beloved Community Commemorative Service on January 18, 2021 in Atlanta, Georgia. (Photo by Paras Griffin/Getty Images)
Six years later, Farris joined Georgia political and civic leaders for the unveiling of a long-awaited statue of King at the state Capitol. 
A devoted wife, mother, and grandmother, Farris was married to Isaac Newton Farris Sr. for 57 years before his passing. The couple had two children, Isaac Farris Jr. and Dr. Angela Farris-Watkins. 
The family will announce funeral arrangements at a later date.