Chick-fil-A stand inside Mercedez-Benz Stadium will be closed for most Falcons' games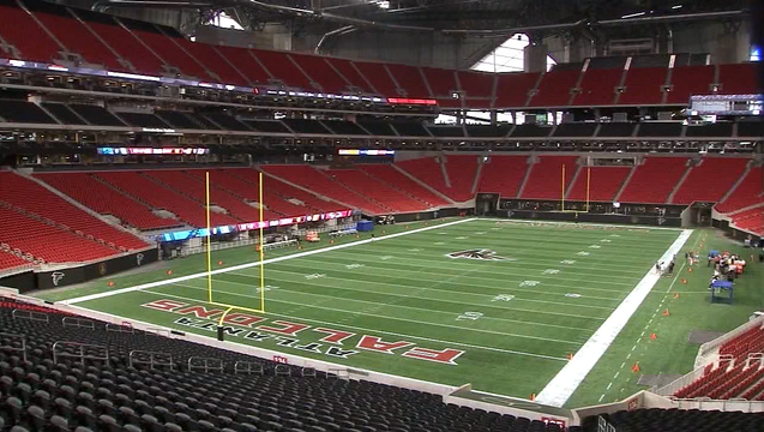 article
ATLANTA - Fans of Chick-fil-A who hoped to get a hands on their signature chicken sandwich during Atlanta Falcons regular season game at Mercedes-Benz Stadium will only get one opportunity to do so.
App users: View full article here
Chick-fil-A is closed on Sundays, and that same rule will apply to the stand inside the new stadium in Atlanta. The only home game where the stand will be open is December 7. That game will be a Thursday night matchup against the Seattle Seahawks.
The stand is set to be used on Sundays to sell other food and beverage items. In addition, there are multiple places to buy a chicken sandwich in Mercedes-Benz Stadium.
One option even includes a "Closed on Sundays" chicken sandwich, created by former Top Chef contestant Kevin Gillespie. It was created to pay homage to Chick-fil-A.
The sandwich will contain fried chicken, a pickle, mayo, and honey butter on a roll.
There will also be another breaded chicken option at the Westside Works stand,
The headquarters for Chick-fil-A is located in Atlanta. The brand has opened up stands in several sports venues, including the Atlanta Braves' SunTrust Park.
RELATED: Take a tour of the new Mercedes-Benz Stadium
%INLINE%
For those craving a Chick-fil-A entree, there will be opportunities to eat at their stand during Atlanta United matches, and during the Chick-fil-A kickoff games on September 2 and 4.
Zaxby's, which is based in Athens, Georgia, was recently signed as the official chicken of the Falcons, however, their products are not currently offered inside Mercedes-Benz Stadium.
RELATED: Ludacris performs first mic check at Mercedes-Benz Stadium