Carnival AirShip flies over Atlanta to help raise funds for St. Jude's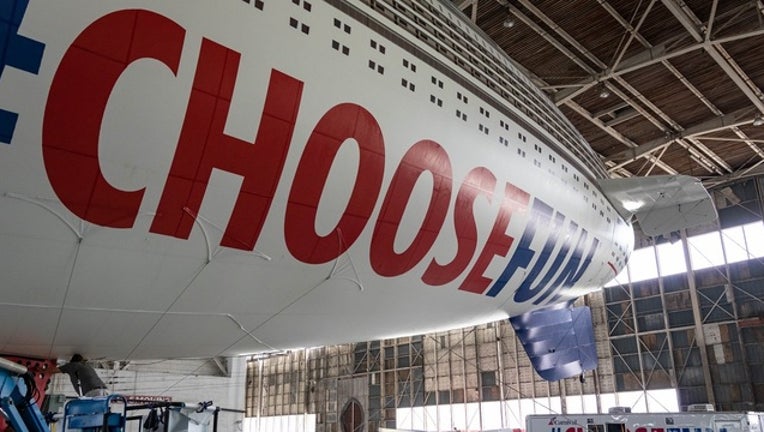 ATLANTA - Look! Up in the sky! It's a bird! It's a plane! No, it's a blimp! The Carnival AirShip will be in Atlanta through Sunday for a very good cause.
Carnival Cruise Line's very own AirShip will be in Atlanta raising funds for the St. Jude Children's Research Hospital. That happens every time someone takes a picture of the AirShip and posts it on Facebook, Instagram, or Twitter with the hashtag #ChooseFun. Each tag will trigger a donation to St. Jude. As an added incentive, Carnival will be giving away prizes such as VIP event passes, gift cards, free cruises for two, and more to select folks who post.
The lighter-than-air vessel is massive and folks will not be able to miss it in the Atlanta skyline. Its 128-foot-long, 44-foot-tall and accented with Carnival's signature red, white, and blue. The blimp carries enough helium to inflate 136,000 balloons.
The AirShip's five-day swing through metro Atlanta is part of a month-long tour through the Southeast to help promote the four Carnival ships relocating to new ports including the Carnival Horizon which is now sailing from Miami. Learn more at carnival.com.
The AirShip has a full schedule this week, weather permitting, flying over the Candler Park Fall Festival on Wednesday, the Georgia State Fair at Atlanta Motor Speedway on Friday, the Tennessee-Georgia game in Athens on Saturday, and the Bengals-Falcons game at Mercedes-Benz Stadium on Sunday.
Learn more about how to participate by clicking here.