Burgers with Buck: Bada Bings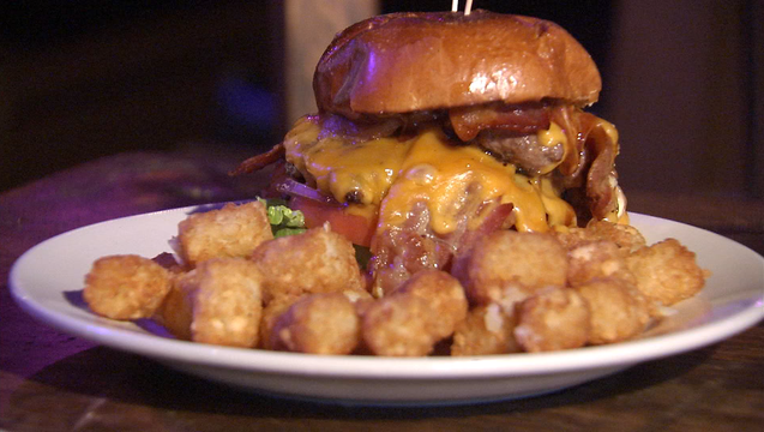 The phrase Bada Bing conjures up images of classic gangster movies or perhaps an episode of the Sopranos, not to be confused with the phrase Bada Bings Bourbon, Beer, and Burgers which conjures up images of bacon, cheese and large Angus beef patties.
According to owner Lawrence Morrow, bada bing means something that is thought to be hard, made easy.  That's his philosophy on the restaurant business and his establishment located somewhere near the Old Fourth Ward, Georgia State University, the Capitol, and Grady...Bada Bings.
It's not a hangout for gangsters, but rather an eclectic mix of college students and political types.  In fact, Bada Bings was just voted the #1 Political hangout in Atlanta by James Magazine.  
By now you know that #BurgersWithBuck does not get caught up in politics, so the fact that political movers and shakers frequent Bada Bings is not what attracted our attention.  We're more about two, seven ounce Angus beef patties, six strips of bacon, cheddar cheese, lettuce, tomato, and onion.  In other words, it's all about the burger, and the Bada Bacon Double Cheeseburger is large and definitely worth the trip.  
Watch Buck try the Bada Bacon Double Cheeseburger
Of course #BurgersWithBuck took the entire thing down (along with a plate full of tater tots) because that's how we roll, but to be completely honest with you...it was a bit of a challenge (If you repeat this, I'll deny it).
I'm told Georgia House Speaker David Ralston has his own burger, affectionately known as the Speaker Burger.  To find out the details about this one, click the link and watch the story as it aired on Good Day Atlanta.
For more information about Bada Bings Bourbon, Beer & Burgers including the menu, hours of operation and specials, go to their website, http://badabingsatl.com/.
And, as always, if you have a favorite burger that you would like to see featured on, tell me about it on https://www.facebook.com/BuckFOX5 or https://twitter.com/BuckFOX5, and don't forget to use the hash tag #BurgersWithBuck and/or #BWB.