Atlanta's historic Tara Theatre announces grand reopening after 2022 closure
ATLANTA - Atlanta's beloved historic Tara Theatre is set for a grand re-opening just in time for Memorial Day Weekend.
The theater, which was owned by Regal Cinemas and was known for showing independent and sometimes controversial films, closed its doors in November 2022. 
Months after its closure, the team behind the Plaza Theatre on Ponce De Leon Avenue announced that they would be working to reopen the historic theater as a "sister cinema." In the months since the announcement of its return, the theater has raised over $50,000 for its re-opening.
"For almost 55 years Atlanta's Tara Theatre created cherished memories and entertainment for countless moviegoers," said Chris Escobar, the founder of Friends of Tara, owner of both theaters, and executive director of the Atlanta Film Society.  "It is an honor and privilege for our team to create a sustainable future for this valuable landmark that will enable new generations of Atlantans to celebrate films of the past, present and future."
Now, starting Thursday, the theater will be back and continuing a tradition that spans over 50 years.
The first day will include four films with nods to the venue's history including 1963's "It's A Mad, Mad, Mad, Mad World," 1997's "Star Wars," 1989's "Back To The Future Part II," and 2022's "Tár."
"We selected these historic films for our grand re-opening night to celebrate multiple decades of cinema fans who enjoyed Tara Theatre since its opening in the summer of 1968," said Escobar.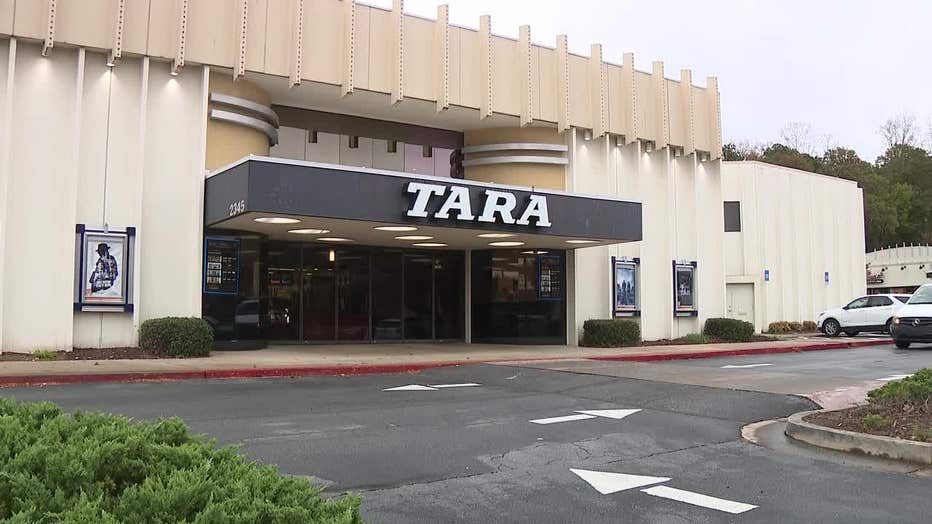 After 50 years in operation, the Tara Theatre on Cheshire Bridge Road near Lindbergh Avenue had its final showing in 2022. But it's coming back this Thursday.  (FOX 5 Atlanta)
Magna-Tech is providing the equipment and installation of Tara's new projection technology which includes new digital formats as well as historic 35mm and 70mm film projectors, making The Plaza and Tara the city's only theaters with both types of older film projection units. Installation at Tara began during March.
Escobar says the Tara will create a "robust schedule" events featuring classic film, art house releases and independent films. This format brings back some of the traditions established during the first few decades of operation after Loews opened Tara Theatre in 1968 or "the Lefont years" starting in 1980 through their transition to United Artists.
The theater will reopen with nine team members including several who previously worked for the theater before it shut down.
You can find out more about the theater and show times on its website.