Alabama city to re-enact march that sparked "Bloody Sunday"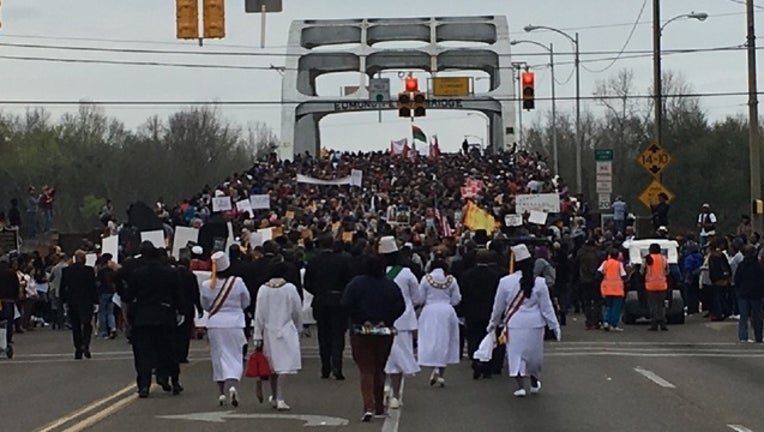 article
SELMA, Ala. (AP) - Thousands of people are expected to converge in the city of Selma, Alabama for the annual re-enactment of a key event in the civil rights movement.
Sunday marks the 52nd anniversary of the march across the Edmund Pettus Bridge over the Alabama River in Selma. On March 7, 1965, African-Americans seeking voting rights launched a march across the bridge en route to Montgomery but were attacked by police. That violent episode became known as "Bloody Sunday."
The march is credited with helping build momentum for passage of the landmark Voting Rights Act of 1965.
This year's march re-enactment was planned despite a dispute over city fees that forced organizers to change plans for a festival-like event leading up to the bridge-crossing commemoration.
The city asked for thousands of dollars to cover the costs of police, fire and cleanup workers, but Sen. Hank Sanders, D-Selma, and other leaders of the event refused to pay. Instead, they moved a music festival to private property rather than holding it on a blocked city street as in past years.
Organizers of an annual Civil War re-enactment held in Selma canceled their event when presented with a similar bill from the city.
This year's crowd for the bridge crossing was expected to be far smaller than the one in 2015, when then-President Barack Obama and his family led tens of thousands of marchers on the 50th anniversary weekend.